FBI Opened Counter-Intelligence Probe Of Giuliani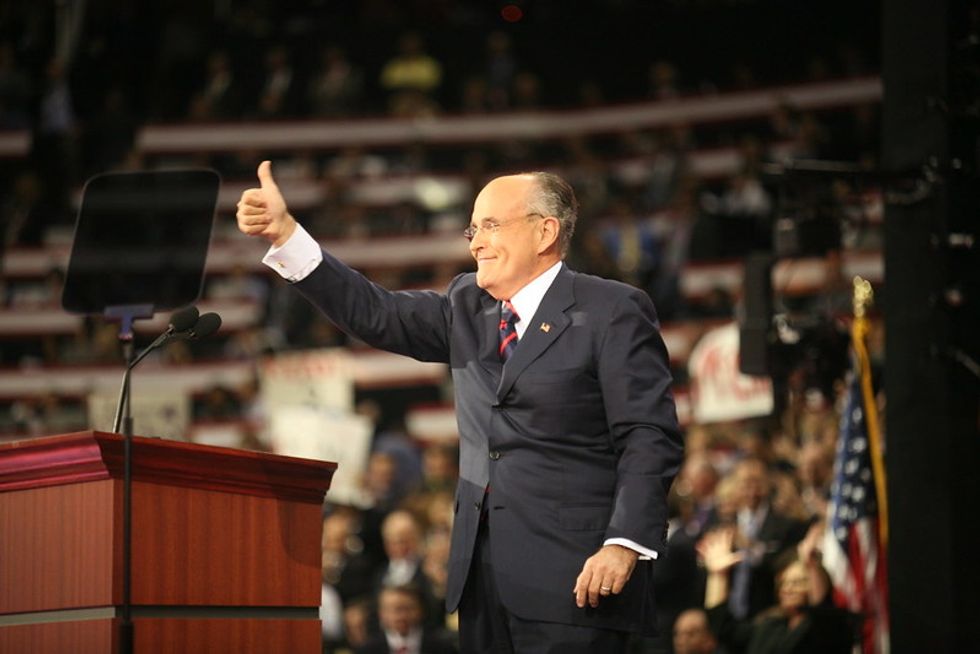 Reprinted with permission from Alternet
Rudy Giuliani is the subject of a counterintelligence probe by the FBI, according to a new CNN report on Wednesday.
The story built on previous reports that indicated that Giuliani is under investigation in connection to activities with his associates, Lev Parnas and Igor Fruman, who were indicted last week by the federal prosecutors in the Southern District of New York. On Wednesday, a third person, David Correia, was arrested as part of their alleged schemes, which include conspiracy and campaign finance crimes. Correia, like Parnas and Fruman, was reportedly arrested at the airport.
Giuliani has said he received $500,000 from Parnas. Despite federal prosecutors' allegation that Parnas and Fruman carried out a plot to launder foreign money into American elections from an unnamed Russian, Giuliani claimed the source of the money he received was American. He would not say where it came from, though.
Giuliani's financial dealings and business ties to Parnas and Fruman have come under federal scrutiny, according to multiple reports, though the former New York mayor and lawyer for President Donald Trump has denied any knowledge of an investigation into him. He and his associates' ties to Ukraine, which are tangled up in the scandal at the center of the House of Representatives' presidential impeachment inquiry, also raised "counterintelligence concerns," according to the CNN report. It cited "people briefed on the matter."
One person, New York attorney Kenneth McCallion, spoke to CNN on the record and said that he has spoken to FBI counterintelligence agents about Giuliani and his associates' Ukrainian ties. The report explained:
The counterintelligence probe hinges in part on whether a foreign influence operation was trying to take advantage of Giuliani's business ties in Ukraine and with wealthy foreigners to make inroads with the White House, according to one person briefed on the matter.

"I was just asked whether I or any of my clients knew of any dealings that these two guys had with Giuliani," McCallion said. "They were on the radar with regard to possible counterintelligence issues."
A New York Times report found that Giuliani was also under investigation for potential violations of the Foreign Agents Registration Act. Multiple reports have indicated that he lobbied to have former Ambassador to Ukraine Marie Yovanovitch removed from her post. The State Department did, in fact, have her recalled ahead of schedule, an event that is now under scrutiny in the impeachment inquiry. In their indictment, Parnas and Fruman were charged with trying to oust Yovanovitch "at least in part, at the request of one or more Ukrainian government officials."
However, Giuliani has claimed that he couldn't be charged with violating FARA because he was working on the president's behalf. That defense itself may actually just cause more trouble for Trump.