FBI Warning That Conspiracy Theorists May Pose Domestic Terror Threat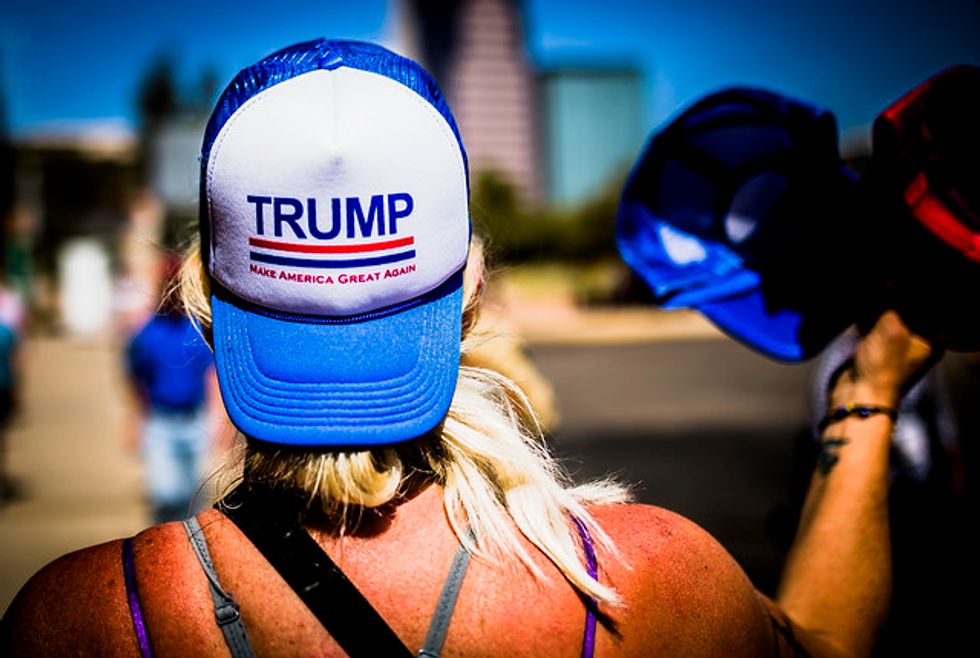 The FBI has issued a warning identifying several conspiracy theories aligned with Trump's supporters as a domestic terror threat.
On Thursday, Yahoo! News reported on the existence of an FBI intelligence bulletin that was sent out in May identifying "conspiracy theory-driven domestic extremists" as a growing threat.
"The document specifically mentions QAnon, a shadowy network that believes in a deep state conspiracy against President Trump, and Pizzagate, the theory that a pedophile ring including Clinton associates was being run out of the basement of a Washington, D.C., pizza restaurant (which didn't actually have a basement)," Yahoo! reported.
QAnon has been a staple of Trump's raucous campaign rallies, with supporters holding up related signs and wearing QAnon-labeled clothing. Earlier in July, Trump praised a baby at his rally dressed in QAnon clothing.
"We find the Q movement empowering because it's a lot of patriots that are following Trump when a lot of media is bashing our president," Roman Riselvato, the child's father, told Rolling Stone.
The FBI expects the numbers of conspiracy theory-driven extremists are likely to grow during the 2020 election cycle, the memo states.
Trump has often used the presidency to indulge in conspiracy theories. His past is littered with advocacy for outlandish and long disproven crackpot ideas, including most famously the "birther" claims against President Barack Obama.
Trump has also insisted that a rogue "deep state" operating from within the government and in agencies like the FBI has been attempting to undermine his presidency. The theory was first popularized by Trump supporter and conspiracy theorist Alex Jones.
Conspiracy theories have a prominent cheerleader with Trump in the White House, and now the FBI has warned the entire country that true believers of those debunked rantings can endanger American lives.
Published with permission of The American Independent.