FBI Will Also Investigate Fatal Police Shooting Of St. Louis Teen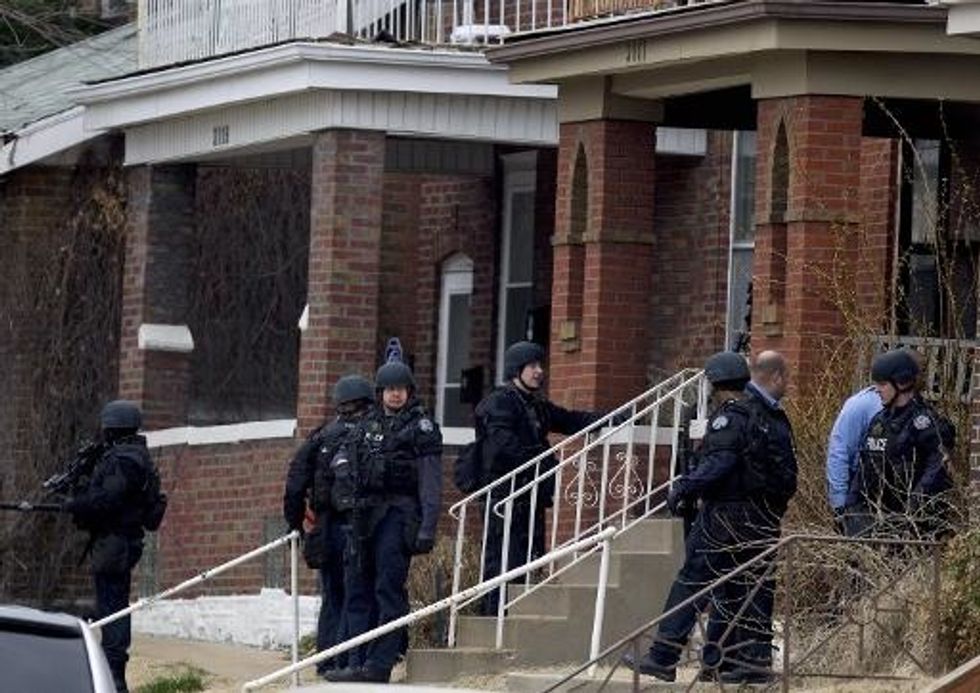 By Matt Pearce and Maya Srikrishnan, Los Angeles Times
FERGUSON, Mo. — Hundreds of protesters converged outside the Ferguson Police Department in Missouri on Monday, chanting "Hands up! Don't shoot!" with their arms in the air after a night of violence when a vigil for an unarmed black teenager who was fatally shot by police in a St. Louis suburb turned into vandalism and looting.
A line of mostly white police in riot gear guarded the station as the mostly black demonstrators held up signs and marched in the street, calling for accountability in the death of Michael Brown, 18. The march was largely peaceful, but at least five people were arrested after they apparently refused to follow police orders to disperse.
Derek Laney, 49, traveled from nearby St. Louis to demonstrate, saying the death of young black men was an epidemic. Whatever Brown did, he said, was "not punishable by execution in the streets," and he somewhat defended the melee that broke store windows.
"People are angry, people are hurt, people are fed up. You have to direct it somewhere — and you can't direct it at the people who made you angry because they'll shoot you and kill you," Laney said. "So they express it outward. … I wouldn't go out and smash things, I wouldn't go out and burn things. But I understand why people do it."
The protesters said they want the officer who killed Brown to be identified, fired, and charged in the killing and they want the Ferguson police force to reflect the racial demographic of the largely African-American community.
The continued demonstrations came as St. Louis County Police Chief Jon Belmar told reporters that the FBI will conduct a parallel investigation to his county police investigation. Ferguson Police Chief Thomas Jackson said that he welcomed the move and called the Sunday night violence "a terrible tragedy … We want to heal. We want to build trust with the community."
Attorney General Eric H. Holder Jr. has asked the Department of Justice's civil rights attorneys to "monitor" the situation in Missouri to see whether the youth's civil rights were violated either in his contact with local police or the shooting itself, federal law enforcement officials said.
Federal officials added that any federal civil rights probe would be part of the review by the local FBI field office, and that any actions taken by federal authorities would be separate from what state prosecutors might do.
St. Louis County police said two officers were injured Sunday night — one was hit by a brick and one suffered knee injuries. Police arrested 32 people overnight on suspicion of theft, assault, or burglary. Police say that protesters marched to the Quiktrip late Sunday, looted it and set it on fire. At least 12 businesses were vandalized and looted.
Officer Brian Schellman said the overnight situation was "scary" during an interview with KDSK-TV, the local NBC affiliate, Monday morning. He said officers were dressed in riot gear when they exited their patrol vehicles, and were immediately bombarded with rocks, bricks, and bottles.
Schellman said one police officer was shot at, but he was not injured. A shot was also fired at a police helicopter circling the area.
Anonymous, a group of "Hacktivists," hacked the city of Ferguson's website Sunday night, according to KMOV-TV, the local CBS affiliate.
Officials told the television station that the city's emails were not working Monday morning. Anticipating a problem, the mayor of Ferguson had the IT Department take down all personnel information from the site on Saturday.
On Sunday, "Operation Ferguson" tweeted that Anonymous would launch cyberattacks in Ferguson only in direct response to any police abuse of protesters. "Operation Ferguson" has since been suspended from Twitter.
A local school district canceled the first day of school Monday, saying it was concerned for student safety in the wake of Sunday night's violence.
"Safety is our uppermost concern," the Jennings school district release said. "At this time we do not feel it's safe for our students to walk to school."
Jerryl Christmas, 50, a defense attorney and former prosecutor for the city of St. Louis, watched from the sidewalk Monday morning in a bright striped tie, holding a small bullhorn.
"We're (the black community) not part of the system. Look out here right now," Christmas said, gesturing to the line of white police officers in riot gear. "The lack of black police officers either on the street or at the administrative level. … This whole area, this city is a racial powder keg."
Christmas said he was disturbed about photos he saw of Brown's body lying in the street for hours. "Not covering that body — when I got the picture on my phone, I couldn't believe it. … The message I got from that was, you cross us, you die. They treated that child like road kill."
Shortly before noon, as the crowd started to lose some energy, police expanded their line of officers around the police station, riling up the protesters again, who debated over whether to stay and confront the police.
One younger man took a bullhorn and pleaded for the demonstrators to avoid arrests so they could attend more protests. "This is our time!" the young man shouted into the bullhorn. "Our grandparents and parents were attacked by (police) dogs, fire hoses. This is our time to do it the way they did it — nonviolently!"
The NAACP released a statement Monday morning saying state and local branches would seek answers about the shooting of Brown and the national office would monitor the situation.
"The death of yet another African-American at the hands of those sworn to protect and serve the community where he lived is heartbreaking," National Association for the Advancement of Colored People President Cornell Williams Brooks said in the statement. "Michael Brown was preparing to begin college, and now his family is preparing to bury their child — his life cut short in a tragic encounter with the police."
"Even as we call for accountability by those charged with protecting the community, we call on the community to act — collectively and calmly until we secure justice for the family of Michael Brown," the statement said.
Mourners placed candles, flowers, and a teddy bear where Brown was killed Sunday night, The Associated Press reported, and some youths spray-painted "R.I.P. Michael" on the street.
But then the mood turned ugly. Television footage showed people vandalizing police cars, kicking in store windows, and carrying out goods, including bottles of alcohol. At least one large fire was reported.
"Right now, the small group of people are creating a huge mess," Ferguson Mayor James Knowles told Fox 2 KTVI-TV. "Contributing to the unrest that is going on is not going to help. … We're only hurting ourselves, only hurting our community, hurting our neighbors."
In a televised interview Monday, Knowles pledged that "justice will be served" and that he wants the people of Ferguson to "have faith in the process."
On Sunday morning, Belmar said the unarmed Brown had been struggling for a Ferguson police officer's gun in a patrol car before he was killed. Brown was shot multiple times Saturday afternoon in the confrontation with the police officer.
Witnesses have said the youth had his hands in the air as he fled the patrol car.
AFP Photo/Whitney Curtis
Interested in national news? Sign up for our daily email newsletter!