FDR Still Speaks Across the Ages, Trumping Trump's Brand
@JamieStiehm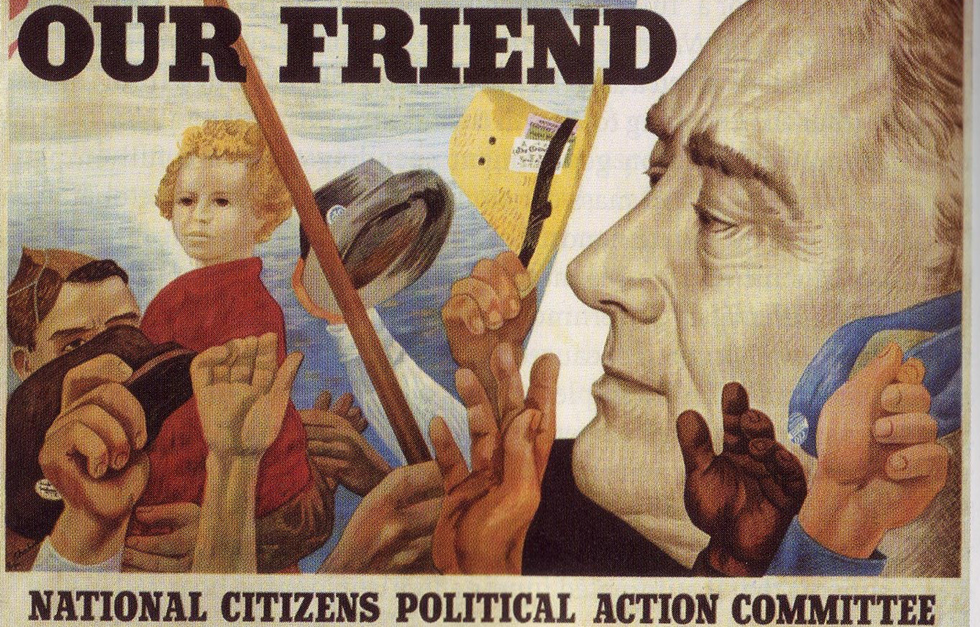 WASHINGTON — The president spoke a personal word: "I never forget that I live in a house owned by all the American people and that I have been given their trust."
The simple beauty of the words, spoken in Depression darkness, still shine bright, as they did in a fireside chat that millions of Americans heard on the radio. The line is chiseled in stone at the Franklin Delano Roosevelt Memorial near the Jefferson Memorial. Roosevelt loved the Jefferson temple built on his watch.
Close your eyes. Breathe deep. Imagine hearing sweetness and light in a clearing far from the mucky, swampy 2016 presidential contest. Those words were uttered in my father's Wisconsin boyhood, a link to Roosevelt's grand spirit. My father was born in the winter of 1933, when the sunny Roosevelt was first sworn in to right the ship, tossed by the economy's waves into rocky shoals.
My grandmother Marie, a tiny blue-eyed nurse who married a Germanic doctor, always listened to Franklin Delano Roosevelt's reassuring jaunty voice. My grandfather, a Republican who planned to move to Madison's posh Maple Bluff when times got better, opposed her political religion.
But the New Deal turned out to be her best friend when the doctor died suddenly, leaving her a widow with four children. It was weeks before Pearl Harbor and America's entrance into World War II. The world kept knocking on their door on Spooner Street, but somehow the widow — and the president — kept it safe. Her oldest son, my father, said Roosevelt was the father figure in his household — kind, wise and, yes, trusted.
Now try to pretend Donald Trump, the presumptive Republican nominee, doesn't plan to put his name in gold on the gleaming house that belongs to all of us. The real estate mogul has swooped up and splashed his name all over the post office building on Pennsylvania Avenue, a short walk toward the Capitol. But that was just the start of a much longer Monopoly game.
The White House will be great for his gaudy, glitzy brand. Isn't that pretty much what it's all about? In case you missed "The Apprentice," the NBC reality show orchestrated by Trump, it's a useful blueprint for his campaign. The media missed this clue. Give Trump this: He's one shrewd dude, with a "peasant's cunning."
Trump is most adept at mocking women: lately, his presumed opponent Hillary Clinton, Senator Elizabeth Warren and a Republican governor, Susana Martinez of New Mexico. He's betting on taking away their dignity. The Roosevelts, Franklin and Eleanor, advanced the dignity of the individual — the disenfranchised most of all. Roosevelt was first to have an outstanding woman in his circle, Labor Secretary Frances Perkins. The last thing he'd ever do is gloat about this great wealth.
In the same fireside chat, the president spoke soberly about setbacks:
"But I know that many of you have lost your jobs or have seen your friends or members of your families lose their jobs, and I do not propose that the government shall pretend not to see these things."
Roosevelt is not stoking anger, but offering comfort and resolve as a man with a plan.
Climate change has hit more than weather patterns. Our body politic is much more volatile.
Even now, the bright lights don't fully grasp Trump's Jacksonian power with discontented masses of men. Michael Kinsley, esteemed author and journalist, says Trump is a character out of the humorist Mark Twain. No, he's darker than that, like F. Scott Fitzgerald's more modern classic, "The Great Gatsby."
Then came the day the voice was gone. So many had listened to Roosevelt like their lives depended on it. On that day in April 1945, my father had a paper route delivering the Capital Times. When he passed by the Rosenberg home, where his best friend Leon lived, Mrs. Rosenberg wept over the terrible news. The Russian-Jewish immigrant family loved Roosevelt no less than Marie.
At 12, my father felt like he lost a father all over again. Marie raised four children and went back to work. They never had to leave the house on Spooner Street.
My friend Amy and I bicycled by the water on a spring day and stopped, arrested by the sheer power of Roosevelt's presence in those words.
To find out more about Jamie Stiehm and read features by other Creators writers and cartoonists, visit creators.com.
Photo: A 1944 reelection poster for Franklin D. Roosevelt