Federal Agency Encourages Killing Of Endangered Red Wolves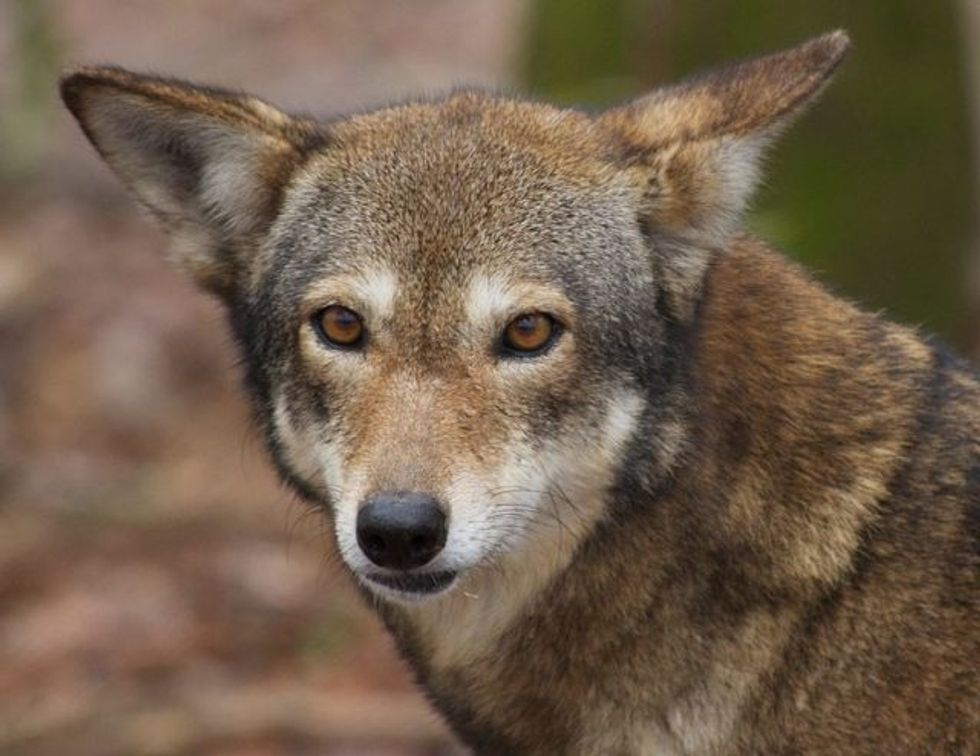 Reprinted with permission from DCReport.
Trump's Fish and Wildlife Service is working to kill off the three dozen or so struggling red wolves that remain in the wild by shrinking their territory in eastern North Carolina to about 12% of the 1.7 million acres they now have and letting landowners slaughter wolves if they cross the boundaries.
Red wolves, once found across the eastern United States, are now perhaps the most endangered mammal on the planet, rarer than the world's 2,000 Bengal tigers in the wild and more than 1,500 giant pandas.
"The Trump administration's Fish and Wildlife Service is declaring open season to kill the last of America's red wolves, which are on the verge of extinction," said Perrin de Jong, a staff attorney at the Center for Biological Diversity.
A proposal backed by James Kurth, the deputy director of the service, says a single pack or two, perhaps fewer than 15 animals, could remain on the 152,000 acres of the Alligator National Wildlife Refuge and the 46,619 acres of the Dare County Bombing Range.
People would be able to kill the wolves when they stray outside the allowed areas and would only be required to notify the Fish and Wildlife Service within 24 hours and to return any collars the wolves were wearing.
Action Box/What You Can Do About It

Comment online or mail comments to Public Comments Processing, Attn: FWS-R4-ES-2018-0035, U.S. Fish and Wildlife Service, MS: BPHC, 5275 Leesburg Pike, Falls Church, VA 22041-3803. Comments must be received by July 30.

A public information session will be held from 5:30 to 6:30 p.m. July 10 and a public hearing from 7 to 9 p.m. July 10 at Roanoke Festival Park, One Festival Park, Manteo, NC 27954.

Call James Kurth, the deputy director of the Fish and Wildlife Service, at 202-208-4717 to tell him to protect red wolves.

The Center for Biological Diversity can be reached at 520-623-5252 or center@biologicaldiversity.org.
North Carolina's junior senator, Thom Tillis, a Republican, has tried to have the animals, declared extinct in the wild in 1980, pronounced extinct for the second time.
"I think it makes the most sense to shut the program down to figure out how to do it right and build some credibility with the landowners," Tillis said in 2016.
The animals, which weigh 45 to 80 pounds as adults, are notoriously shy. They eat deer, rats, rabbits and other animals. Red wolves were one of the first animals listed under the Endangered Species Act and reintroduced in North Carolina after a breeding program in zoos.
In 1987, four male-female red wolf pairs were released at Alligator River National Wildlife Refuge. Forty-two red wolves were released from 1987 to 1992. At least 22 red wolves were born in the wild. The number of red wolves peaked at an estimated 130 in 2006.
The wolves have killed just five livestock since 1997: goats, chickens and a hog. But their existence is resented by many North Carolina landowners.
At least some red wolves have been illegally killed. Seventeen wolves died of confirmed or suspected gunshot wounds from 2013 to 2015, and one was poisoned. More than 500 private landowners and farmers told the Fish and Wildlife Service to keep red wolves off their land.
A 2014 review of federal recovery efforts by the Wildlife Management Institute found not enough oversight and support. Much of the program's $1.3 million in annual expenses was spent on sterilizing area coyotes to try to prevent them from breeding with red wolves.
About 200 red wolves are in zoos, and if efforts to protect them in the wild are essentially abandoned their future will be as caged animals.