Federal Judge Blasts GOP Attempt To Deny Voting Rights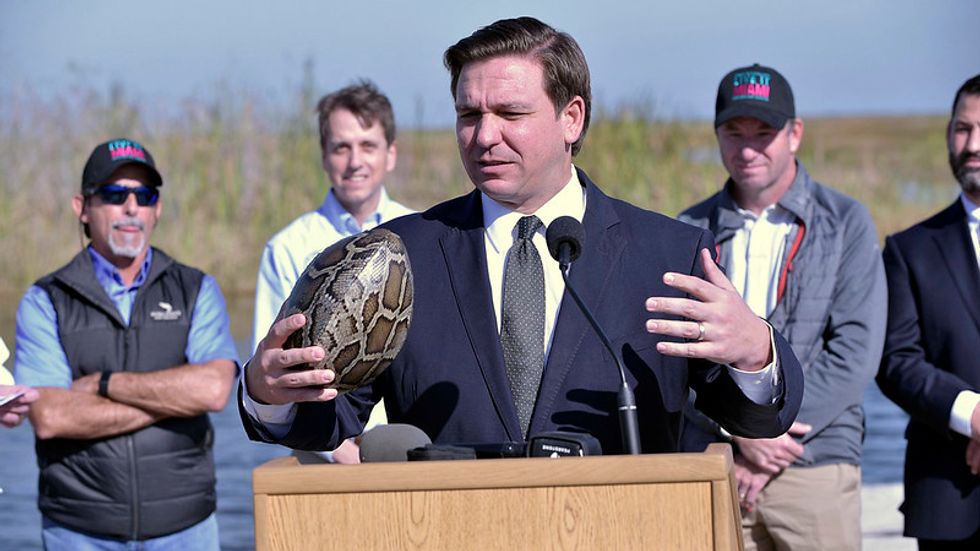 Lawyers representing Florida Gov. Ron DeSantis (R) admitted in federal court this week that the administration wanted to overturn a voter-approved constitutional amendment giving voting rights to most nonviolent felons, the Tampa Bay Times reported Wednesday.
U.S. District Judge Robert Hinkle, a federal judge overseeing a case on the matter, slammed the Republican administration's position, accusing the attorneys of attempting to "run out the clock" to keep thousands of eligible voters from casting ballots in the 2020 presidential election.
The court case deals with Amendment 4, a constitutional amendment approved by more than 64 percent of Florida voters in 2018. The amendment allows most felons to regain their right to vote after completing their parole or probation.
After voters overwhelmingly approved the measure, Republicans in control of the state legislature passed a law, SB 7066, requiring felons to pay back all restitution, fines, and other legal fees before being allowed to vote.
This law was challenged by civil rights groups, and Hinkle ruled in October that it was unconstitutional to deny the right to vote to felons who were "genuinely unable" to repay such fines. The state is appealing the decision in federal court, as well as requesting the state supreme court rule on the amendment, Miami's CBS4 reported in November.
The DeSantis administration argued that if felons who are financially unable to repay the state for legal fees are allowed to vote, the amendment should be nullified completely. Attorneys claimed voters would not have approved the amendment had they known some felons would not have to pay such fees.
Hinkle seemed unimpressed with the Republican arguments, and worried the legal appeals were endangering the voting rights of potentially hundreds of thousands of people.
"If you really want to comply with the Constitution and let everyone who's eligible to vote vote, pretty easy," Hinkle said, according to the Tampa Bay Times. "What you can't do is to run out the clock so that people who are eligible to vote don't get to vote in the March primary or, more importantly, in the presidential election."
The Florida Democratic Party has vehemently disagreed with the DeSantis administration's arguments.
"This just confirmed what we already knew to be true — Republicans are making it more difficult for Floridians to vote and pushing for voter suppression," Luisana Pérez Fernández, spokesperson for the Florida Democratic Party, said in an email.
"Then-candidate Ron DeSantis stated repeatedly during his gubernatorial campaign that he believed Amendment 4 was a bad idea, and by 'explaining' Amendment 4 with SB 7066, Republicans frustrated the will of the 64.55 percent of Florida voters who approved Amendment 4 last year," Pérez Fernández added.
Florida Republicans already faced a setback in their attempts to rig the vote earlier this year, when a federal judge prevented them from listing all GOP candidates running for office in the state first on the ballot. In a lawsuit won by Democratic groups, the judge agreed that the ballot order could give a 5 percent advantage to the Republican candidates.
Democrat Andrew Gillum lost his bid for governor to DeSantis by 0.4 percent in 2018, when the ballot order rule was in effect and those with felony convictions could not vote. Trump won the state in 2016 by just 1.2 percent.
Republicans across the country have in recent years enacted other policies widely considered to be voter suppression. Since the start of 2019, Democratic groups have filed lawsuits in North Carolina, Michigan, Georgia, Kentucky, Arizona, and Texas to stop those policies and ensure all eligible voters have access to the polls.
Florida will hold its presidential primary on March 17, 2020. According to the Florida Secretary of State's office, residents who wish to vote in that primary must be registered at their current address by Feb. 18, 2020. Florida residents who wish to vote in the 2020 general presidential election must be registered at their current address by Oct. 5, 2020.
The 2020 general election will be held on Nov. 3, 2020.
Published with permission of The American Independent Foundation.