Federalist Society Lawyer Spins Wild Alibi For Kavanaugh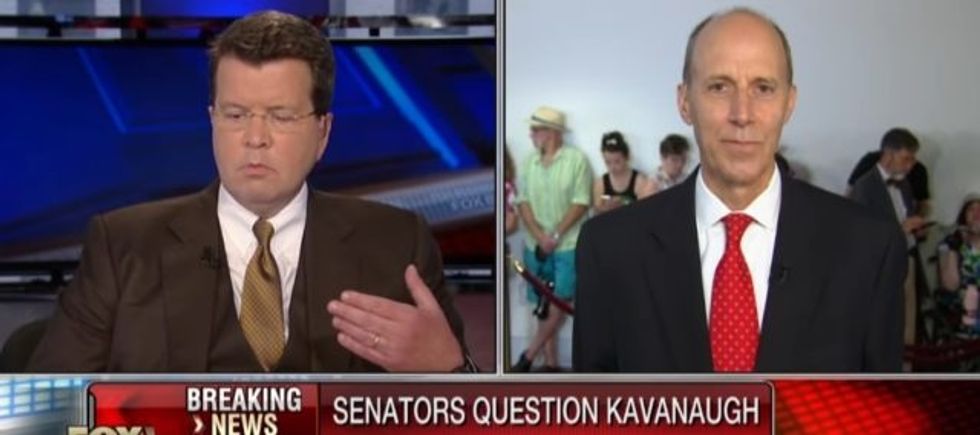 Reprinted with permission from AlterNet.
Conservative lawyer and commentator Ed Whelan has been a vocal defender of Judge Brett Kavanaugh ever since Christine Blasey Ford's accusations emerged and threatened to doom his nomination to the Supreme Court.
This week, Whelan inspired significant curiosity by teasing that he knew of evidence that would exonerate Kavanaugh from the allegations that he sexually assaulted Ford at a party when they were both in high school.
"By one week from today, I expect that Judge Kavanaugh will have been clearly vindicated on this matter. Specifically, I expect that compelling evidence will show his categorical denial to be truthful. There will be no cloud over him," he tweeted on Tuesday. "Senator Feinstein will soon be apologizing to Judge Kavanaugh."
On Thursday, he launched into an extensive thread on Twitter, purportedly offering details of this evidence. However, it was far from convincing, included much wild speculation, and even seemed to point the finger at another of Kavanaugh's high school classmates as the attempted rapist.
Even in his own laying out of his new claims, Whelan dialed back the confidence he has previously displayed.
"Dr. Ford may well have been the victim of a severe sexual assault by someone 36 years ago. Her allegations are so vague as to such basic matters as when and where that it is impossible for Judge Kavanaugh to *prove* his innocence," he wrote. "But there are compelling reasons to believe his categorical denial. Let's look at one set of reasons."
The argument he presented, however, looked thin and desperate. He begins by saying that four of the people said to be at the party didn't live close enough to the "Columbia Country Club," which Ford said was "not far" from where the assault took place, to have been the hosts of the party.
"Kavanaugh's home was 3.6 miles away; Smyth's 4.3 miles; Judge's 10 miles; and the female classmate's 7 miles," he writes. But even here, he seems to be reading much more specificity into Ford's phrasing that the party was "not far from" the club. This is an exceptionally vague phrase, which could easily amount to as many as 10 miles, but Whelan bases nearly his entire theory on it.
He goes on to find pictures of a home that is even close to the club, where a classmate and friend of Kavanaugh's lived. Using screenshots of Zillow floor plans and home interior shots, he argues that one particular home could have been the location where the assault Ford describes took place.
And here's the kicker: the friend who lived in the house looks a lot like Kavanaugh, Whelan argues — clearly implying that Ford could have gotten confused and incorrectly remembered who has attacked her. He doesn't appear to consider that, while it's easy to mistake people for one another when you don't know them well, these kind of mistakes are exceptionally rare with people in your social circle, even when people look similar.
As a lawyer, Whelan added: "To be clear, I have no idea what, if anything, did or did not happen in that bedroom at the top of the stairs, and I therefore do not state, imply or insinuate that Garrett or anyone else committed the sexual assault that Ford alleges."
But there's really no other plausible way of reading his theory without believing he's arguing that it's more likely this friend was the assailant than that Kavanaugh was.
"It is regrettable that private citizens are being drawn into this," Whelan wrote, after unnecessarily dragging another private citizen into the matter on the basis of very thin speculation.
For good measure, he blamed the whole situation on Sen. Feinstein, who kept Ford's claims quiet initially at her request. Of course, Ford likely wanted to keep her claims quiet because she didn't want to deal with the backlash — of which Whelan has played a key part.
Cody Fenwick is a reporter and editor. Follow him on Twitter @codytfenwick.