Feel the Bern: Sanders' Support Is Deep And Passionate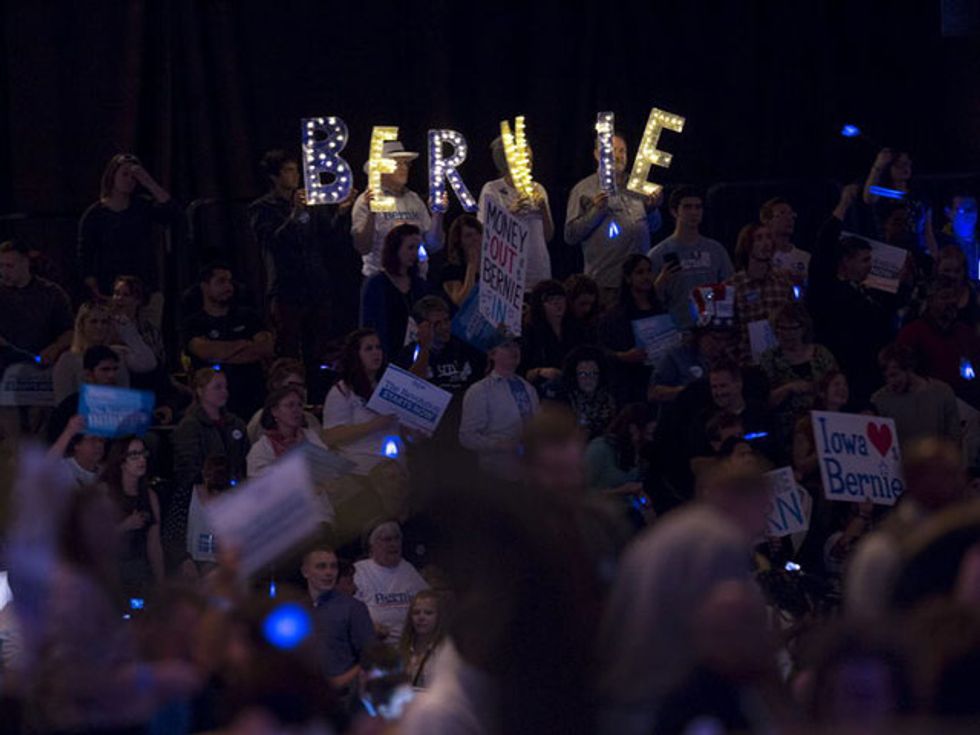 By Lesley Clark, McClatchy Washington Bureau (TNS)
IOWA CITY, Iowa — Bernie Sanders doesn't attract supporters. He draws believers.
Isabel Storey, 22, is taking a year off school to volunteer for his campaign. Rachel Joselson, a voice teacher and opera singer, plans to send him her latest CD — songs created in the concentration camps during the Holocaust — in hopes of singing at a Sanders' inauguration.
"He's my soul mate; I love that man," exclaims Joselson, 60, a University of Iowa professor, leaving a house party here for Sanders. "He's the salt of the Earth. There's no hidden agenda. He's just about justice and fairness for the American people."
As the Vermont senator looks to transform a surprising summer insurgency into an enduring campaign for the Democratic presidential nomination, he's fueled by deep enthusiasm from voters weary with a long-faltering economy who cherish what they say is his unvarnished authenticity and outspoken advocacy.
"He's for the little guy," says Becky Davis, 65, a registered nurse from Burlington who wore her blue "Feel the Bern" T-shirt to a Sanders' town hall in Fort Madison, along the Mississippi River. She thrilled from the second row as the 74-year-old delivered a nearly hourlong stem-winder and took audience questions, railing against a "billionaire class" he says has rigged the economy in favor of the wealthy.
Whether that grass-roots enthusiasm can gain widespread traction, let alone match the precision of a campaign conducted by Democratic front-runner Hillary Clinton, appears unlikely, according to recent polls that show Clinton maintaining a wide lead over Sanders.
Undeterred, many supporters recall a little-known presidential candidate, Barack Obama, taking Iowa in 2008. Others backed John Edwards with his warning about two Americas.
They contend that Clinton is too political for their tastes, saying she too readily changes her position to fit popular opinion. They point to her vote authorizing the Iraq War, and most recently her opposition to Obama's trade pact, after touting it as secretary of state.
But the ardor is not as much anti-Clinton as it is pro-Sanders, whom they love for straight talk and consistency.
"What Bernie believed then is what Bernie believes now and until the end of time," says Jan Taylor, 75, a self-described "very liberal" retired college professor who is volunteering for Sanders' Iowa campaign.
Sanders' supporters point to 20-, even 30-year-old clips of his TV and radio appearances and stress that his message has not changed.
"He just had a little more hair," says Tom Myers, 61, who has followed Sanders online "for years" and now pitches Sanders' candidacy to friends and family. He brought his son, Jon, 21, to a Sanders house party in Iowa City over the weekend.
Myers likes that Sanders wants to bolster and expand Social Security and rejects the premise of a "trickle down" economy, in which tax breaks for the wealthy creates prosperity. "The big conglomerates, the wealthy, get 99 percent of the breaks," Myers says. "Bernie wants to even that out a little."
Sanders has filled sports stadiums and raised millions from small donors, keeping pace with Clinton. But his biggest challenge will be to broaden his base beyond the party activists, millennials and aging progressives drawn to his unorthodox campaign. He started that new phase over the weekend, holding smaller events across Iowa, taking questions and acknowledging that he's got "work to do" to quell voter fears about what he means when he calls himself a "democratic socialist."
Tom Causner, 57, a former Democratic Party chair in Iowa's Johnson County, insists Sanders is already reaching beyond his base: He's volunteering for Sanders and seeing names he's never seen before on sign-up sheets for the Feb. 1 caucuses.
"He's appealing to people who feel disenfranchised, and that's not limited to liberals," Causner says.
Sanders insists his campaign is picking up steam, telling audiences that when he entered the race in April he was widely viewed as an oddity, a fringe candidate.
"But a funny thing happened," he tells an audience at Fort Madison's Richardson Elementary School, an overflow group listening from another room. "It turns out that the American people are a lot more angry and frustrated with the status quo than all the pundits thought. Turns out the American people want to see some profound changes to our economy and it turns out that millions of Americans do want to see a political revolution."
The revolutionary talk — at campaign events the Sanders' set list includes Tracy Chapman's "Talkin' 'bout a Revolution" — inspires Sanders supporters who believe that's what it will take to remove the corrosive influence of money from politics.
But others wish he'd stop using the s-word, fearful it makes him unpalatable to mainstream voters.
"As an American, it's a little alarming to hear the word 'socialist,'" admits Dave Breon, 48, a Sanders supporter from Eddyville. He has friends struggling to make ends meet with minimum-wage jobs and loves Sanders' advocacy for a $15-an-hour federal minimum wage. He thinks Sanders could appeal to the average working American.
But he winces at Sanders' plan to explain what he means by "democratic socialist," suggesting that the campaign should rather "let the message speak for itself." The word, he says, "doesn't play to the moderates."
Sanders says the U.S. already embraces some elements of socialism — he pointed to local police and fire departments. That's a view endorsed by Nadia Juneja, 33, an Iowa City emergency medical physician. The U.S., she says, looks after the elderly with Social Security and the poor with Medicaid. As a doctor, she's seen what can happen when patients can't afford health care.
Juneja acknowledges worries about Sanders' electability, noting, "They tried to paint Barack Obama as a socialist, like it was a dirty word."
But she's shelving those concerns for now: "The bottom line is that I believe in what he stands for and I would rather support someone in line with my beliefs than settle."
Photo: Supporters of Democratic presidential candidate Bernie Sanders hold a sign supporting him as he speaks during the 2015 Jefferson-Jackson Dinner with fellow candidates Hillary Clinton and Martin O'Malley in Des Moines, Iowa, October 24, 2015. REUTERS/Scott Morgan