Feingold Faces Koch Smears In Wisconsin Senate Race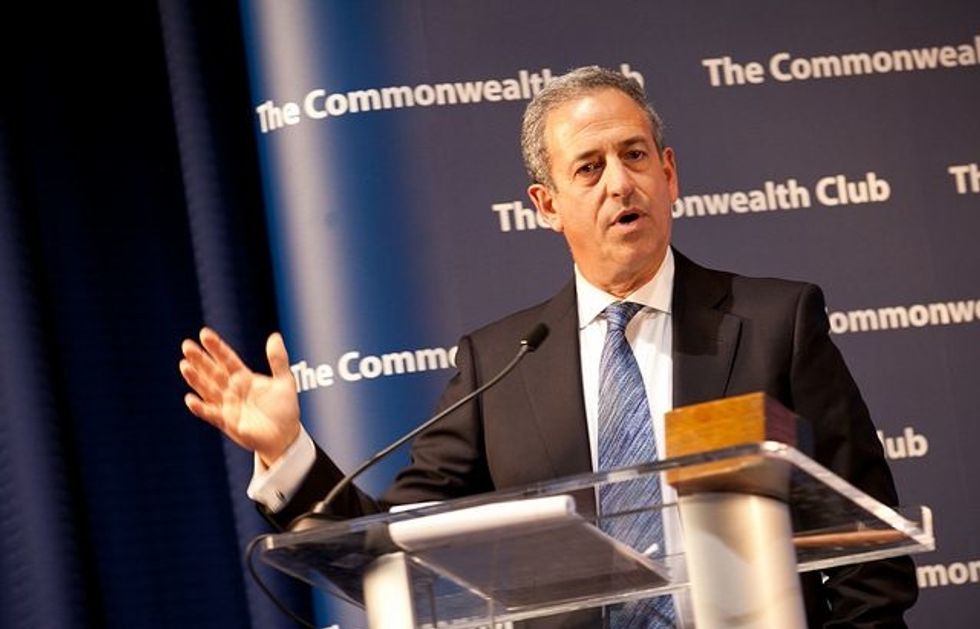 A report into the scandal of over prescribing opioids and other drugs to veterans at a facility in Wisconsin will be published Tuesday.
Three veterans, and possibly more, may have died as a result of the overprescribing of drugs at the Tomah VA Medical Center, dubbed 'Candy Land' by patients. Its acting medical director, who has since stepped down, went by the moniker 'Dr. Candy."
The report will be published by the U.S. Senate Homeland Security and Governmental Affairs Committee, chaired by Wisconsin Sen. Ron Johnson, currently involved in a deeply fractious and tight race for re-election against former Sen. Russ Feingold.
Whatever the conclusions of the report, the Tomah affair is front and center in the crucially important Wisconsin senate race, which has already seen a flood of outside cash, most of it in support of Johnson.
Or more accurately, against Feingold.
In a television ad that aired earlier this month quoting a whistle blower who helped bring attention to the scandal — and who is an admitted Johnson supporter — Feingold was essentially accused of killing veterans.
"I found out that Russ Feingold got a memo in 2009 that outlined veteran harm and nothing was done," Ryan Honl says in the ad. "All those veterans who've come back wounded, and they die at the hands of politicians who look the other way."
The ad was released by Freedom Works, the super PAC funded largely by the Koch brothers and hedge fund billionaire Kenneth Griffin, often described as Illinois' richest person.
Feingold, the ad claims, received a hand-delivered memo written by a union official at the facility, which highlighted the over prescription of drugs, and concluded veterans likely were being harmed. It was written in 2008, when Feingold was senator.
While the notation on the memo stated it was to be hand delivered to certain members of Congress, including Feingold, there is no evidence he received or saw the memo.
And its author, union official Lin Ellinghuysen, said the accusation that Feingold got the memo and failed to act was a "lie." Indeed, she was told that it was not delivered.
Freedom Works walked back their claims some — perhaps because three television stations in the state refused to air the original ad — with a modified spot that did not claim Feingold actually received the memo.
Nevertheless, the incident is a good indication of the months ahead. This race, one of five Senate seats Democrats believe they can win in November, is not going to get any less nasty.
And it's also likely to be one of the most expensive Senate fights in history. Already, the two campaigns have spent $11 million, while the outside groups spent $4 million. And that's just counting through the end of March.
The Koch brothers have signaled their intention to put their money into state races and avoid the presidential election. Wisconsin is likely to see much, much, more of Freedom Works.
Not content with simply receiving all that outside money, Johnson's campaign has additionally accused Feingold of hypocrisy for taking bundled contributions from that "dark-money heavyweight" — the League of Conservation Voters.
"Senator Feingold continues to say one thing and do another," Johnson spokesman Brian Reisinger told the Milwaukee Journal Sentinal.
"After repeatedly railing against 'dark money' he's gladly showing his face with a group whose dark money arm is fueling his bid to claw his way back to Washington."
Indeed, some $125,000 of the $10.7 million that Feingold's campaign raised through the end of March came from contributions bundled by the league, which the Democratic candidate says he has worked with for 20 years.
Meanwhile, seven outside groups have already spent a combined $4 million against Feingold on Johnson's behalf.
Feingold did receive a huge boost over the weekend, as Bernie Sanders' team sent an email to the Vermont senator's vast army of supporters, encouraging them to donate money to Feingold's campaign.