'Ferguson October' Rally Highlights Divide Among St. Louis Activists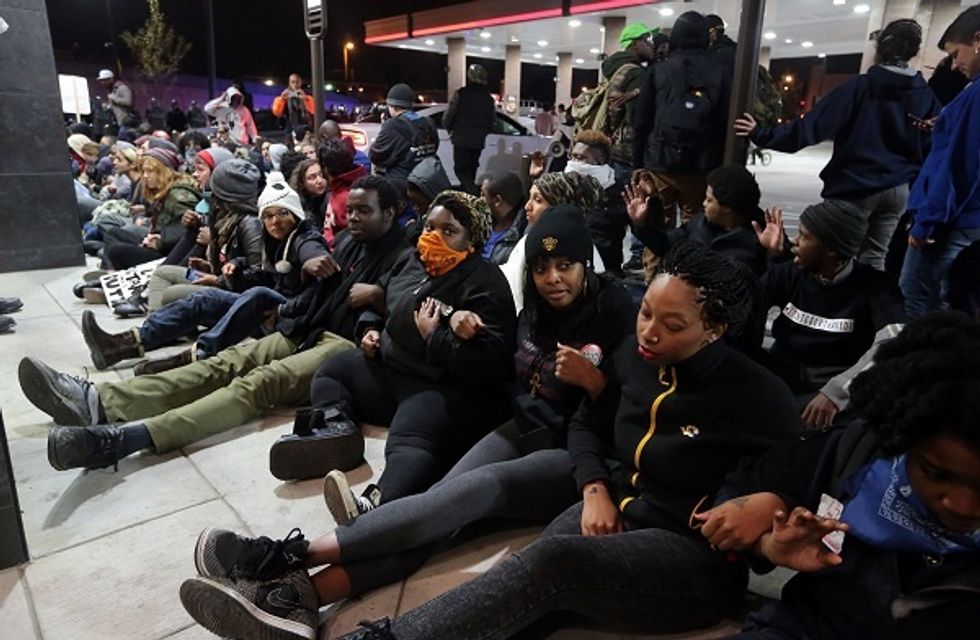 By Matt Pearce, Los Angeles Times
ST. LOUIS — A raucous "Ferguson October" crowd turned a mass protest service on its head Sunday night, heckling the president of the NAACP and successfully demanding that young demonstrators get a place on stage to address an audience of hundreds.
"Let them speak!" the crowd chanted at Chaifetz Arena, where activists had gathered for a third day of meetings and protests.
"For us, this is not an academic issue," the St. Louis music artist and activist Tef Poe told the audience, which was racially and generationally diverse. "Y'all did not show up."
Moments earlier, the president of the National Association for the Advancement of Colored People, Cornell William Brooks, gave a fiery speech in which he said, "Oh say, can you see Ferguson, Missouri, transformed?"
Tepid applause greeted that line, and a man in the crowd began to shout: "Go to Canfield with that! We got revolutionaries out here (on the streets) starving!"
Canfield is the name of the apartment complex near where a Ferguson police officer killed Michael Brown, 18, on Aug. 9, sparking continuing protests and this long weekend of demonstrations, which are to continue Monday.
Last week's police killing of another 18-year-old black man, Vonderrit Myers Jr., in the Shaw neighborhood of St. Louis touched off more anger. Police say Myers shot at the officer three times and was killed when the officer returned fire, but representatives of Myers' family insist he was unarmed. Police say they have recovered a weapon and three bullets fired in the officer's direction.
Sunday's raucous gathering illustrated that activists have taken widely different approaches to civil disobedience, and that the often-radical youths have taken over the tenor of the debate.
Pastor after preacher, rabbi after imam, told stories of solidarity, activism and racial injustice.
But when keynote speaker and noted black activist Cornel West finally arrived on the stage, he said he saw the writing on the wall. "I didn't come here to give a speech," he said. "I came here to go to jail!"
Early Sunday, 17 demonstrators did just that. They were arrested in a sit-in outside a St. Louis QuikTrip.
The QuikTrip was a notable choice: Rioters looted and burned down a Ferguson QuikTrip the day after Brown's death, and the empty convenience store parking lot became a gathering point for the ensuing protests that gripped the city.
Brown's death sent ripples of agitation through the U.S., where police shootings are being routinely scrutinized by the national media. The U.S. Justice Department is investigating the Ferguson Police Department, and local police departments have been bombarded with records requests and lawsuits.
America's top law enforcement official, Attorney General Eric H. Holder Jr., has raised questions about heavily armed police departments responding to unrest with intimidating shows of force.
But the official scrutiny — including a grand jury investigation into Brown's death that is expected to finish in November — has not moved fast enough for many activists.
"Bring that killer to justice so the people can have some rest!" bellowed an older woman from the back of Chaifetz Arena, referring to Darren Wilson, the Ferguson police officer who shot Brown.
If Wilson is not indicted, many fear that Ferguson will erupt in violence and chaos worse than the unrest that followed Brown's death.
The classic civil-rights trope of peaceful resistance has taken an edgier tone among the more dedicated street activists in Ferguson.
As Tef Poe spoke Sunday night, he appeared to be challenging his predecessors in the arena and in the civil rights movement.
"This ain't your grandparents' civil rights movement," he said, remarking that the clergy at Sunday night's gathering had not done enough in the streets. Those who had his back, he said, were young men with their shirts off and bandannas on, or the girl who should "be in school" but isn't. "Get off your ass and join us!" he said.
Another prominent activist, Ashley Yates, defended the angry tone on the streets that has occasionally translated into demonstrators hurling insults and curses at riot police officers.
"I am OK with being angry," Yates told the audience, adding that if a dead body in the street didn't make them angry, "then you lack humanity."
"See my humanity. See me for who I am. … Through the way people express their rage, don't judge it," she said.
More and more young demonstrators took the stage with raw questions about why more in the audience hadn't been in the streets.
For too long, the Rev. Martin Luther King Jr. has been cited by whites as a moderate, one young black protester vented. Whites were just talking a good game, he said.
"I had my back turned while that NAACP guy was speaking," another young woman said.
The night's emcee, the Rev. Traci Blackmon, finally addressed a crowd of older speakers who were waiting for their turn on stage. "My apologies for those who have not gotten to speak," she said, "but this is what democracy looks like."
The gathering ended jaggedly after West spoke.
In the lobby of the arena, attendees stood around buzzing about what had happened.
Joshua Williams, 18, was among them.
"I think it was amazing how people stood up and demonstrated our voices be heard," said Williams, a mainstay of the Ferguson protests.
Of the older speakers on the stage, he said, "All they want us to do is listen to them speak. Well, now it's our turn."
Then Williams filtered back through the crowd, organizing another protest.
Photo: About 50 protesters seeking justice in the Mike Brown and Vonderrit D. Myers Jr. shootings conduct a brief sit-in at the QuikTrip in St. Louis on Sunday, Oct. 12, 2014. Police dressed in riot gear responded to their unlawful gathering and began threatening arrests. (Laurie Skrivan/St. Louis Post-Dispatch/MCT)