Dominating Democratic Primary, Fetterman Aims At GOP Opponents
@alecpronk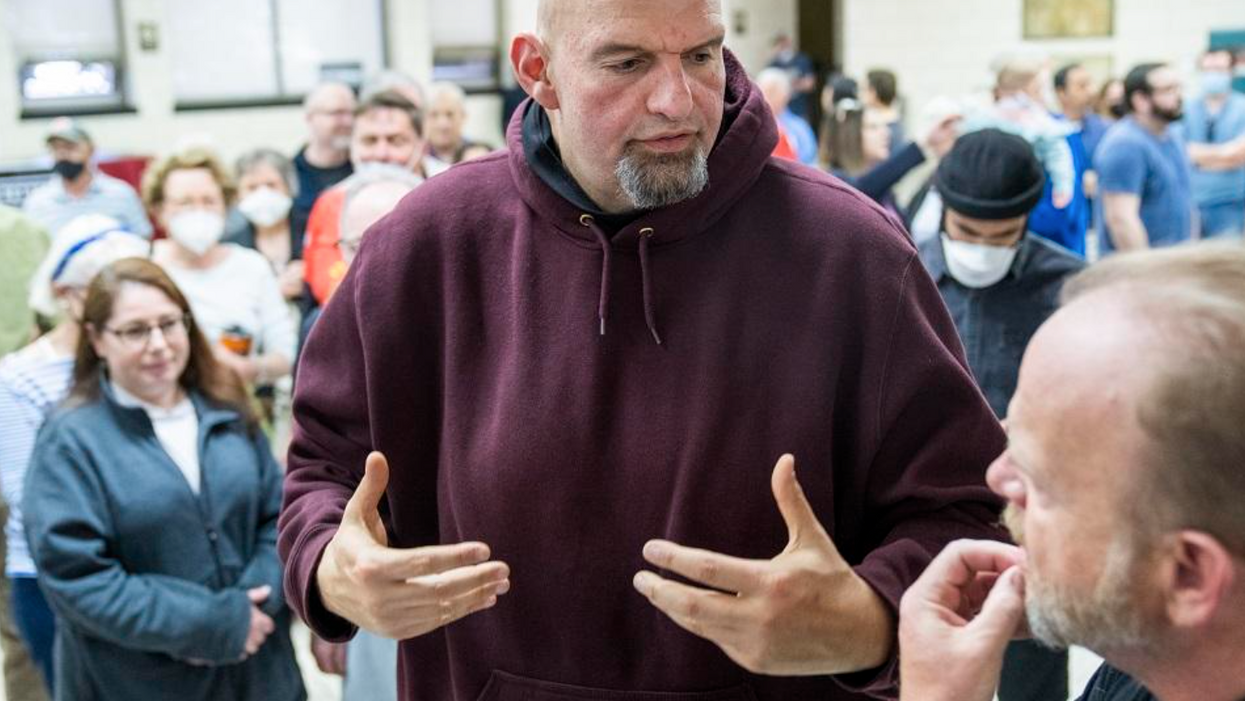 Pennsylvania Lieutenant Governor John Fetterman is running away with the Democratic nomination in his state's primary race. Up about 30 points on his closest competitor, the more moderate Representative Conor Lamb, Fetterman is already taking aim at his potential Republican competition in the general election.
The bald, towering Fetterman has repeatedly burned the top two Republican candidates, hedge fund manager David McCormick, and Mehmet Oz, a TV personality who's received a bump in the polls from Donald Trump's endorsement.
While Fetterman will likely win the Democratic nomination on May 17, the Republican contest seems much closer.
McCormick was the early favorite, but Oz now has a slight lead in the polls, followed closely by Kathy Barnette, whom Steve Bannon has described as "Ultra-MAGA".
Fetterman's campaign war chest, built with small donations attracted by his unique style, have allowed him to open a lead and focus some attention on the discord amongst Republicans in the state.
'Every County. Every Vote.'
Fetterman's campaign slogan, "Every County. Every vote.", can be seen in his travel schedule. He has traveled across the state and visited many deep-red counties in an attempt to win back those once-Democratic votes.
"Some people think it's about trying to go in and have some mass conversion by laying hands on Republicans," he told Time. "That's not gonna happen. There are plenty of people in Pennsylvania that are open to the argument, and if you don't make it, then you can't blame them."
Fetterman's strategy of building a broad coalition of rural working-class voters and a younger, more diverse voting block has been successful in the Democratic primary.
The big question is whether that will work in the general election for a Senate seat that has been won by a Republican in every election since 1968. President Biden's approval ratings have taken a hit in the Keystone State and Democrats are expected to face an uphill battle in the midterm elections this fall.
Fetterman has told his supporters the midterms would be "tough" for his party.
But despite Biden's middling approval ratings and Fetterman's political differences with him, the lieutenant governor has avoided criticizing the president -- and has appeared with Biden during presidential visits to Pennsylvania.
In Fetterman's broad coalition, he also has made room for Biden voters, who after all delivered the president a critical victory in the state in 2020.
Republican Opposition
Most election forecasting websites have the Pennsylvania Senate race as a tossup, and there's a lot that can still change before November. While Fetterman's candidacy seems set in stone, the three Republican frontrunners would all pose distinct challenges.
Financier McCormick has deep pockets, wealthy Oz is a TV celebrity with a Trump endorsement, and Barnette is a MAGA wild card with Bannon backing.
But Fetterman has shown himself to be adept at criticizing the Republican opposition while sticking to the points he thinks will deliver victory.
On McCormick, he hones in on income inequality, tweeting, "the ultra-rich need to start paying their fair share. Like, uh, ultra millionaire Republican David McCormick who is from <checks notes> Connecticut."
For Oz, he turns attention back to the 2020 presidential election, in which Trump accused Pennsylvania of being in on a conspiracy to keep him out of office.
"So much of the disinformation + lies about the 2020 Election was centered on Pennsylvania's electoral integrity, which I was proud to defend at every turn. Donald Trump is *still* so obsessed with PA that he's going all in on 2022 - starting with his Dr. Oz endorsement," he tweeted out -- with an accompanying video of the January 6 Capitol riot.
As Fetterman seeks to reignite the Democratic base within Pennsylvania, his unique, candid style will have to contend with a Republican candidate who will play to Trump's MAGA crowd in the state. It promises to be a heated contest that could be pivotal to which party has a Senate majority going forward.