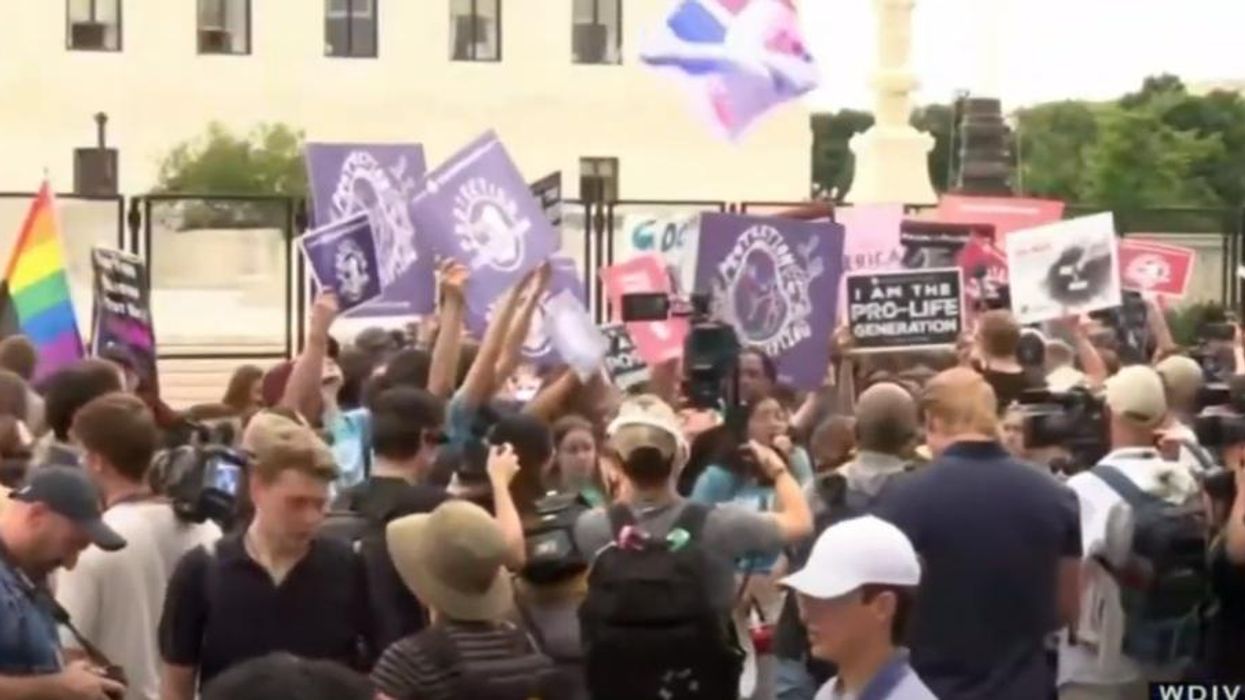 Violence against pro-choice protestors has been a widespread occurrence at pro-abortion demonstrations sweeping across the nation since the US Supreme Court overturned Roe v. Wade and tossed the issue of reproductive rights to the states.
As hundreds of thousands of Americans take to the streets to demand restoration of abortion rights, several violent incidents have sparked fears of broader attacks..
Arizona police fired teargas at protestors outside the state capitol and Los Angeles police were filmed throwing activists and members of the press to the ground at protests. Six people were arrested in South Carolina after protesters attempted to intervene when one was being arrested.
Ten protesters were arrested in Oregon after the police cracked down on a so-called "Night of Rage" supporting abortion rights.
In Cedar Rapids, Iowa the driver of a pickup truck drove into a crowd of abortion rights protestors, leaving one woman hospitalized. A Republican state senate candidate punched his female Democratic competitor in the face at a Providence, Rhode Island abortion rights demonstration. He subsequently was arrested and dropped out of the race.
Jennifer Rourke, the Democrat he assaulted, said, "This is what it is to be a Black woman running for office. I won't give up."
Summer Of Discontent?
Los Angeles organizers from the group RiseUp4AbortionRights along with other activists have called for a "day of mass disruption. Supreme Court Justices, state capitol buildings, and leadership from both parties have also been the target of sustained protest and demands for action.
While the situation in some ways echoes the 2020 George Floyd protests that swept the nation to demand racial justice and an end to police brutality, thus far the scale of protest has remained smaller. Meanwhile law enforcement authorities have responded swiftly to protect public buildings and officials.
The National Guard set up a barricade around the Arizona state capitol; a large fence and snipers can be spotted at the Supreme Court; and police have reacted with force to protesters in other cities.
But there is no indication that protestors and organizers intend to give up. Said actor Jodie Sweetin, who made headlines for being slammed to the ground by police at an abortion rights protest in Los Angeles: "Our activism will continue until our voices are heard and action is taken. This will not deter us, we will continue fighting for our rights. We are not free until ALL of us are free."
How Far Will They Go?
Beyond the response to protests from local authorities, there are also fears of a violent reaction by militia groups and far-right individuals.
Several protests have seen clashes and scuffles between abortion rights activists and counter-protesters. The Rhode Island incident allegedly started as a disagreement between two demonstrators.
In 2020, Black Lives Matters protesters saw a violent reaction from far-right groups, which led to the incident where teenager Kyle Rittenhouse shot three men, killing two of them.
Thirty-one white nationalists were arrested after a concerned civilian tipped off authorities to their plans. The Patriot Front group was en route to a Pride event in Coeur d'Alene, Idaho, allegedly to instigate a riot with smoke grenades and shields.
The spike in white nationalist activity goes hand-in-hand with the Supreme Court's ruling to overturn Roe, weaponizing the Christian faith to limit the rights of women. As to how far the Republican Party is willing to go, Colorado Representative Lauren Boebert told a crowd at a local church, "The church is supposed to direct the government. The government is not supposed to direct the church. I'm tired of this separation of church and state junk."