Is Peter Thiel Using Trump To Advance His Own Far-Right Agenda?
@alecpronk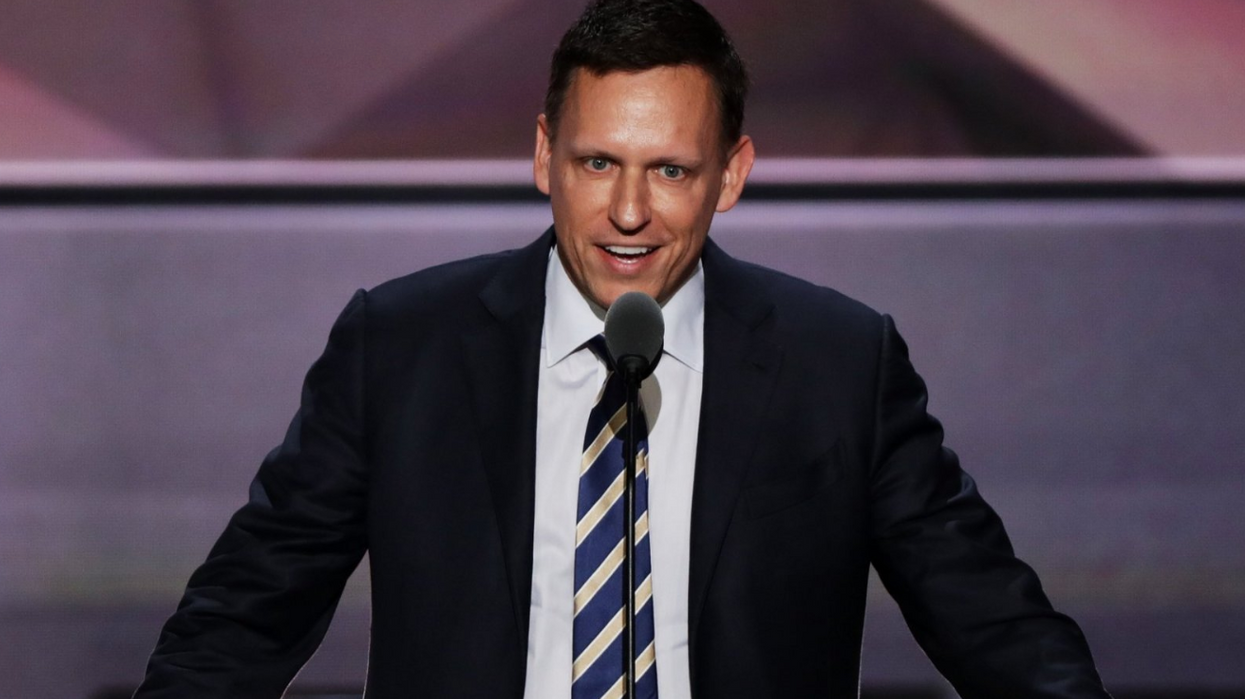 With primary season in full swing and the 2022 midterm elections on the horizon, billionaire venture capitalist Peter Thiel has stamped his mark on the slate of Republicans that will be on offer to voters in November.
Thiel was an early backer of Trump in 2016, but since then he has noticeably taken a step back from full-throated support of the former President. While the two endorse similar politicians, most notably J.D. Vance in Ohio's Senate primary, Vance has sought to differentiate himself from the MAGA world to some degree.
The tech billionaire refrained from public support of Trump during the 2020 election, Thiel is unafraid to be seen socializing with notorious alt-right figures.
Insiders have noted Thiel's treatment of Trump as a figurehead for the budding political far right. Functionally, Trump and Thiel share similar views on important issues, but Thiel has perhaps more skin in the game than even the Trump family.
Buying Democracy
Large political donations from billionaires are nothing new in modern American politics, but Thiel's donations have been particularly noteworthy.
Once an early backer of Senator Ted Cruz, Thiel has invested heavily in several outsider candidates that follow his political agenda to a tee. He donated $10 million each to two PACs that supported J.D. Vance in Ohio and Blake Masters in Arizona in the primary races for Senate seats.
Vance and Masters are both outspokenly anti-Big Tech, a seeming contradiction considering their biggest benefactor. Thiel was the first investor in Facebook and a long-time adviser to Mark Zuckerberg, and he is the co-founder of several major tech companies, including PayPal and Palantir.
Furthermore, Vance and Masters both worked for Thiel. Masters was the chief operating officer of Thiel Capital. Vance worked at a venture capital firm founded by Thiel and his own VC firm received huge investments from Thiel.
But their anti-tech rhetoric makes more sense when you consider Thiel's role and views on big tech firms. Thiel uses candidates like Vance and Masters to criticize big tech companies like Zuckerberg's Meta and advocate for far-right ideologies.
Senator Ted Cruz, another Thiel acolyte, has forcefully attacked big tech companies like Meta for allegedly censoring conservative and right-wing accounts. Much of this pressure from the right comes in tandem with pressure from Democrats on tech companies like Meta and Twitter to better regulate hate speech and misinformation on their platforms.
And of course, Thiel still has business interests in tech and government policy. Thiel's Palantir has received massive government contracts to help police departments, federal departments, and other government organizations to surveil American citizens and refugees.
Cozying Up With The Racist Right
In addition to influencing American tech policy, Thiel has been a friend to many on the far, far right. In 2016, he was seen having dinner with Kevin DeAnna a prolific white nationalist author who is influential in alt-right and openly racist circles.
Thiel also has friends and connections who espouse far right views, including writer Ann Coulter and former Trump aide Steve Bannon.
While he keeps extremely outspoken people in his circle, Thiel rarely articulates his personal political views in public. It is fairly easy to discern his political ideology from his political spending and endorsements.
As an extension of Thiel, candidates like Vance and Masters bash immigrants but attempt to do so in a slightly different way than Trump. Rather than swimming in pure racist vitriol, they attack immigration by turning attention to "woke" corporations.
The website of Protect Ohio Values, a Vance-supporting Super PAC, says "Vance has called on Americans to "take a page from President Trump's playbook" on putting an end to illegal immigration, which benefits woke corporate elites and the Democrat Party."
But the biggest beneficiaries of anti-immigrant actions on the border have been firms like Palantir and billionaires like Peter Thiel.