Will Right-Wing Evangelicals Embrace Herschel Walker's Moral Hypocrisy?
@alecpronk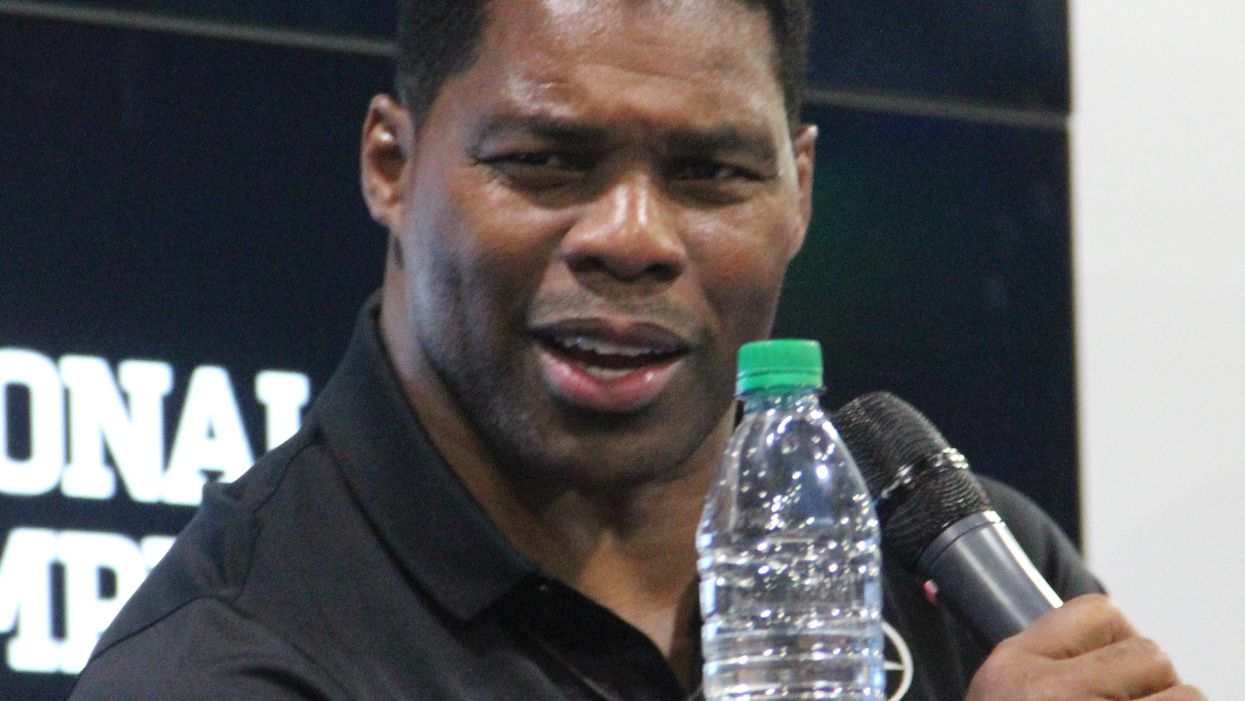 Former football star Herschel Walker has attracted a large following as a commentator over the last decade, carefully crafting an image as an upstanding Black American with a focus on conservative "family values." So when news broke last week of Walker having a 10-year-old child whom he did not raise, the Georgia Republican Senate candidate's detractors began hammering on the contradictions between his moralizing speeches and his own life.
Walker has made his stance against fatherless households a key component of his personal political brand. In a 2020 interview, he said the Black community has a "major, major problem" with fatherless homes.
Media reports later confirmed that he has two additional previously unknown children, a teenage boy and a woman in her forties. Before the news broke, the public only knew of the son he has raised with his ex-wife and current wife, Christian Walker, also a conservative influencer.
With Walker in a neck-and-neck race with Georgia Democratic Senator Raphael Warnock, the heat has been on the Republican. Recent polls show them in a virtual tie.
Will Conservatives Care?
There's no question about the hypocrisy of Herschel Walker. He said on a podcast that if you have "a child with a woman, even if you have to leave that woman… you don't leave the child." But Walker did not acknowledge his 10-year-old child until the mother took him to court over the matter. The bigger question is whether voters in Georgia will care about the GOP candidate's indiscretions.
Shortly after the news broke, Walker appeared at an annual meeting of the Faith and Freedom Coalition, a conservative evangelical group. When discussing the recent allegations, Walker brushed them off as political mud-slinging from the left before changing the topic back to his talking points. While it's a small sample size, his reception by the evangelical right suggests that hypocrisy may not turn conservatives against Walker.
Walker has long been a fan of Donald Trump, and the former president has returned the favor by enthusiastically endorsing the former Heisman Trophy winner. He shares Trump's penchant for political gaffes and will have to hope to have some of Trump's imperviousness to scandal.
An old interview has been uncovered in which Walker compared his own multiple personality disorder to Jesus Christ: "Do our Lord Jesus Christ have a mental illness because he said he's the Father, the Son and the Holy Spirit? To me, those are three different personalities." He also slipped up by referring to the other 51 states besides Georgia, and offered a truly bizarre response to the Uvalde school shooting.
Georgia's Demographics
What might hurt Walker more than anything else is the changing nature of the Georgia electorate. It's risky business for a political party to rest on the demographics of a state that is changing. The Peach State is among those growing fastest across the nation and becoming rapidly more diverse. From 2010 to 2020 Georgia's population increased by 10 percent with the Black, Asian, and Hispanic population seeing large increases while the white population declined.
On paper, conventional wisdom says that this plays into the Democrats' favor, and it has been a contributing factor to Georgia Republicans' push in the state to suppress the vote. An East Carolina University poll puts Walker's support from Black voters at a lowly seven percent, lower than even Governor Brian Kemp's nine percent in his 2018 reelection victory against Democrat Stacey Abrams. In that poll's overall tally, however, Walker and Warnock were tied at about 46 percent.
Hammering Walker for his hypocrisy may have impact on the margins, but Warnock's candidacy depends on turning out his base in an election that may be challenging for Democrats this year.