Why Democrats Want Biden To Cancel Student Debt Now
@alecpronk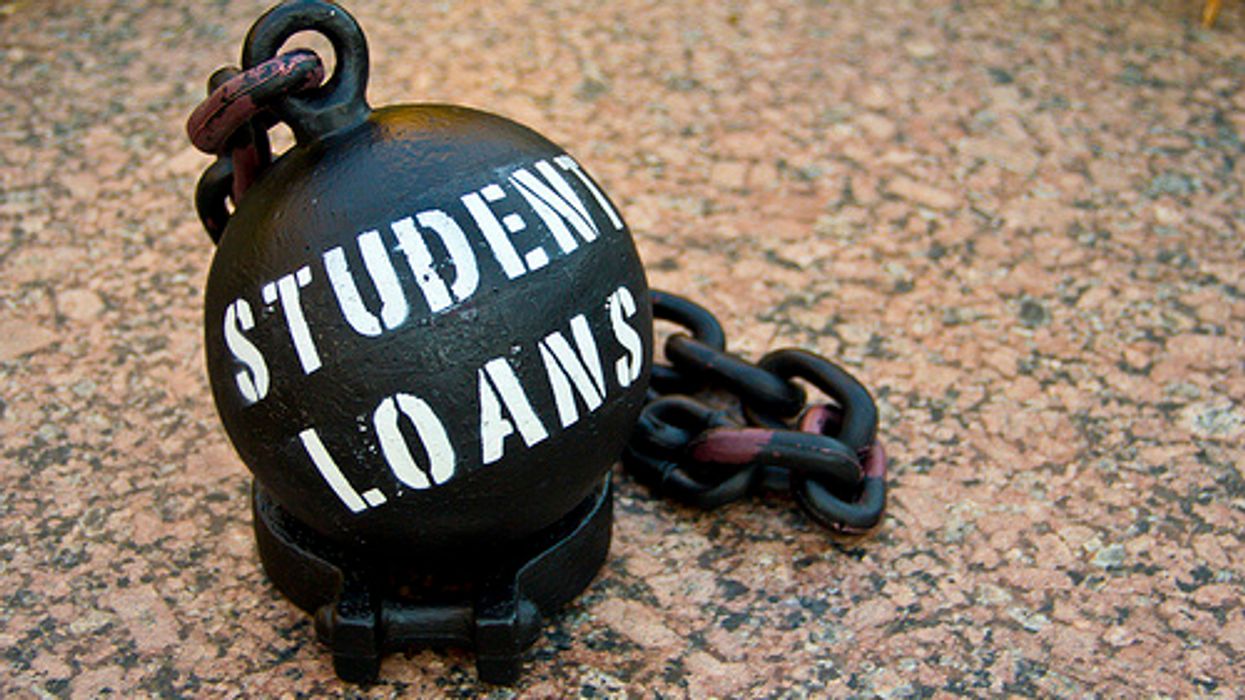 With his approval rating stuck around 40 percent, many in his own party have pressured President Joe Biden to offer student debt forgiveness ahead of the 2022 midterms. The Washington Post first reported that the White House is planning to cancel $10,000 in federal student loan debt per borrower earning less than $150,000 a year.
Some Democrats have been pushing for $50,000 per borrower in student debt cancellation to help the 45 million Americans with student debt. But Biden has remained adamant that he has not considered such an amount.
The White House has thus far denied reports of their $10,000 student debt cancellation plans, but rumors continue to fuel debate on the issue. A substantial dip in Biden's approval rating has been in two key demographics for the Democratic Party, young people and minorities.
The average student debt for a graduating college student is $31,000, according to the Education Data Initiative. Since 1990, the average debt for a graduating student has doubled, adjusting for inflation.
Student debt also disproportionately impacts Black Americans, who are more likely to hold student debt than their white college graduate counterparts. Up to 86 percent of Black American college graduates owe student debt, at an average of $40,000. That's $10,000 more on average than white Americans, who hold student debt at a rate of 67.7 percent.
Student loan forgiveness is thus potentially a key component in closing the astronomical racial wealth gap in America. According to the Federal Reserve, Black families have less than 15 percent of the wealth of white families.
Why Now?
Although the longstanding racial wealth gap cannot be solved with a single policy, the Biden Administration is keen to show the party base that it can get things done.
According to Data for Progress polling, 64 percent of Americans under the age of 45 and 77 percent of Democrats of all ages support the idea of canceling $50,000 of student debt per borrower.
But mainstream outlets are filled with opinion bashing student loan forgiveness as elitist and benefitting the rich. On the contrary, however, research from the Roosevelt Institute shows that $50,000 of student debt cancellation per borrower would mostly help poor Black families.
The latest reported plans from the White House of $10,000 are more modest and would cost the government an estimated $230 billion.
A large dip in Biden's approval rating has been in two key demographics for the Democratic Party, young people and minorities.
Can Biden Cancel Debt?
While the Democrats have a slim majority in the Senate, they have not passed headline-grabbing legislation such as the infrastructure bill. Biden has also appealed to "rational Republicans" on issues like gun control and abortion rights, key issues for young Americans. Such appeals show Biden's inability to act on his campaign promises unilaterally or through the marginally Democratic-controlled Congress.
Debt cancellation falls under the purview of the executive branch, however, giving Biden a range of executive actions that he could take to cancel any amount of federal student loan debt.
Senate Republicans confirmed the President's power to cancel student debt when in April they filed legislation that attempted to curtail that power. As David Dayen wrote in The American Prospect, "there would be no need for such a bill if there was not already authority granted by Congress to the executive branch to suspend, defer, or cancel student loan payments."
Having campaigned on a promise to cancel $10,000 in student debt per borrower, Biden could pitch debt cancellation as a landmark political win.
With his approval rating cratering and Democrats fearful of key midterm elections this fall, Biden may well see student debt cancellation as a shrewd move to win over apathetic voters.