In South Carolina Primary, Haley And Trump Candidates Wage Proxy War
@alecpronk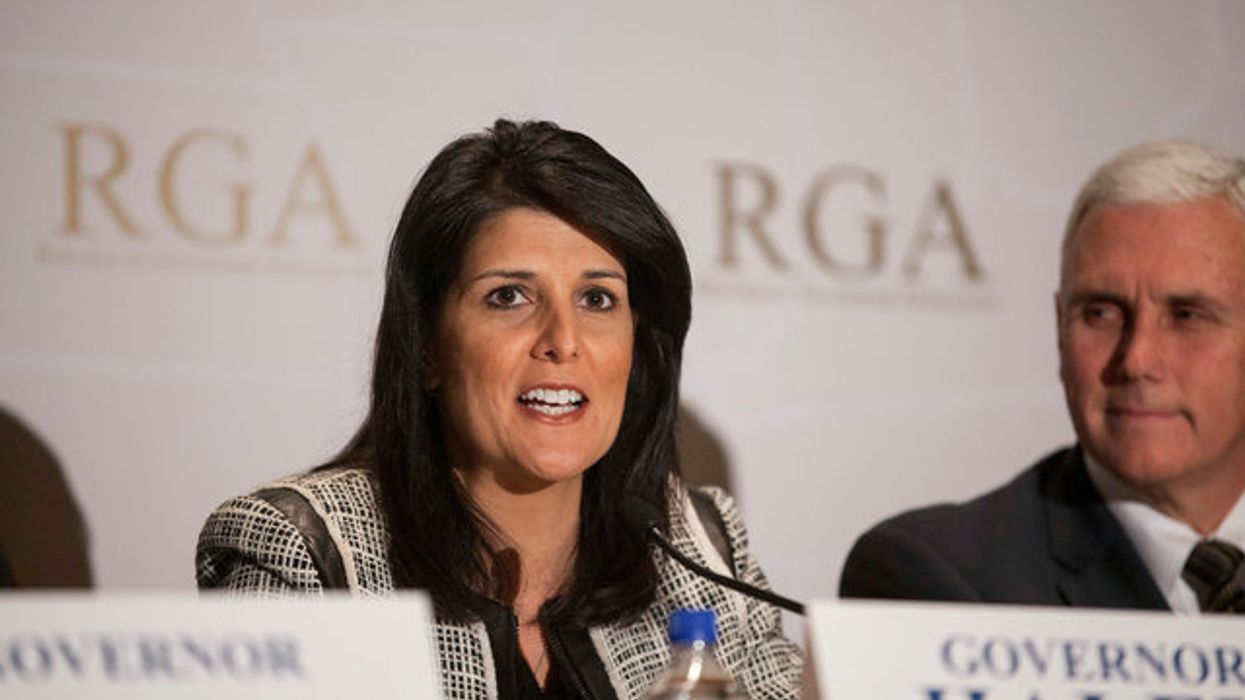 Nikki Haley
Former UN Ambassador Nikki Haley is touring the country, hoping that former President Donald Trump doesn't run again and block her path to the 2024 Republican presidential nomination.

That may be why a pitched primary battle is taking shape in Haley's home state of South Carolina, a proxy war between her and Trump. Haley has backed the incumbent, Rep. Nancy Mace, who condemned Trump's actions during the January 6, 2021 insurrection at the US Capitol. She has also said that the rioting wiped out Trump's legacy.
For his part Trump has endorsed Katie Arrington, who beat defeated an anti-Trump Republican in a 2018 primary before losing to the Democrat in the general election. Arrington is fighting from behind to dethrone Mace, but a Trump endorsement has proved key to several races this primary season.
The high-stakes battle will play out on Tuesday, June 14, when South Carolina Republican voters head to the polls.
Mocking January 5 Hearings
With the January 6 riot back in the news cycle, Arrington has tried to capitalize on Mace's faltering support for Trump.
Mace condemned Trump's actions leading up to the storming of the Capitol building, but she ultimately voted against impeaching him for a second time.
On Thursday Arrington tweeted, "The January 6th hearing is tonight, when's the one for the baby formula shortage?" She has joined the majority of Republican political operatives and news sites that have attempted to downplay the ongoing investigations and prosecutions of the Capitol riots.
In the latest polls, Mace has a six-percent lead on Arrington, but the Trump-endorsed candidate has been closing in on the incumbent
Notably, Haley has committed significantly more resources to the campaign than the Trump camp has. The former Trump cabinet member has appeared in Mace ads and extensively fundraised for the freshman representative.
Arrington has appeared at Trump events and the former president has raised money for her as well.
Yet Trump apparently has decided not to visit the state to give Arrington a final boost in the primary's home stretch. The former president has a penchant for only throwing real resources into battles that he knows he has a good chance of winning.
Trump also is looking to take out another South Carolina Republican incumbent, Rep. Tom Rice, who unlike Mace voted to impeach the President. The two candidates are among the group of Republicans that Trump deemed worthy of attempting to oust for their lack of loyalty to him.
Nikki Haley's Prospects
Much like Mace, Haley has tried to thread the needle when it comes to opposing her former boss. She endorsed Mace before Arrington entered the race, and she has endorsed other South Carolina candidates that have also enjoyed Trump's endorsement.
Recently Haley took an equivocal position on Trump's Big Lie, saying "there was fraud in the [2020] election, but I don't think that the numbers were so big that it swayed the vote in the wrong direction."
According to inside sources, Haley has insisted that her opposition to Trump in South Carolina was not an intentional slight against him. But her political dance shows the difficulty faced by Republicans who seek a different course than falling purely in the Trump camp. They risk alienating Trump voters, a risky proposition considering the fervor for the former president among the Republican base.
Trump-endorsed candidates have won several key primaries recently including J.D. Vance in Ohio and Mehmet Öz in Pennsylvania.
Haley has indicated that she may be one of the first possible candidates for the Republican presidential nomination in 2024. While the 2024 race is barely in its early days, she has scheduled trips to states like Iowa, clearly showing her interest.
Haley has previously stated that her potential run does not depend on whether Trump is again a candidate, but it's difficult to imagine anyone as ambitious as Haley challenging the former president if he decides to run.