How A Texas Primary Exposed Divisions Within The Democratic Party
@alecpronk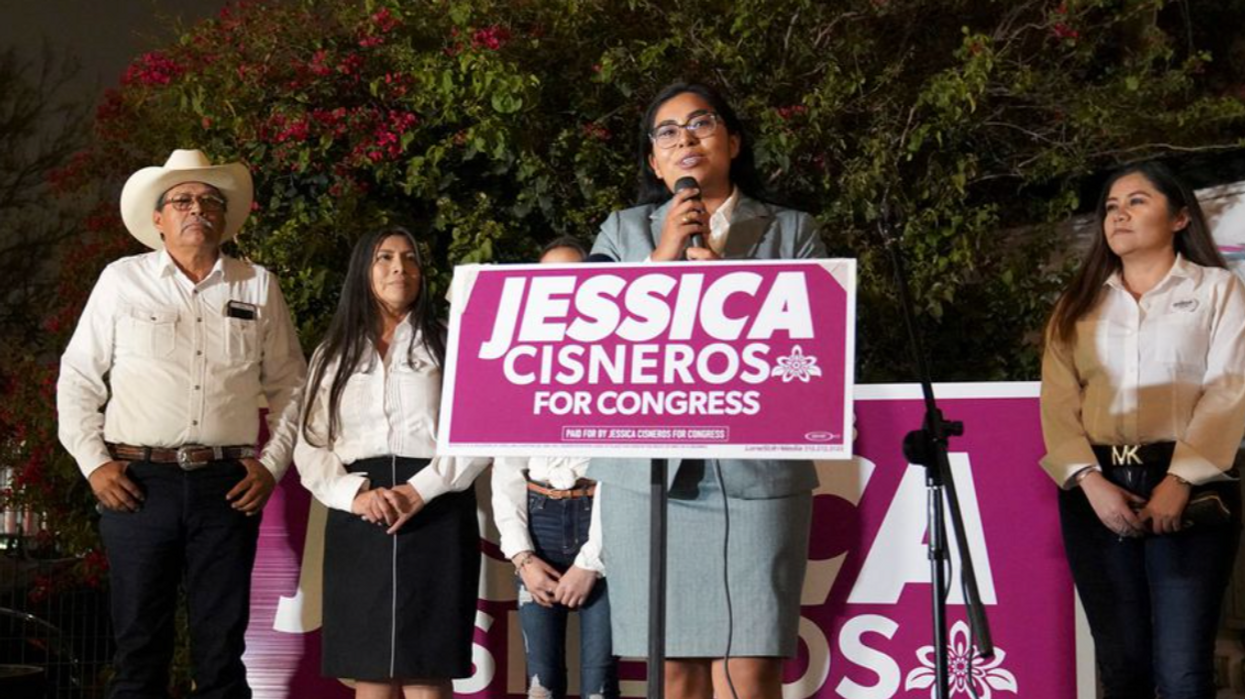 It's a race that has some Democratic voters scratching their heads: a young, progressive primary challenger versus a pro-life, conservative Democrat who received an A-rating from the NRA. The primary race between one of the most conservative Democrats in the House, Representative Henry Cuellar, and Jessica Cisneros has become a lightning rod within the Democratic Party.
Cuellar declared victory, but as of Wednesday morning, major media outlets have said the race is too close to call. He is just a couple hundred votes ahead of his Cisneros in Texas' 28th Congressional District primary. When neither candidate won a majority in the March 1 primary, the two highest vote-getters faced each other in Tuesday's run-off election.
Top House Democrats including House Speaker Nancy Pelosi (D-CA), Majority Leader Steny Hoyer (D-MD), and Majority Whip Jim Clyburn (D-SC) backed Cuellar despite his status as the only self-identified pro-life Democrat in the Senate.
Cisneros, 29, was supported by Senator Bernie Sanders and Representative Alexandria Ocasio-Cortez (D-NY), and the young progressive seized on the news of the Supreme Court leak to overturn Roe v. Wade. She closed the gap between her and Cuellar from two percentage points on March 1 to a photo finish on Tuesday.
Abortion, Gun Safety At Issue
Key issues for the Democrats this fall, abortion and gun violence, are central to Texas politics. Texas Republicans are leading the pack to peel back abortion rights, and on Tuesday a gunman killed 19 children and 2 teachers at an elementary school in Uvalde, Texas.
Cisneros attempted to paint Cuellar as a conservative Democrat who would hurt the Democrats' chance of passing key legislation.
"There's so many key issues where he's always siding with Republicans, and he could become the Joe Manchin of the House. We don't want Henry Cuellar to be the deciding vote on the future of our fundamental freedoms and rights in this country. We just can't risk that," Cisneros told Meet the Press.
For his part, Cuellar tried to thread the needle, claiming he does not run on his pro-life views and focuses on other important issues.
Top Democrats like Pelosi have come under fire from the progressive wing of their party for directing significant resources to Cuellar's campaign.
As reported by The American Prospect, a Super PAC with former consultants for President Obama, President Biden, and Senator Sanders donated $241,000 to Cuellar's campaign. Cuellar also regularly highlighted his endorsements from Pelosi, Clyburn, and Hoyer,
Cuellar came under fire not just for his conservative political views, but also for an FBI raid on his home just a month before the March 1 primary. The FBI raided Cuellar's home as part of an investigation related to Azerbaijan, but the FBI and Department of Justice have been tight-lipped about the status of the probe.
Democratic Discord
The race put divisions within the Democratic Party on display. And questions remain as to whether those disputes can be set aside before the general election in November -- and whether progresssives will line up with party leaders.
Ocasio-Cortez not only backed Cisneros, but she has spoken out harshly against Cuellar and Democratic leadership. She called the race "an utter failure of leadership," adding, "Congress should not be an incumbent protection racket."
She continued on Twitter, "on the day of a mass shooting and weeks after news of Roe, Democratic Party leadership rallied for a pro-NRA, anti-choice incumbent under investigation in a close primary. Robocalls, fundraisers, all of it."
Cisneros was seen as a potential new member of the Squad, a group of more progressive female representatives that has faced backlash from Democratic leadership. Nonetheless, the group has fallen in line with party politics more than conservative Democratic senators such as Joe Manchin and Kyrsten Sinema.
But disagreement over primaries has been a regular source of discord between the progressive wing of the party and party leadership. At the end of the day, the story will likely be that Democratic leadership saved Cuellar's political career. But, the battle between these two wings of the Democratic Party is far from resolved.