Fired VA Head Warns Against Privatization Schemes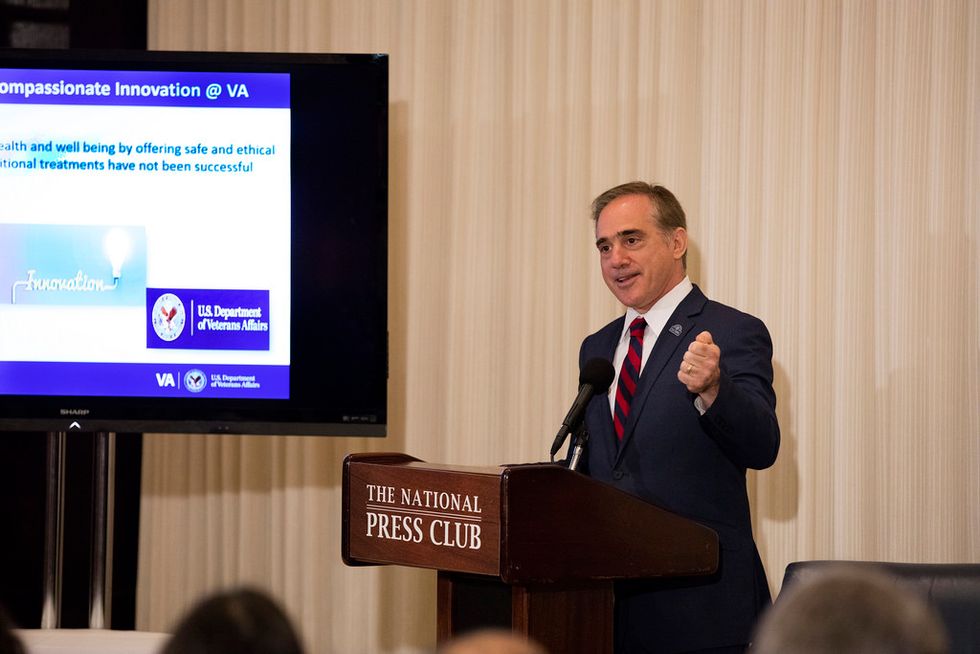 Reprinted with permission from AlterNet.
Donald Trump did the inevitable Wednesday night and dismissed embattled Veteran Affairs Secretary David Shulkin. The former Obama official has been replaced by the president's personal physician, Admiral Ronny Jackson, who has no qualifiable leadership experience and raised millions of eyebrows last year after publicly proclaiming that Trump was "in excellent health." But Shulkin refused to go quietly, warning the country that the chaos in the White House could harm veterans for years to come.
In an op-ed for the New York Timespublished hours after his firing, Shulkin cited his various accomplishments during his tenure as the head of VA, including reducing veteran unemployment from 10.2 percent to 3.5 percent and cutting wait times for health care services. He also issued a blistering rebuke to the wave of free-market cheerleaders who have swept into the federal government since Trump's election.
Describing the warring factions within the VA under Trump, Shulkin wrote:
It seems that these successes within the department have intensified the ambitions of people who want to put V.A. health care in the hands of the private sector. I believe differences in philosophy deserve robust debate, and solutions should be determined based on the merits of the arguments. The advocates within the administration for privatizing V.A. health services, however, reject this approach. They saw me as an obstacle to privatization who had to be removed. That is because I am convinced that privatization is a political issue aimed at rewarding select people and companies with profits, even if it undermines care for veterans.
Shulkin, who strongly opposes privatization efforts, warns that the VA "has become entangled in a brutal power struggle, with some political appointees choosing to promote their agendas instead of what's best for veterans." Privatization proponents, who want to shut down VA hospitals and hand the task of caring for veterans over to the private sector, fail to grasp "the number and complexity of patients that would come from closing or downsizing VA hospitals and clinics, particularly when it involves the mental health needs of people scarred by the horrors of war."
Shulkin was one of the few remaining government officials who believe it is their respsonibility to help people, not businesses. His departure is worrisome to all of us who feel the same.
Liz Posner is a managing editor at AlterNet. Her work has appeared on Forbes.com, Bust, Bustle, Refinery29, and elsewhere. Follow her on Twitter at @elizpos.