First Ladies' Key Role In Presidential Libraries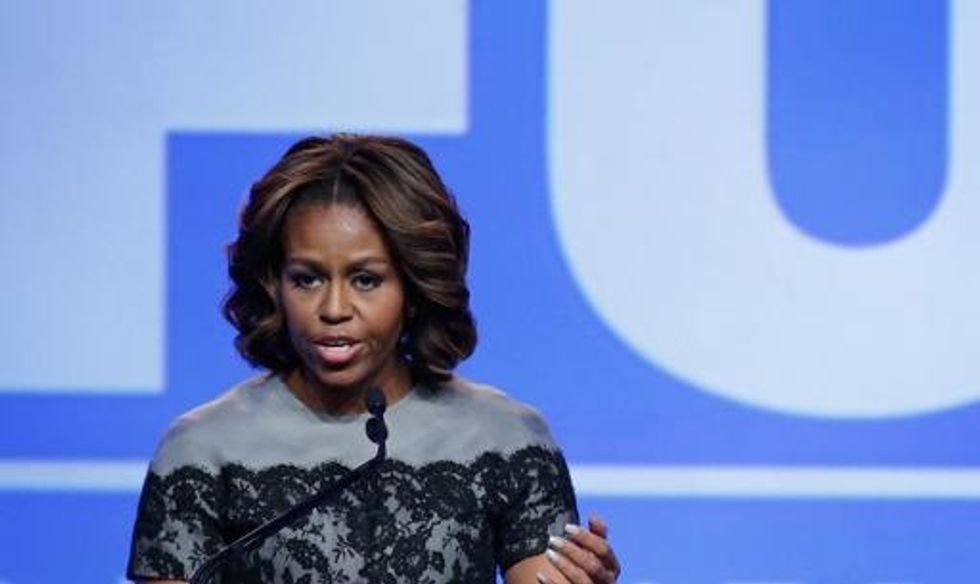 By Dahleen Glanton, Chicago Tribune
CHICAGO — In just over a century and a half, the concept of a presidential library has evolved from a small room in a home where first lady Sarah Polk kept her late husband's letters and mementos into multimillion-dollar complexes that house thousands of official records from the presidents' years in office.
But presidential libraries are no longer just a means of preserving the legacy of the men who have occupied the Oval Office. Modern-day libraries are designed to highlight the partnership between the president and first lady. And increasingly, it is the first lady who leads the charge in making sure her husband's vision for his library comes to fruition.
"There has been a trend away from the traditional museum approach, in which the first lady is treated in a separate, boxy space filled with dresses and perhaps some images from her travels and state dinners," said Richard Norton Smith, a presidential scholar who has served as director of several presidential libraries. "As an alternative, her story is being more fully integrated with that of her spouse — just like in real life."
In that way, Smith said, their partnership is conveyed more honestly, and the first lady herself is acknowledged for substantive contributions beyond the narrow range traditionally associated with the role.
Part of the reason for that, according to Smith and others, is that the first ladies have become more involved in the development of presidential libraries and museums. In doing so, Smith said, the first lady tends to humanize history.
"It's not just the causes they espouse but the character they display that makes first ladies connect with the American people, earning them a historical place quite apart from whatever their spouse may or may not achieve," Smith said. "We buy their books and speculate about their influence because we see them as more authentic or at least less imprisoned in the political bubble."
Like first ladies before her, Michelle Obama will play an integral role in choosing where the library will go, raising private funds to build it, and deciding what it will look like after it is completed. It will be up to her to decide how involved she wants to be in the day-to-day planning and how much of a footprint she leaves on the library.
A spokeswoman for the Obama foundation said Michelle Obama's public service "will be prominently featured in the library."
The first lady's involvement in presidential libraries varies from president to president, just as the extent and manner in which she is represented differs from one library to the next.
For example, close observers of the development of the Clinton library and museum said President Bill Clinton took a hands-on approach in overseeing it, leaving little for Hillary Rodham Clinton to do. But with her then-new job as a U.S. senator and her eye on her own future presidential bid, there wasn't much time to devote to a presidential library even if her husband had wanted her to.
The first lady, however, is featured in at least two permanent exhibits in the Little Rock, Arkansas, library. An exhibit called "Putting People First" highlights her role spearheading the Clinton administration's unsuccessful effort to reform health care. Another exhibit focusing on the president's education initiatives includes awards given to the first lady.
First lady Laura Bush was a driving force behind President George W. Bush's library, doing everything from chairing the design committee to developing the exhibit while he focused on the center's policy institute. She was instrumental in selecting Southern Methodist University in Dallas for the site. She and the president both have offices at the center and are there on a regular basis, library officials said.
Being a former librarian with a master's degree in library science, Laura Bush stepped naturally into the leadership role, according to Sally McDonough, formerly her press secretary at the White House and currently vice president of external affairs at the George W. Bush Presidential Library and Museum. As first lady, Laura Bush once invited the directors of the various presidential libraries to Camp David to brainstorm ideas.
"The first lady is a strategic partner to the president, not only in helping him get into office but in managing their time together in Washington. She has a unique perspective and a filter that she brings to the library," McDonough said. "It's hard to look at the presidential center and not think of the touches she was involved in, from the location on campus to the landscape surrounding it. It's the first library in the 21st century where technology is an important part of the design."
When things needed tweaking, Laura Bush was the one to do it. For example, she found it jarring to leave the No Child Left Behind section and go straight into an exhibit focusing on the Sept. 11 terrorist attacks, especially for children. So she added a reading nook stocked with some of her favorite books so the children could stay behind and read as their parents went through.
Presidential libraries have come a long way since 1939, when President Franklin Roosevelt donated his personal and presidential papers to the federal government and formed a nonprofit corporation to raise money to build a place to house them on his estate at Hyde Park. It was not until 1955 that Congress passed the Presidential Libraries Act, establishing a system of privately built libraries that are later handed over to the federal government to manage and maintain.
According to Jeremy Mayer, an associate political science professor at George Mason University in Fairfax, Virginia, the role of first ladies in the presidential library system reflects their growing policy role, but it also is part of a natural evolution.
"Given the life span of women versus men, women are typically outliving the presidents," Mayer said. "And in most cases, no one is more interested in the president's legacy than his wife."
AFP Photo/Alex Wong
Interested in U.S. politics? Sign up for our daily email newsletter!