First Muslim Woman Wins Congressional Primary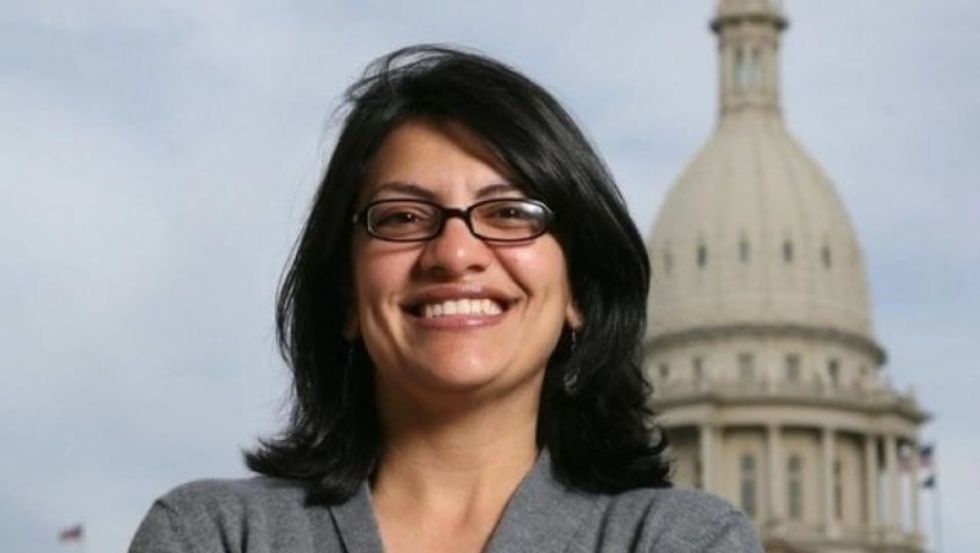 Reprinted with permission from Shareblue.
Rashida Tlaib is set to become the first Muslim and Palestinian-American woman in Congress after winning her primary race in Michigan's 13th Congressional District on Tuesday.
Tlaib is all but guaranteed to win the seat once held by John Conyers, a long-serving Democratic congressman who resigned last year over sexual harassment allegations.
Tlaib's win means that for the first time, at least one Muslim woman will join the 116th Congress. And she may not be alone in making history; three other Muslim women candidates are still competing in Democratic primaries later this month and next.
Meanwhile, New Mexico's Deb Haaland was already poised to become the first Native American woman in Congress — but after Tuesday, she could be joined by Sharice Davids, a Native American attorney who is also an out lesbian and who won her Democratic primary in Kansas' 3rd Congressional District.
A "blue wave" of electoral victories for Democrats nationwide is coming in November. And it's being fueled by an incredibly diverse group of new, enthusiastic, unapologetically progressive candidates — including record numbers of women nominees, as well as potential new firsts for racial and LGBTQ diversity.
Primary season isn't over, but 2018 already has a record 183 women who have clinched a major-party nomination for the U.S. House, and a record 11 women nominees for governor. Those are records for any year, not just for a midterm election cycle.
And it's no accident that most of these women are Democrats. Of the 28 women who won primaries on Tuesday night, only 5 of them were Republicans.
Many women Democratic candidates decided to run for office for the first time because they were so disgusted by Trump's misogyny and inhumanity, and so determined to find a way to fight back.
But Trump isn't the only reason they're running. These women know that Americans have been hurting for decades as wages stagnate and costs of living skyrocket. They know that Trump's America is making that pain even worse. And they know we need big, bold changes to fix that.
Tlaib, for instance, ran on an unapologetically progressive platform, including Medicare for All, a $15 minimum wage, and abolishing ICE (U.S. Immigrations and Customs Enforcement, an agency that has only existed for 15 years and has become a human rights nightmare).
Alexandria Ocasio-Cortez, a self-identified democratic socialist, has become a rising star in the Democratic Party after winning her primary in the Bronx last month.
Gretchen Whitmer, who clinched the Democratic nomination for governor of Michigan, was labeled the "establishment" candidate in comparison to Abdul al-Sayed, who ran to her left. But Whitmer's platform was hardly centrist, and called for some very bold progressive reforms like universal preschool, legalizing marijuana, banning employers from asking about criminal history on job applications, a $15 minimum wage, and expanding Medicaid.
Many new candidates, especially women and people of color, are pushing the Democratic Party to embrace truly bold fixes to many of the deep economic and social problems America has struggled with for decades.
For Democrats, the choices have expanded far beyond Bernie versus Hillary or left versus centrist. Identity matters; social justice matters; economic security matters. The wealthy and powerful are gobbling up everything and trying to pit racial and identity groups against one another to fight over the scraps.
A new generation of diverse Democratic candidates are charting a different course — and women are leading the way.
Published with permission of The American Independent.
Header image source.