Florida Rings In New Era As Same-Sex Marriage Begins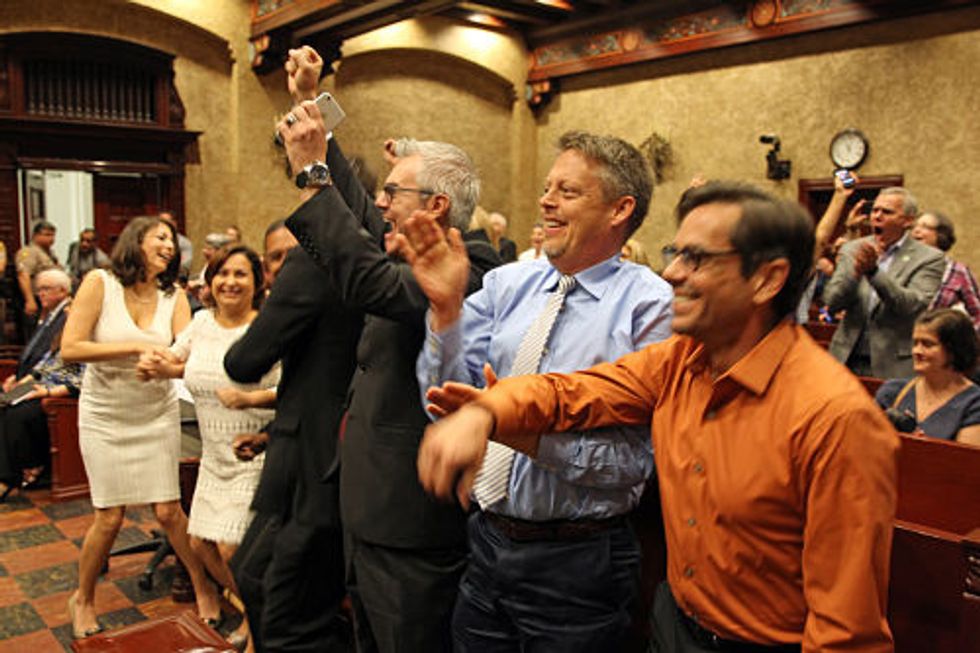 By Dan Sweeney, Brittany Shammas and Mike Clary, Sun Sentinel (TNS)
FORT LAUDERDALE, Fla. — Signaling a major shift in public acceptance, and legitimizing scores of committed relationships, same-sex marriage made a dramatic debut in South Florida where clerks' offices staged midnight Monday and early Tuesday morning weddings for couples eager to tie that long-hoped-for knot.
Shortly before midnight, about 150 people filled Room 308 — the main jury room — at the Broward County Courthouse in Fort Lauderdale, some with children and friends in tow. Broward Clerk of Court Howard Forman said 62 applications had been received as of 10 p.m. Monday.
"We didn't know whether to expect 100, 1,000 or 50," he said.
A mass wedding was scheduled for 3 a.m., but about an hour before that, there was another group ceremony with about 30 couples participating. Shortly before 1 a.m., individual vows were being exchanged at the courthouse, 201 SE Sixth St., Fort Lauderdale.
Tammy Lopez and her partner, Jessica Nielsen, arrived at the courthouse at 6:30 p.m.
"I didn't think I'd be No. 1, but I didn't want to be No. 100," Lopez said. The couple was No. 4. They were among the first group to get their licenses, though they decided to wait until the mass wedding to get hitched.
They could wait. Lopez and Nielsen met seven years ago. They were neighbors in an apartment complex. Two years ago, they had a commitment ceremony that had all the trappings of a big, traditional wedding ceremony.
"This just makes it official," Lopez said.
Broward Commissioner Marty Kiar announced that Tuesday would be proclaimed Marriage Equality Day in the county.
"This is so historic, not just for everyone here, but for all of Broward County," he said.
Stork's Bakery put out cake and coffee as a diverse group of gay and lesbian couples, about 200 by 12:15 a.m., milled about the room. It was hurry-up-and-wait as couples turned in their applications, waited to get them processed, waited to pay their fees, waited to get a hardship waiver in order to avoid the three-day waiting period and get married straight away.
Nancy Brodzki, the lawyer who successfully fought to have a Broward circuit judge overturn the state's same-sex marriage ban, stood at the front of one line. Once a lawyer fighting for a client trying to get her marriage recognized so she could divorce, now, Brodzki was waiting to get married herself.
She led another round of people down a hallway to pay their fees as the next ten in line took their place.
Sheriff Scott Israel walked up to the front of the room as Brodzki disappeared through a door.
"Good evening everybody," Israel said. "I guess you could call this a historic night."
The crowd cheered as Israel congratulated two police officers who were getting married.
Florida became the 36th state, along with Washington, D.C., to recognize same-sex marriage.
For many of the couples, it had been a long time coming.
Irene Kalinowski and Dana Murphy hadn't planned on getting married Tuesday.
They went to the South County Courthouse in Delray Beach courthouse around 10:30 p.m. Monday to pick up a marriage license, expecting to hold a ceremony later. Instead, the Jupiter couple got swept up in the excitement they felt there, as nearly 100 couples prepared for a midnight group wedding.
Nearly 100 couples their friends and their families filled the entrance of the courthouse and prepared for a midnight group wedding. As they stood near Palm Beach County Clerk Sharon Bock, a woman sang "Defying Gravity" and flowers adorned the stairs where the clerk stood.
"On this special night," Bock said, "we're here to celebrate love."
"Being able to be a part of Florida's history of equal marriage just felt right," Kalinowski said.
Then came what Bock called "the famous words."
"Now, by the authority vested in me, " she began, prompting loud applause and cheering, "as the Clerk and Comptroller and under the laws of the great state of Florida, along with the eyes and the hearts of your families and friends, I pronounce you legally married."
After 15 years together and a 2008 beachfront ceremony in Jupiter, Kalinowski, 44, and Murphy, 37, already felt married. But Tuesday was significant.
"Oddly enough, I'm surprised that it feels this good to have this piece of paper," Kalinowski said, holding a marriage certificate. "I didn't think I'd feel any different. Now that it's legally recognized, we have the same rights and I don't have to worry if anything happens. I feel like I'll sleep so much better."
More applause followed, and many wiped away tears.
"What just happened?" a woman asked her new wife with a wide smile.
Ashley Foulds and Cori Graham brought the whole family to the Delray Beach courthouse Monday night, deciding their three kids could skip school Tuesday to see them exchange vows.
"They want to know, 'Where's your wedding album?'" said Foulds, who wore a lace dress. "And we've had to tell them, We're not allowed to get married.' So this is for them as much as us."
Foulds and Graham met nearly 10 years ago at an Irish restaurant in Lake Worth. Foulds said she saw Graham and followed her into the bathroom to ask for her number. And that was that.
"We're best friends," Graham said. "Soulmates. We've known that for a long time. There's nobody I'd rather experience this day with — and every day from now on."
After the ceremony, there was cake and a photo op in front of a makeshift altar before the courthouse cleared out around 2 a.m. Tuesday.
"When you're making history," Bock told reporters, "why wait eight hours?"
Among the hundreds of people who crowded into the South County Courthouse for Tuesday's group wedding was financial adviser and television personality Suze Orman.
Orman, who was with her wife, Kathy Travis, came to see friends Nikki Korval and Marty Harris, of Delray Beach, get married. Orman has a home in the state.
"Honestly I never thought I'd see it in Florida," Orman said. "It was heartbreaking to me because I'm a resident of Florida."
She said she planned to leave the state and spend her money elsewhere if it did not support equality. The legalization of same-sex marriage came as a pleasant surprise.
"It is a great night," Orman said. "We have worked hard in all of the states for this to happen."
On Florida, she added: "I'm so glad I was wrong."
Korval called Tuesday a "great day." After 25 years with Harris, she said she couldn't wait until 12:01 a.m. As people crowded around Orman, clamoring for pictures with her, Korval said she was happy to have her there.
"It's big of her to come," she said. "Because look what happens."
As soon as he knew he and his longtime partner were getting married at 12:01 a.m. Tuesday at Palm Beach County's Delray Beach courthouse, Donald Fannone booked a honeymoon.
Seven months from now, he and James Volpe, who are both 63 and work as hair stylists, will leave for a gay cruise in the Mediterranean.
Though they exchanged rings years ago, they've waited a long time — more than 17 years — to be legally married.
"I never thought I'd see it in my lifetime," Fannone said.
Miami-Dade was the first South Florida county to start issuing marriage licenses, after a judge there authorized same-sex unions.
Ruling at 11 a.m. Monday, Miami-Dade Circuit Judge Sarah Zabel lifted the stay on her own ruling overturning Florida's same-sex marriage ban, effective immediately.
Cathy Pareto and Karla Arguello were among the first couples to do so, filing their paperwork at 12:20 p.m. Pareto is the named plaintiff in the Miami lawsuit that overturned the same-sex marriage ban, Pareto v. Ruvin.
"This has been a year in the making, with the lawsuit," Arguello said. "It's been exhausting and exhilarating all at the same time."
The couple waited in the room, which was crammed with reporters, cameras and friends who came along to show support. Laudisio, 52, and Francie Peake, 53, were among those friends. They have been a couple less than a year and have no plans to marry, but they lauded Pareto and Arguello as "super brave."
"When we were in our 20s, just being gay was dangerous to your job and to life itself," Laudisio said.
After getting their papers in order, Pareto and Arguello, along with another couple from the Miami lawsuit, Jeff and Todd Delmay, headed back across the street to the courthouse to be married by Zabel, the same judge who overturned the ban.
Pareto and Arguello went first. When Zabel asked whether they had rings, Pareto answered, "They've been on for 15 years."
Zabel pronounced the two women married at 1:12 p.m.
Todd and Jeff Delmay were married afterward. The two men had already legally changed their names from May and Delsol respectively.
Zabel signed their papers and joked, "I'm moving to family court now. I don't want to see any of you there."
The Delmays had many reasons to get married. But the most important was their 4-year-old son, Blake.
"We want him to grow up knowing his family has the same values as every family," Todd Delmay said. "We wanted to set an example for him that when there is an unjust law it has to be changed."
As word spread that the ban had been lifted in Miami-Dade a day early, county clerks' offices became inundated with phone calls, though crowds at the various offices were thin after the initial rush, according to the supervisor of the marriage license bureau, Saydie Rodriguez.
Between 11 a.m., when Zabel issued her ruling, and 2 p.m., clerk's offices around Miami-Dade issued 14 marriage licenses and performed three ceremonies — one at the main office, one in Miami Beach and one in Coral Gables.
Florida has a three-day waiting period between getting a license and having a ceremony, but the requirement can be waived if a couple attend a premarital course approved by the county clerk. Marriage licenses cost $93.50, or $61 for those who have completed the course. Clerks' offices charge an additional $30 for performing the ceremony.
Gay and lesbian couples who were married in a different state will now have those marriages recognized in Florida as well. There is no need to remarry or file paperwork to that effect, according to county clerks.
After the first group ceremony in Broward County, Forman, the court clerk, told the crowd, "Love bears all. Love endures all."
For many of the couples, love endured years of waiting, never even knowing whether this day would come. After the "I dos," there were tears and A-Ha's "Take on Me" blaring over speakers in the room. Folks stuck around. Some danced. The crowd began to break up with the next song, Journey's "Don't Stop Believin.'"
"Strangers, waiting…"
The crowd at the Broward courthouse started out the evening as just that. But with hugs all around, with cake and sparkling cider, it was hard to call them strangers anymore.
Photo: Same-sex couples celebrate Circuit Court Judge Sarah Zabel's lifting of the legal stay she had placed on her July decision declaring the wedding ban discriminatory on Monday, Jan. 5, 2015 in Miami, Fla. (Walter Michot/Miami Herald/TNS)