Flynn Reportedly Attended Intel Briefings While Paid By Foreign Interests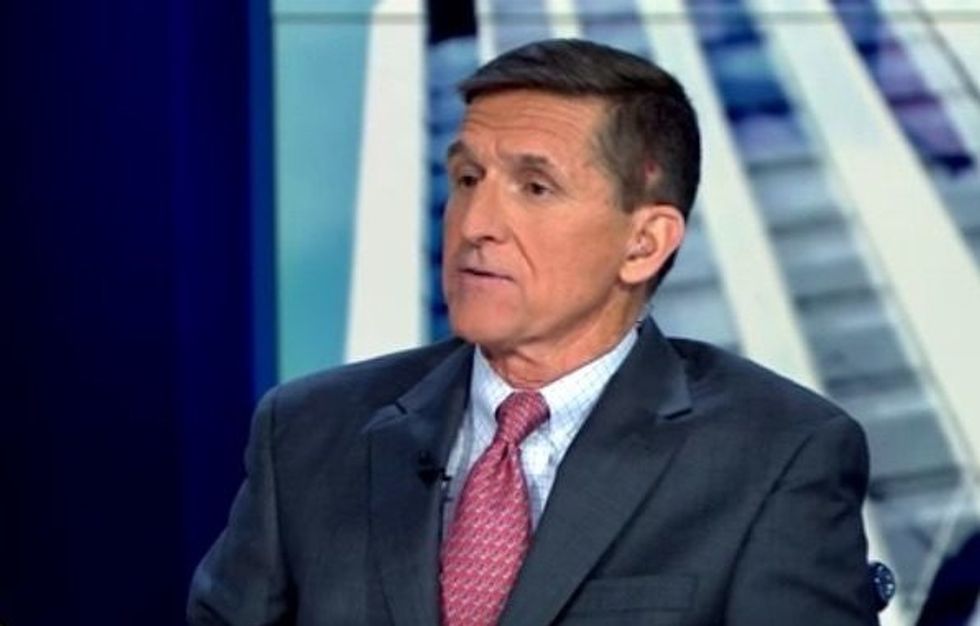 So much for Donald Trump's promise to muzzle Washington lobbyists: He has offered the crucial position of White House national security adviser to Michael Flynn, a retired lieutenant general who is registered to lobby for a foreign company whose owner has close ties to the president of Turkey. And just last year, Flynn accepted payment from Russia's state-owned television network to attend a celebration in Moscow. At that party he sat next to Russian president Vladimir Putin.
What makes Flynn's lobbying role even more troubling, according to a new report by Yahoo News chief investigative correspondent Michael Isikoff, was his attendance at classified intelligence briefings with Trump last summer — while advising both the presidential candidate and his foreign clients.
President Obama's former ethics adviser Norm Eisen, who also served as ambassador to the Czech Republic, told Yahoo News: "This is profoundly troubling and should be disqualifying," and predicted that Flynn's appointment as national security adviser will result in "wholesale resignations of national security professionals, and I believe some have already drafted their resignation letters."
Ironically, Flynn's reported appointment came on the same day that Trump announced he will require everyone involved with the transition to sever their relationships with lobbying clients and to forego any lobbying contracts for five years after their government service concludes. But the new policy — which removed many lobbyists from the Trump transition — does not apply to past clients.
Questions immediately arose over whether Flynn had signed a White House "memorandum of understanding" that required all transition team members to disclose their finances and certify that they had no conflicts of interest. To meet that requirement, the retired general — who formerly headed the Defense Intelligence Agency until he was forced to step down in 2014 — would have to reveal details about his company, the Flynn Intel Group, whose client list remains largely unknown. But the commercial aim of Flynn's outfit is to provide "private business intelligence" to domestic and foreign corporations.
Information that might be gleaned from a classified White House intelligence briefing, like the sessions afforded to Trump and top figures in his campaign since last summer, would be invaluable to such clients. Through his attorney, Flynn issued a statement pledging that "if I return to government service, my relationship with my company will be severed, in accordance with the policy announced by President-elect Trump."
As recently as last week, Flynn published an article in The Hill newspaper promoting the views of the increasingly repressive Turkish government headed by President Recep Tayip Erdogan. Specifically, he advocated the extradition to Turkey of Fethullan Gulen, an adversary of Erdogan who currently lives in the United States. Flynn denounced Gulen, blamed by the Turkish government for the recent coup attempt in Istanbul, as "a shady Islamic mullah" — and compared him to Osama bin Laden.
Yahoo News also quoted Danielle Brian, executive director of the Project on Government Oversight, who called Flynn's presence at classified briefings when he was representing foreign clients "deeply disturbing." Brian added, "It's exactly the kind of foreign entanglements our laws are designed to prevent."
Millions of Americans watched Flynn gleefully chanting "Lock her up!" along with delegates to the Republican National Convention in Cleveland last July, a taunting reference to Hillary Clinton for her alleged failure to protect classified information in her emails. "If I did a tenth of what she did," he yelled, "I'd be in jail today!" Of course the FBI found that she had broken no laws — and reviews of thousands of her emails revealed that she had not knowingly disclosed any classified material or endangered national security.
Now the tables are turned — and perhaps the blustering general will have to explain why he sat in those highly classified briefings while he was still providing "private business intelligence" to foreign interests.