Following Assange Bust, Trump Claims 'I Know Nothing About Wikileaks"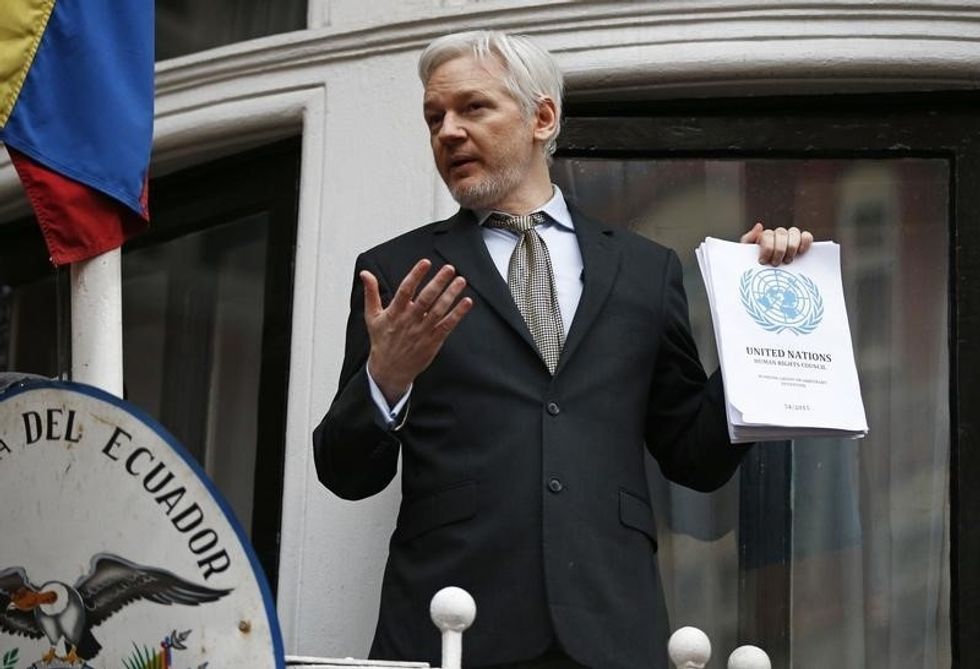 File this one on the list of Trump's biggest, most absurd lies.
"I know nothing about WikiLeaks. It's not my thing," Trump said Thursday after the group's founder, Julian Assange, was arrested in London. "I know there is something having to do with Julian Assange."
However, during the 2016 campaign, Trump praised WikiLeaks more than 140 times in the final month of the campaign alone, after the group published emails that were stolen from top aides working on Hillary Clinton's campaign.
Trump's totally non-believable distancing from WikiLeaks is as transparent as it gets.
Assange is facing extradition to the United States as part of his role in a 2010 leak of classified U.S. documents. He helped publish hundreds of thousands of classified documents leaked to him by Chelsea Manning, then an intelligence analyst in the Army.
Assange isn't charged with publishing the classified material. Instead, he faces federal conspiracy charges for allegedly working to help Manning hack into the government database to obtain the classified documents, as the Department of Justice announced in a news release:
During the conspiracy, Manning and Assange engaged in real-time discussions regarding Manning's transmission of classified records to Assange. The discussions also reflect Assange actively encouraging Manning to provide more information. During an exchange, Manning told Assange that "after this upload, that's all I really have got left." To which Assange replied, "curious eyes never run dry in my experience."
This is not the first time Trump has lied about knowing controversial or downright criminal figures.
Trump received flack for refusing to disavow noted racist and former Klan leader David Duke, claiming in February 2016 that he didn't "know anything about David Duke, OK? I don't know anything about what you're even talking about with white supremacy or white supremacists."
After a major backlash, Trump finally disavowed Duke.
Trump also tried to distance himself from his top campaign aides, such as Paul Manafort, and his personal lawyer, Michael Cohen, who both got sentenced to prison as a result of special counsel Robert Mueller's probe.
Trump claimed Manafort was on his campaign "for a  very short period of time," despite the fact that Manafort was there for a crucial period of the GOP primary, including the Republican National Convention.
And after news broke of Cohen's illegal campaign finance scheme that Trump was implicated in, Trump tried to claim that Cohen was "one of many lawyers" who represented him, even though Cohen was his personal lawyer and "fixer" for many years.
As he demonstrates on a near-daily basis, Trump incessantly spews lies with ease. His lie that he doesn't know anything about WikiLeaks is one of his worst lies yet.
Published with permission of The American Independent.
IMAGE: WikiLeaks founder Julian Assange makes a speech from the balcony of the Ecuadorian Embassy, in central London, Britain February 5, 2016. REUTERS/Peter Nicholls