For Hillary Clinton, The Race For Campaign Cash Is On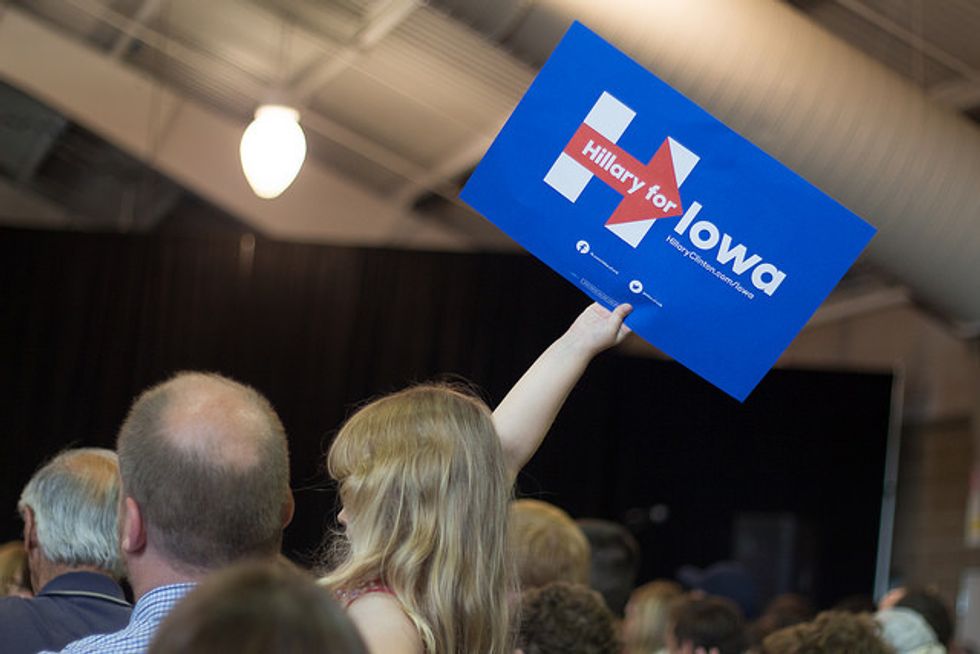 By Anita Kumar and David Siders, McClatchy Washington Bureau (TNS)
WASHINGTON — Hillary Clinton has courted voters in the early nominating states of Iowa, New Hampshire and South Carolina. She's rallied supporters in New York. Now, she's heading to California to raise big bucks.
Clinton is headlining a series of Hollywood fundraisers this weekend, looking to take advantage of the long list of wealthy donors that her family has relied on to bankroll their campaigns for years.
"It's almost like she could come here every week and raise money," said Bill Carrick, a longtime Democratic strategist based in Los Angeles. "This is just a continuation of a long-term love affair between Democratic activists and donors and the Clinton family."
Clinton is spending much of the month in a dash for cash before the fundraising quarter ends, trying to compete with a bevy of Republican candidates. Jeb Bush, who officially entered the race Monday, has been collecting millions of dollars for months, raising expectations that he may have as much as $500 million by this summer.
Clinton has added more fundraisers to her schedule because of concerns about potential Republican rivals, said a campaign official familiar with her schedule but not authorized to speak publicly as a matter of practice. She has nearly 30 this month, including stops in New York, Boston, Philadelphia, St. Louis and, of course, LA and San Francisco. Her popular husband will eventually help raise money as well.
"Our campaign is focused on building an operation that can win a competitive primary," Clinton spokesman Josh Schwerin said. "That has meant a heavy focus on speaking with early state voters and raising primary money."
On Friday, Clinton attends a trio of fundraisers in the Los Angeles area hosted by HBO executive Michael Lombardo and his husband, Sonny Ward; actor Tobey Maguire and his wife, Jennifer Meyer; and Australian businessman Peter Lowy, co-founder of Westfield, which operates more than 100 shopping centers, and his wife, Janine.
On Saturday, Clinton travels north to the San Francisco area for a reception hosted by real estate broker Rick Hills.
Clinton is working to raise $100 million this year for the primaries, which is similar to what Barack Obama raised in 2007 and 2011. Even if she clinches the Democratic nomination early, she can still only spend primary money until she's formally nominated by the Democratic National Convention in July 2016. The campaign is not asking for money for the general election yet.
Clinton does not face strong primary competition. Still, she does not want to appear as if she is inevitable, which she was criticized for in her first run.
"The focus on the primary is smart," said Doug Thornell, managing director at SKDKnickerbocker, which works with Democratic candidates. "It is perceived as fighting for every vote in the primary. She cannot afford to be the presumed nominee in June 2015."
Also, every donor to her primary campaign is invested in her success, likely becoming both a surrogate for her and an easy-to-find source for later general election contributions.
"It gets more people involved in the campaign," said Mitchell Berger, a South Florida lawyer and major Democratic fundraiser.
Some published reports have put Clinton's fundraising goal, including money from supporting political action committees, at a whopping $2 billion for the nomination campaign and the general election. Her aides reject that number.
She will be helped by a slew of outside groups, including Priorities USA Action, a super political action committee separately raising money.
Clinton is asking supporters to raise $27,000 for the campaign, making them "Hillstarters"; $50,000 making them "Hillraisers"; and $100,000 making them "Hillblazers."
"The early money's so important," said Ada Horwich, a retired clinical social worker who donated at an LA fundraiser last month. "The people who … want to get close to her or be important to her understand what early money is, so they're willing to give early."
Extensive fundraising also could have a downside.
Veteran Republican strategist Doug Heye said Clinton's need to raise millions of dollars will hurt her pushback against the notion that she is an out-of-touch Washington insider criticized for her hefty paychecks for speeches and ties to big business. "It goes against standing up for the little guy," he said.
Donors who attended Clinton's first set of fundraisers in California last month said she offered broad partisan appeals with few specific proposals while appearing to reject concerns about her honesty.
"She's genuinely attempting to demonstrate — not to fool, but to demonstrate — that she is a warm, human person who's qualified to be president," said Larry Stone, the Santa Clara County assessor and a longtime fundraiser for the Clintons.
Clinton has enjoyed relatively favorable public approval ratings in California for decades. She won the primary in 2008 and collected more than $23 million for her ultimately losing effort that year.
"In terms of the deep, enduring and lasting relationships, she just knows a lot of people," said Phil Angelides, former chairman of the California Democratic Party. "Both Hillary Clinton and the president have stayed in touch with people over the years."
Yet the fundraising landscape in the state has shifted in recent years, with the growing prominence of the Bay Area and its technology-sector money and — with Clinton on the ballot — women.
Karen Skelton, a Sacramento-based political strategist who worked in the Clinton White House, said Clinton's "heelprint in this state is enormous," but that she needs to expand her existing network "beyond the loyal givers of the past."
"There's got to be a little bit of energy coming from other places," Skelton said, with "more people who are first-time givers, especially women who have watched the candidacy … from 2008 forward and see it as the opportunity to elect a first woman president."
(Kumar reported from Washington. Siders, who writes for The Sacramento Bee, reported from California.)
Photo: Hillary Clinton is heading to California to raise money for the primaries. via Flickr