For Those Here Illegally, Health Services In California Vary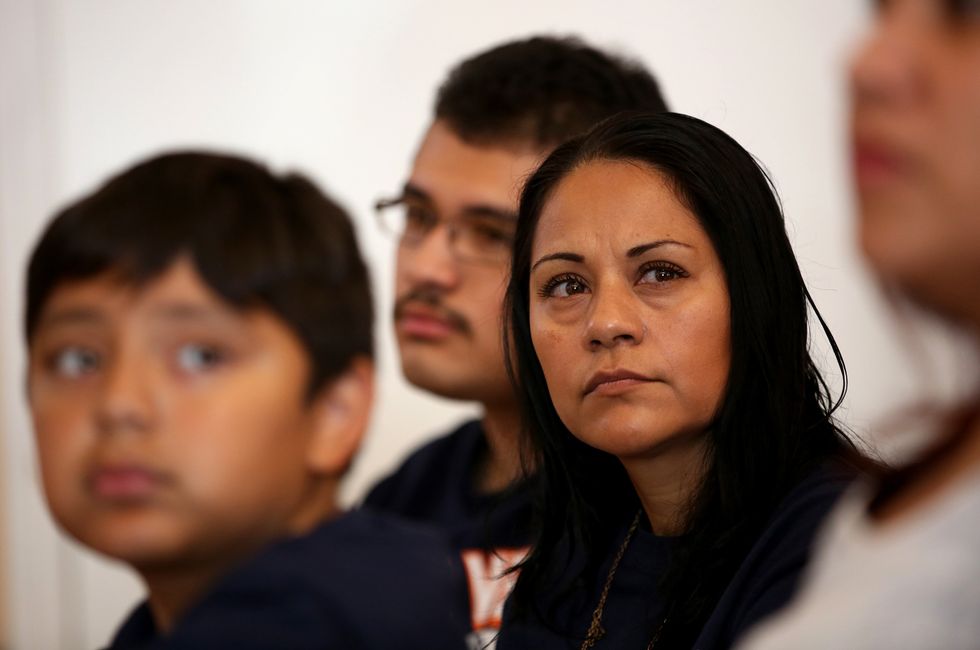 By Soumya Karlamangla, Los Angeles Times (TNS)
LOS ANGELES — Margarita Vasquez lacked health insurance and couldn't afford an eye operation that would save her from blindness. But under a Los Angeles County program that extends health care services to poor residents who entered the country illegally, the 64-year-old underwent surgery earlier this year and can now see clearly.
"It saved me," she said.
An hour's drive to the east, in the flatlands of the Inland Empire, Sujey Becerra wasn't as fortunate.
She didn't have the means to pay for a surgery to remove ovarian cysts and put off the procedure for months, until she began hemorrhaging and was rushed to a hospital emergency room. Scarring from the last-minute operation left her hurting, and without access to follow-up treatment.
"I'm in pain constantly — all night, all day," she said.
For uninsured California immigrants such as Vasquez and Becerra, which side of a county line they live on can significantly affect the care available when they're sick.
Under a Depression-era law, county governments are responsible for providing health care to poor residents. But the interpretations of that mandate vary across the state. Just 11 of California's 58 counties provide some form of low-cost medical care to poor immigrants who've entered the country illegally.
County-to-county differences in such care have existed for decades. But President Barack Obama's overhaul of the health care system is focusing new attention on the disparities and complicating choices for local officials as they consider what, if any, health care they should provide to Californians who remain uninsured.
"Everything is getting shaken up," said Catherine Teare, senior program officer for health reform at the California HealthCare Foundation, noting that the Affordable Care Act altered how the state's health care system is funded and operates.
With health insurance coverage expanded to millions more Californians, people living here illegally _ who are barred from signing up for Obamacare _ now make up the single biggest group of uninsured state residents. A quarter of that population has private insurance coverage through their job or that of a family member, researchers say. But that leaves close to 1.5 million uninsured.
Now, advocates for the poor are urging state and county officials to wade back into discussions about politically sensitive and potentially costly options for improving health care for those living here illegally.
This month, the state Senate passed a bill, with most Republicans opposed, that would provide health care to hundreds of thousands of children younger than 19 who are here illegally.
Some have sharply criticized efforts to expand such coverage. "They seem to stay up late in Sacramento thinking up new benefits and services to provide to illegal aliens, even as they're cutting back services to everybody else," said Ira Mehlman, a spokesman for the Federation for American Immigration Reform.
At the county government level, a key change that accompanied Obamacare is complicating the same debate. When the state expanded the number of people eligible for Medi-Cal, its health program for the poor, it took back hundreds of millions of dollars in funding from local public health agencies.
That has put a squeeze on counties that chose to serve residents in the country illegally and made it more difficult financially for other jurisdictions to consider adding such programs.
Poor immigrants who aren't eligible for free or subsidized insurance plans offered by the state can go to emergency rooms and community free clinics, but generally don't have access to specialists or surgery. For just a portion of emergency room visits and pregnancy care involving those living here illegally, the state pays an estimated $1.4 billion annually.
Some experts argue that leaving large numbers of residents uninsured and relying on emergency rooms as a last-resort form of health care will undercut savings anticipated under Obamacare. UCLA health policy professor Steven Wallace noted the federal health system overhaul is based on an expectation that easy access to regular, preventive care will keep patients healthy and reduce overall medical costs.
According to projections from the University of California, Berkeley and UCLA people in the country illegally will continue to make up about half the roughly 3
million Californians lacking insurance four years from now.
"That's the next big group to go after," Wallace said.
Proponents of increased coverage point out that in recent years Californians have shown a willingness to extend privileges to those living here illegally, including driver's licenses and lower-cost, in-state tuition at the state's public colleges and universities.
One recent survey conducted for the Public Policy Institute of California found that 80 percent of Californians favored a path to citizenship for those living here illegally, including 66 percent of Republicans.
With more elected officials voicing support for expanded medical coverage for those residents, the big question has become: Whose financial responsibility is it?
State officials are considering picking up as least some of the cost.
But counties are required under a 1933 state law to "relieve and support all incompetent poor, indigent persons." That requirement has been open to interpretation when it comes to health care for those in the country illegally. Among the 11 counties that provide low-cost medical care to such immigrants, some limit treatment to seriously ill patients or children.
The remaining 47 counties do not consider these immigrants to be covered by the state mandate.
(Karlamangla's reporting on the remaining uninsured was undertaken as a California Health Journalism Fellow at USC's Annenberg School of Journalism.)
(c)2015 Los Angeles Times. Distributed by Tribune Content Agency, LLC.
Photo: Sujey Becerra, an uninsured immigrant living in San Bernardino County, Calif., was unable to pay for the removal of ovarian cysts and now lives in constant pain after emergency surgery. She's shown with her sons, Alexandre, 10, left, and Gonzalo Cervantes, 16. (Irfan Khan/Los Angeles Times/TNS)