Forgotten In This Election, America's First Socialist Presidential Candidate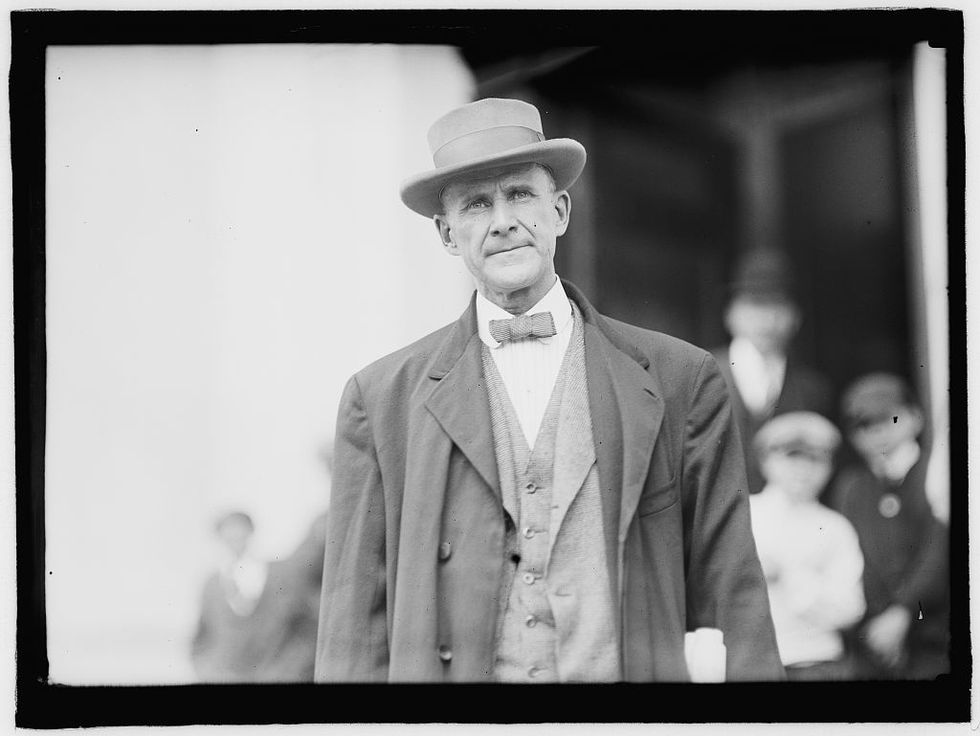 Bernie Sanders may be the country's best-known socialist, but he's certainly not the first socialist to run for president. That distinction belongs to Eugene Debs, a rural Ohioan who revolutionized American politics a century ago.
Debs, a founding member of the Industrial Workers of the World (IWW) who started out in politics campaigning for the Democratic Party in Indiana, existed during a period of similarly rapid technological and economic change: farming was quickly becoming mechanized and cities on the east coast were undergoing rapid industrialization and mass urban migration.
The Socialist Party of America's perennial candidate's most successful presidential run was in 1912, when he placed fourth out of four candidates, but came away with 900,000 votes, some six percent of the total popular turnout. Even more surprising was the source of Debs's support. "The overwhelming majority of working class people did not vote for Eugene Debs," said Nick Salvatore, a biographer of Debs and a professor of labor history at Cornell University. "In fact, his vote totals declined in most of the eastern dates, which were the most heavily industrialized states." His greatest support came from farmers in the southwest and west, who were experiencing the mechanization of farming for the first time. The introduction of machinery that made mass farming possible put countless livelihoods at stake.
"They have an identity that's part of the American identity. They're self-employed, they do good work and all of a sudden now they find they cant compete economically," said Salvatore, "and in the process of losing that niche that they had, some of them are drawn to socialism because they see in socialism the possibility of regaining a value in their work that they feel has been taken from them in this transition." Farmers were not the only ones to lose their jobs to mechanization and mass production. Artisans and cottage factories lost out in the game of industrial evolution as they began to be outproduced by mills and factories.
As manufacturing jobs leave the United States for overseas factories, chasing lower wages and fewer labor protections, Sanders has capitalized on a similar sense of betrayal: that the country's well-paid, middle class jobs are being lost to neoliberal free trade policies formulated during the 1980s under Ronald Reagan. Sanders has been unequivocal in his opposition to the Trans-Pacific Partnership, an opaque free-trade agreement being debated for ratification by a dozen Pacific Rim states, and one which critics say would give corporations outsized influence in trade policy, increase inequality, deregulate labor laws, and enable Internet censorship.
The Vermont senator has long admired Debs's political career. In 1979, Sanders wrote and produced a short documentary called "Eugene Debs: Trade Unionist, Socialist, Revolutionary," along with an accompanying text. Today, his speeches echo Debs's: delivered to large rallies, they stress social and economic justice for the working class. Debs's time was among the most unequal in the country's history, and today's income inequality is quickly approaching those levels.
If anything, Sanders's stress of the need for a political "revolution" is probably the biggest difference between Sanders' and Debs' campaign: The Ohioan's rhetoric was not imbued with strongly revolutionary language. He was more soft-spoken in his platform than Sanders, who has explicitly called for "a political revolution."
Salvatore says the difference may be one of context: "The major difference between the Debs era and what Bernie Sanders is dealing with now has less to do with socialism than it has to do with capitalism," he said.
Who Was Eugene Debs?

Debs's world was incredibly different: The American economy was regionalistic, and manufacturing centers were spread across an array of strategically located cities with rail and harbor connections. Technological limitations made for a different sort of political campaign: "He had an audience of 20,000 people but there's no microphone," said Salvatore, recounting numerous speeches Debs gave during his numerous presidential runs. "He had a magnetism that his reputation created but also perhaps the way he held himself and gestured."
Debs was arrested in June 1918 after giving a speech in Canton, Ohio that called for Americans to resist the military draft instituted by Woodrow Wilson's administration. "The working class who fight all the battles, the working class who make the supreme sacrifices, the working class who freely shed their blood and furnish the corpses, have never yet had a voice in either declaring war or making peace," he said to the crowd, espousing the anti-war rhetoric of contemporary internationalist socialism and communism. "It is the ruling class that invariably does both. They alone declare war and they alone make peace."  Despite campaigning on a no war platform that appealed to the American public's isolationist sentiment, Wilson sent troops to the Western Front within a year of his reelection.
Organized labor was still in its infancy, and it wasn't unusual for strikes to be broken up with extreme violence. The Russian Revolution seeded a distrust of anything that gave too much negotiating power to the working class. "He actually gave a fairly careful speech," said Salvatore. "But he heavily critiqued the war and the politics of it and the impact of it."
Following Wilson's declaration of war, there was a spike in anti-German activity around the country. German-Americans, particularly in the Midwest, suffered from an ugly form of nativism inflamed by the country's new enemy in the battlefields of Europe. After all, what constituted a "white" American has changed over the course of a century, and Germans were not considered "white" Americans at the time.
Debs gave his anti-war speech at a time when that nativist sentiment was claiming the lives of German Americans. Salvatore recounted the story of a German-born American who was from the county neighboring the one Debs was from, who was murdered for refusing to burn his German language books, as many Germans in the Midwest were forced to do. "There was an ugliness in the culture that was appearing again," he said.
By the time Debs died in 1926, partly as a result of the effects of his imprisonment, American socialism's brief period in the spotlight was already over. At its height in 1912, the Socialist Party had 120,000 members. By the 1916 election, according to Salvatore, that number dropped to 80,000. "Its an apex and, at the same, time the beginning of the decline of the Socialist Party," he said. By the end of the war, the American government suppressed any significant threat by organized labor, as seen in the suppression of the Seattle General Strike and the Boston Police Strike, two of the largest union-led walkouts immediately following WWI.
Debs lost control of the movement as it dwindled. An inherent reticence to confront splits within the socialist movement spelt the end of socialism as a political force in the country. Despite being the public face of the socialist movement, Debs was unwilling to confront the IWW, the union he helped found, despite its being responsible for much of the infighting within the movement. "Debs was terrible whenever serious tension arose and conflict arose. He headed for a closet to go hide in," said Salvatore. "He was really a human being. He has a lot of foibles and I wish he didn't, but I didn't lose my respect for him."
Time will tell what legacy the Sanders campaign will leave behind. Just like Debs, he has mobilized a similarly overlooked and economically disadvantaged demographic in this election cycle. If he loses the nomination, the true measure of his "political revolution" will be measured by how organized those voters are in future midterms and election cycles. In that way, Sanders could succeed where Debs failed, by keeping his movement alive beyond this election cycle.
Photo: Eugene Debs in 1912/Harris & Ewing via The Library of Congress