A Form Of Liver Disease Has Quickly Emerged As A Public Health Threat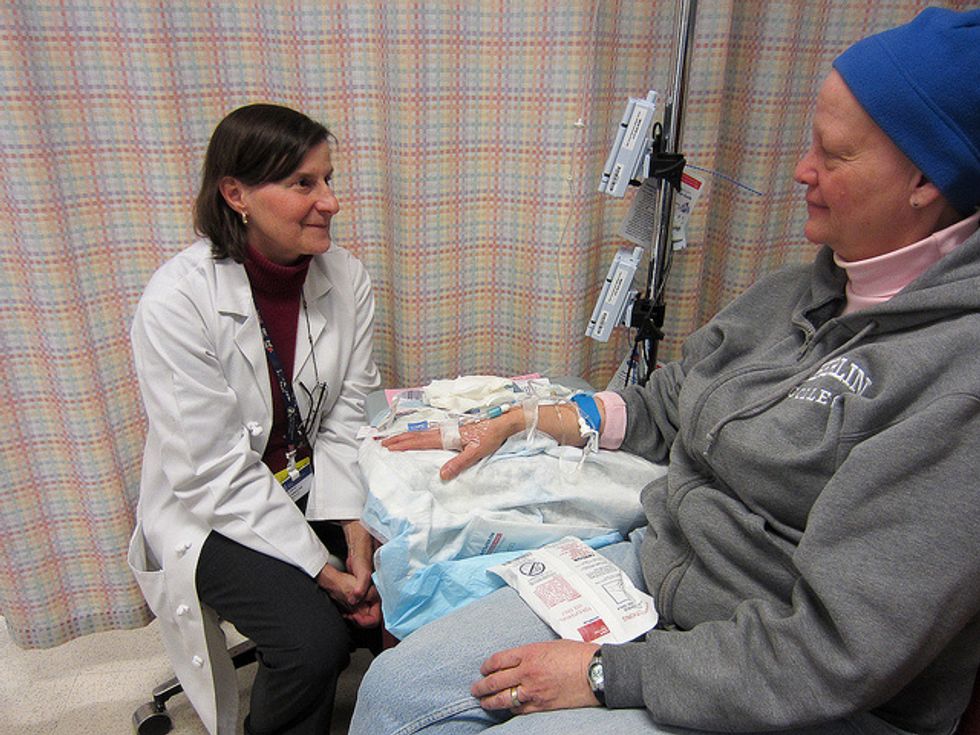 By Joe Smydo, Pittsburgh Post-Gazette
PITTSBURGH — Renee Terney, who traveled to Erie, Pa., earlier this month to ride the slides at Splash Lagoon, has come a long way in the 2.5 years since she was struck by a form of liver disease that has quickly emerged as a public health threat and a challenge to transplant programs.
Blood work and other tests revealed that the Sheraden resident had non-alcoholic fatty liver disease, an accumulation of fat in liver cells associated with poor diet, a sedentary lifestyle, and obesity. The damage to Terney's liver was so extensive that she was near death at the time of her May 2013 transplant at Allegheny General Hospital.
Terney, now 48, lost 85 pounds during the ordeal. "My goal is not to put it back on," she said.
Like other chronic conditions and other liver ailments, non-alcoholic fatty liver disease can be a silent killer, with some patients experiencing no symptoms for years or longer.
Jose Oliva, medical director of Allegheny Health Network's liver transplantation program, said it's often discovered when routine blood work ordered by a primary care physician reveals elevated levels of liver enzymes. He said follow-up tests, such as a CT scan or ultrasound, are used to confirm the diagnosis.
If caught early, exercise and improved diet can slow or reverse the disease. "It's behavior modification," Oliva said.
However, there are no medications to assist with treatment, and in the most severe and advanced cases, known as non-alcoholic steatohepatitis, or NASH, scarring of the liver is identical to the damage caused by alcoholism.
Some of these patients — who eventually experience symptoms such as belly pain, jaundice, and swelling of the legs, as Terney did — must pin their hope for survival on a transplant.
But livers are in short supply. "There aren't enough now as it is," and a rising tide of non-alcoholic fatty liver disease will make matters worse, said Vinod Rustgi, medical director of liver transplantation for UPMC.
Of about 17,000 people on waiting lists nationwide, Oliva said, only about 6,500 receive transplants each year. Rustgi said 15 percent die before receiving an organ.
According to the American Liver Foundation, non-alcoholic fatty liver disease already is "the most common liver disease in most of the Western world." It affects 30 million Americans, and the numbers are growing.
"We are particularly concerned about the high prevalence of fatty liver disease in children. It is setting them up on a path to liver failure and puts them at significant health risk," foundation Chairman Tom Nealon said in a statement.
Obesity is believed to be the chief culprit.
As obesity has soared in recent decades, so have the diseases associated with it. People depositing fat in their livers are also depositing it in other organs, increasing their risk of cardiovascular disease and other problems. The situation worsens when patients develop type 2 diabetes, Rustgi said.
"I think it's very, very important that people recognize that obesity can shorten life expectancy, and, conversely, longevity has been associated with thinness," he said.
Unlike heart disease, hypertension, and type 2 diabetes — long the subject of public awareness and education campaigns — non-alcoholic fatty liver disease remains little known and little understood among the U.S. population. When told they have liver disease, Oliva, some patients are perplexed.
"The first thing they say is, 'I don't drink,' " he said.
More than a year after her transplant, Terney says she feels great. She credited her partner, Nancy Burns, with supporting her fight, and said her five adopted children were an inspiration.
"I wanted to keep going for them," she said.
Photo: kbrookes via Flickr
Interested in health news? Sign up for our daily email newsletter!