Former Charlotte Mayor Patrick Cannon Pleads Guilty To Corruption Charge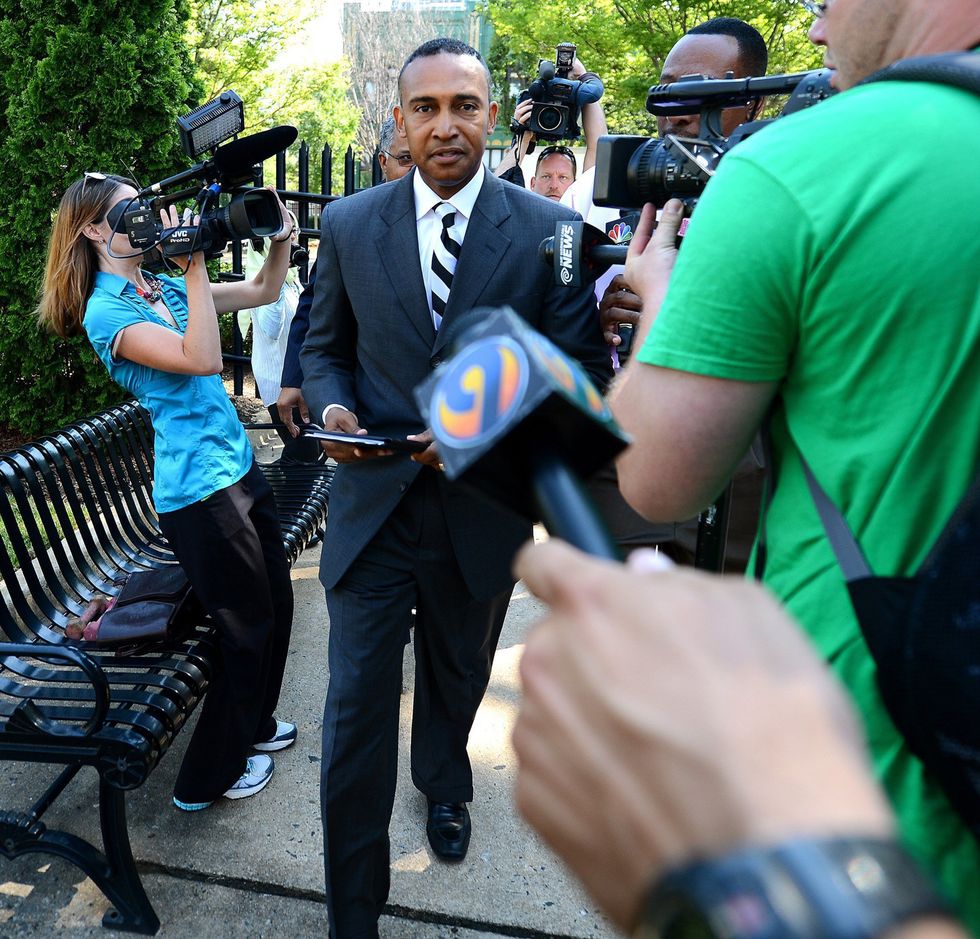 By Ely Portillo and Elizabeth Leland, The Charlotte Observer
CHARLOTTE, N.C. — Former Charlotte Mayor Patrick Cannon pleaded guilty Tuesday morning to a federal public corruption charge, and now faces up to 20 years in prison.
The plea capped a four-year investigation in which he took bribes in exchange for the promise of helping developers.
He entered a guilty plea to one count of honest services wire fraud, a charge commonly used in cases where a public official takes kickbacks or bribes. After the hearing, Cannon said he regretted having broken the public trust, and that he would still try to have a positive impact on Charlotte.
"Much has been given to me in the way of the public's trust. I regret having acted in ways that broke that trust," said Cannon, speaking outside the courthouse. "I love Charlotte. It is the city of my birth. I regret having hurt the city that I love."
Cannon will be sentenced at a separate hearing in the coming months. The charge carries up to a 20-year prison sentence and a $250,000 fine.
As he walked into the courthouse Tuesday morning, Cannon tripped and fell as he walked through the crowd of television cameras and reporters wielding microphones.
Dressed in a conservative business suit, Cannon appeared in court flanked by his two attorneys.
The hearing consisted of routine questions by the judge and answers by Cannon. The details had been worked out beforehand between the attorneys in private.
"You fully understand the charge against you?" U.S. Magistrate Judge David Cayer asked Cannon.
"Yes sir, your honor," Cannon replied.
At the hearing, Cannon appeared emotional at times, but did not break down.
"Are you in fact guilty of the one count?" Clark asked.
"Yes sir, your honor. I am guilty," Cannon replied.
Cannon's wife, Trenna Cannon, did not come to federal court.
At the hearing's conclusion, Cannon declined a chance to address the court. He delivered a brief prepared statement outside of the federal courthouse.
"For nearly half my life, I have had the honor of serving the people of Charlotte," Cannon said.
"Today, I have acknowledged being guilty of accepting money for constituent services, which I never should have done while serving in elected office," said Cannon, a Democrat.
He asked for forgiveness, and praised his attorneys, Henderson Hill and James Ferguson.
"I can only hope the life I live from now on will reflect my remorse and my desire to make a positive impact on the city of Charlotte," said Cannon. He didn't take questions, and left immediately afterward.
Cannon has promised to cooperate with the investigation as part of his plea deal. In return, prosecutors have said they won't use any additional evidence Cannon provides to push for a harsher sentence.
Federal prosecutors say the investigation is ongoing, and charges against new targets remain a possibility.
The "developers" Cannon accepted bribes from were undercover FBI agents. They said Cannon took bribes totaling almost $50,000, as well as gifts such as a trip to Las Vegas.
In a criminal bill of information outlining the charges against him, investigators said Cannon also took bribes from a Charlotte club owner seeking help to keep an adult entertainment club open in the face of the Lynx Blue Line extension.
During the investigation, Cannon bragged of his influence over various city functions and officials, according to the FBI. He assured the undercover agents that he could smooth out any problems developers might face.
His boasts included having power over the police, fire and zoning departments. Cannon called city employees on behalf of the "developers," and said his support had been key to past development successes, such as the Metropolitan near uptown.
Photo via Jeff Siner/Charlotte Observer/MCT