Former Christie Campaign Finance Chair Slams Christie Endorsement Of Donald Trump
@reuters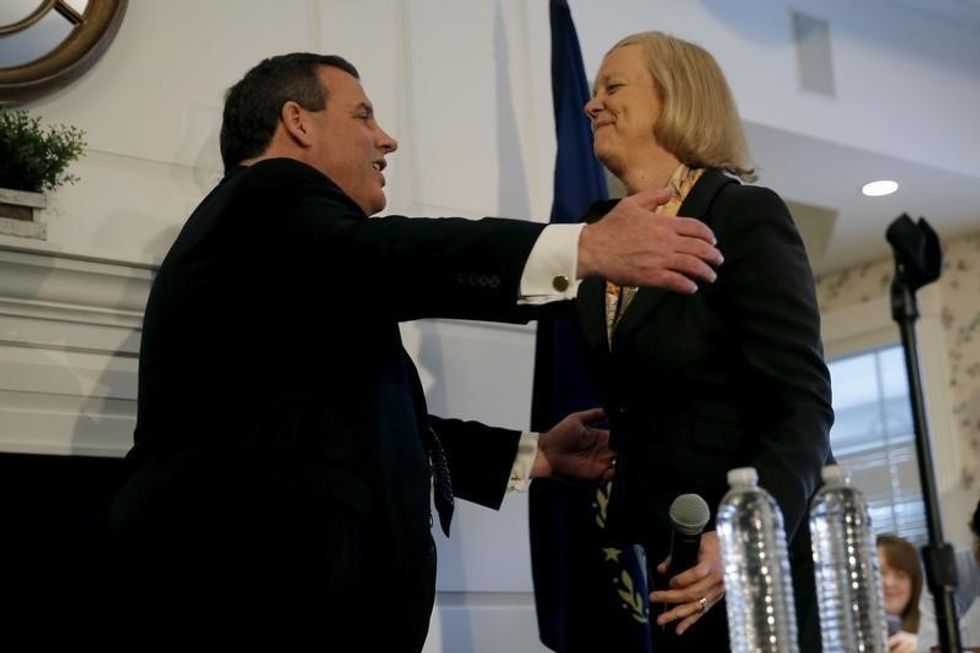 WASHINGTON (Reuters) – A former finance co-chair of Chris Christie's presidential campaign on Sunday slammed Christie's recent endorsement of Donald Trump, according to NBC, calling for the New Jersey governor's supporters to reject the Republican front-runner.
"Chris Christie's endorsement of Donald Trump is an astonishing display of political opportunism. Donald Trump is unfit to be president," Meg Whitman, chief executive officer of Hewlett-Packard, said in a statement reported by NBC's Meet the Press program.
Christie, appearing on ABC's This Week program, responded by describing Whitman "a great friend" with a different political opinion. "And that's OK. That's what makes this country great is that people can have differences of political opinion," he said.
Just days before the Super Tuesday nominating contests, Christie on Friday became the most prominent mainstream Republican to get behind the billionaire Republican front-runner and former reality TV star, declaring Trump to have the best chance of defeating Democrat Hillary Clinton in the Nov. 8 U.S. presidential election.
But Whitman's statement said the New Jersey governor made his statement despite his own public misgivings about a Trump presidency.
"Trump would take America on a dangerous journey. Christie knows all that and indicated as much many times publicly," Whitman said.
Trump's unorthodox candidacy has shaken the Republican Party and has drawn increasingly vehement criticism from his rivals. But a growing number of senior Republicans are becoming resigned to the idea he will be their candidate in November.
Christie, who withdrew his own White House bid earlier this month, denied that he reversed course on Trump after promising New Hampshire Union Leader newspaper publisher Joe McQuaid that he would not endorse him after the billionaire won the state's Feb. 9 primary election.
"It's just not true. He called me two days after the primary and said, I was just told that you're about to endorse Donald Trump. And I said to him, that's absolutely untrue. I'm not about to endorse anybody," Christie told ABC.
(Reporting by Alana Wise and David Morgan; Editing by Ros Russell)
Photo: Republican presidential candidate and New Jersey Governor Chris Christie (L) embraces Hewlett Packard Enterprise CEO Meg Whitman as she introduces him to speak to voters at a town hall campaign stop in Bow, New Hampshire, February 3, 2016. REUTERS/Mike Segar