Former GOP Colleague Trashes Ryan For 'Selling His Soul'
@FAWFULFAN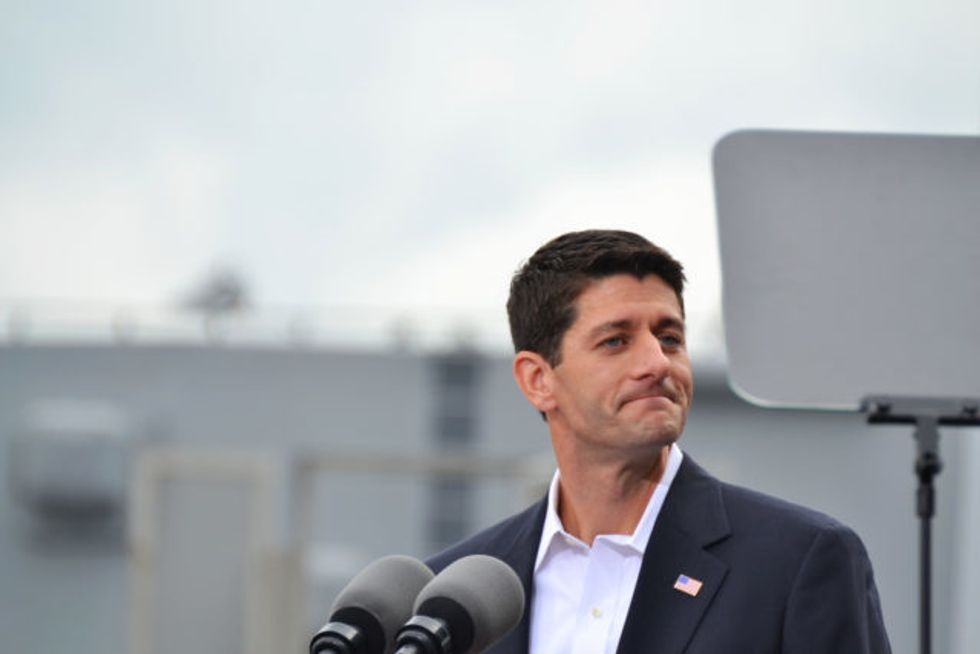 Reprinted with permission from AlterNet.
Whichever way the House goes in November, House Speaker Paul Ryan will not be returning to Congress next January. And few on either side are impressed with his legacy.
In an appearance on MSNBC's "Deadline: White House" with fellow Republican commentator Nicolle Wallace, former congressman David Jolly (R-FL) savaged Ryan over his ineffectual tenure, and his abandonment of whatever principles he might have held. The comments came in response to an interview in which Ryan said he believes he managed during his time as speaker to influence Trump's thinking and avert "tragedy," but refused to share any specific examples.
"I was in the room when Paul Ryan was elected speaker, and the House caucus was struggling with who's going to be our next leader," said Jolly. "And he stood there and said, 'I don't want the job, I'm not sure I'll be good at it, I'm not gonna travel, I'm not gonna fundraise.' But he was the only choice we had in the race."
"And I think what we're seeing in his resignation is this: this is no longer Paul Ryan's party, and he knows it. Whether he's willing to say that or not, this is Donald Trump's party, not Paul Ryan's. He is, at this point, because of having transacted on the corporate tax bill, nothing more than a for-profit Republican we see in the finance community, that sold their souls for the benefit of Donald Trump."
In many respects, it can be difficult to notice how Trump has affected Ryan's interests in office because the two dovetail on most major policies, from last year's enormous tax giveaway to the wealthy, to the GOP's repeated attempts to repeal affordable health coverage for the poor and sick.
But there are other issues on which Ryan once disagreed with Trump and fully capitulated, such as his erstwhile support for free trade. His refusal to terminate the leadership roles of bad actors in his caucus like Devin Nunes, even as they abused committee chairmanships to undermine congressional investigations into Trump's ties to Russia, reflect that much worse on his ability to be a meaningful check on the White House.
"Here's where Ryan and I separated," said Jolly. "When Donald Trump got the nomination … every Republican candidate was expected to say, 'We support Donald Trump.' Paul Ryan and I, on exactly the same day, said comments that were uncoordinated, where we both said, 'I'm not there yet.' I stuck with that. Paul Ryan did not. And at some point, this is a reflection of somebody's own integrity, their personal mettle, their own conviction. He was willing to satisfy the politics of convenience."
"And I'll tell you this," he added. "Legacies will be remembered for people who stuck on principle and didn't fail in the face of adversity. He's failed in the face of adversity."
"He was willing to satisfy the politics of convenience, and I'll tell you this, legacies will be remembered for people who stuck on principle… he's failed in the face of adversity." @DavidJollyFL w/ @NicolleDWallace on Speaker Paul Ryan pic.twitter.com/fnCYdbKhoy

— Deadline White House (@DeadlineWH) August 7, 2018
Jolly offered a harsh sendoff for Paul Ryan as his political career draws to a close. In his reckoning, Ryan had a true chance to put country over party but instead took the path of least resistance. As far as Jolly is concerned, if Ryan did manage to avert any "tragedies," the one that befell his career was not one of them.
Matthew Chapman is a video game designer, science fiction author, and political reporter from Austin, TX. Follow him on Twitter @fawfulfan.