Former GOP Rep. Jolly: Beware Of Putin And Trump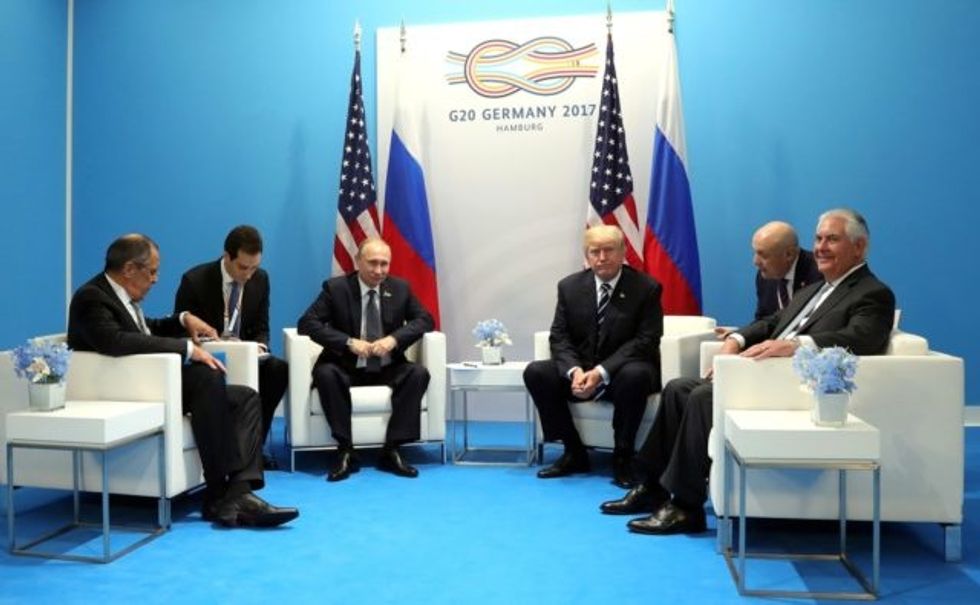 Reprinted with permission from AlterNet.
After the U.S. Justice Department announced an indictment of twelve Russian hackers involved in the Kremlin's attacks on the 2016 election, a former GOP lawmaker warned that the charges represent a landmark moment — and not in a good way.
"What we saw today from [Deputy Attorney General Rod] Rosenstein is a moment in American history, and we should be unequivocal in our response," David Jolly, who served as a Florida congressman, said on MSNBC Friday. "And the president of the United States should be unequivocal. The Monday meeting should be canceled — the bilateral meeting with Putin. We should eject Russian diplomats and we should bring our U.S. diplomats home from Russia."
However, he acknowledged, there's no way Trump will do that.
"The president has known for days about this and he did not pivot in the press conference today to change his message nor is he changing the meeting," he continued.  "And what Americans should feel today — and I say this carefully — but we should feel fear. The Department of Justice today issued a statement on behalf of the United States government saying that one of our greatest adversaries in the world, Russia, had intelligence agents interfere with our elections. … We should be fearful about the allegation. We should be fearful about the statement of facts. At the end of the day, we should be fearful we have a president who has known about this and did not change his behavior."
Bret Stephens, a New York Times columnist, agreed — and called out Republicans who ignore these crucial facts.
"If the facts were the same but Barack Obama were president, if we had just indicted 12 Russians for interfering in our election and yet President Barack Obama was going to meet Vladimir Putin and doing so against the advice of his own party, with a suggestion there is a possibility of collusion, what would Republican leaders be saying today?" he asked.
In fact, we know what they would say. Stephens reminded viewers of Republicans' reactions when, in 2012, Obama was caught on a hot mic telling Putin that he'd have more flexibility to work together after the election.
"Republicans went berserk," Stephens said. "They ran campaign ads about it. To those Republicans and conservatives watching this, just apply the same standard to Donald Trump that you would have applied to President Obama."
Watch the clip below:
"To those republicans and conservatives watching this, just apply the same standard to Donald Trump that you would have applied to President Obama." pic.twitter.com/MEdUp5hv6k

— AlterNet (@AlterNet) July 13, 2018
Cody Fenwick is a reporter and editor. Follow him on Twitter @codytfenwick.