Former GOP Senator Says Trump Incited Death Threats Against Him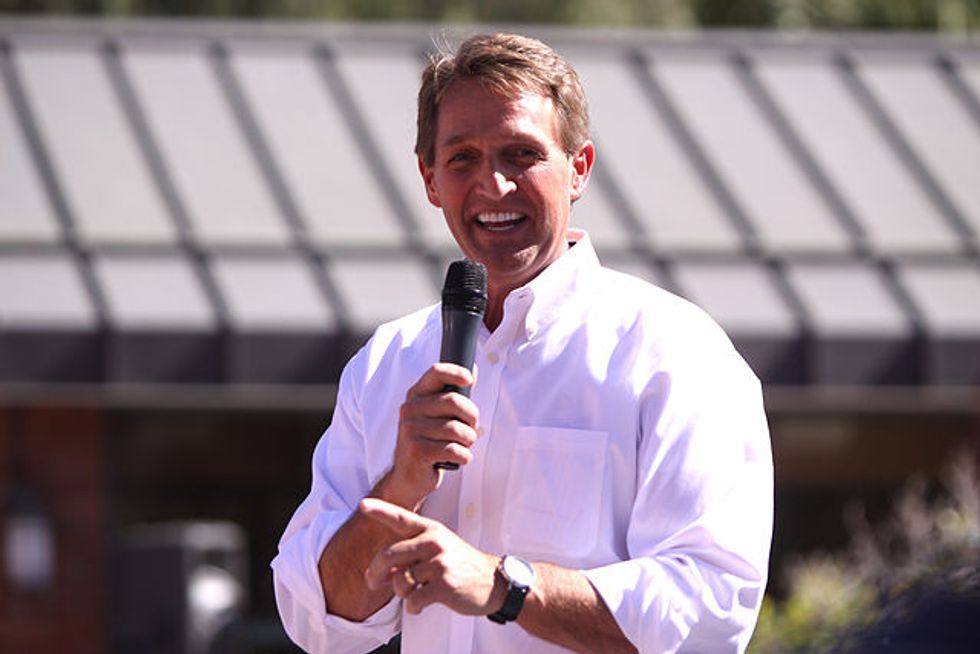 Sen. Jeff Flake (R-AZ) is no longer in the Senate.
But Flake said the attacks Trump made against him when Flake served in Congress are still causing rabid Trump fans to send him and his family violent death threats that he says have had a "heavy cost" on his family.
In an interview with the Guardian, Flake said he's received "several" threats that are being tracked down.
The threats have included the names of Flake's children, as well as links to beheading videos.
He also said that a man with a rifle scope went to three Arizona locations linked to the Church of Jesus Christ of Latter-day Saints — to which Flake belongs — looking for him. The same man "showed up at another event two weeks ago."
"It was a man living out of his car," the former Senator told the Guardian. "He told someone he had just attended a Trump rally."
Flake also revealed that he was the target of threatening voicemails from a 58-year-old Trump fan who pleaded guilty last week to federal retaliation.
"I am tired of him interrupting our president, and I am coming down there to take him and his family out," the man named James Dean Blevins Jr. said in a voicemail intended for Flake.
Blevins was reportedly angry that Flake had held up a confirmation vote for now Supreme Court Justice Brett Kavanaugh.
Of course, despite forcing a short delay on Kavanaugh's nomination over sexual assault allegations, Flake went on to vote to confirm Kavanaugh to the court. Despite Trump's attacks on Flake, who often called out Trump's rhetoric and behavior, he still voted with Trump 81 percent of the time, according to FiveThirtyEight.
Yet that still wasn't enough for Trump supporters, who demand total fealty to the president and often use Trump's verbal attacks as permission to make or carry out violent threats.
That's no more apparent than the mail bomb plot carried out by Trump super fan Cesar Sayoc, Jr., who recently pleaded guilty to 65 felony counts for mailing pipe bombs to people who dared to criticize Trump.
Yet Trump has never taken responsibility for his words and how they are interpreted by his rabid base.
But no matter what Trump says, words do matter. And he'd be wise to think before he lobs attacks given the violent plots his fans have concocted.
Published with permission of The American Independent.
IMAGE: Photo of Jeff Flake by Gage Skidmore via Flickr.