Former Missouri Gov. Joseph 'Walkin' Joe' Teasdale Dies At 78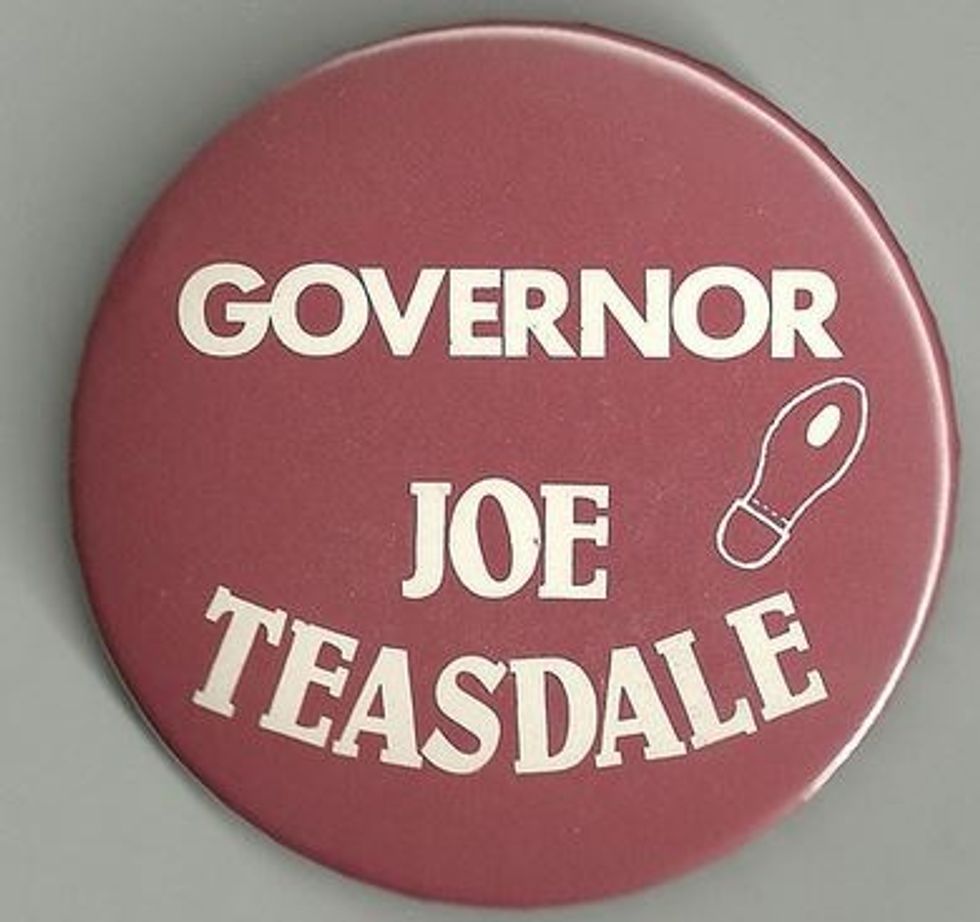 By Matt Campbell and Dave Helling, The Kansas City Star
KANSAS CITY, MO — Joseph P. Teasdale, elected as Missouri's 48th governor in 1976, died Thursday in Kansas City from complications of pneumonia, his family said. He was 78.
Teasdale, a Democrat who was born in Kansas City, defeated Republican Gov. Christopher S. Bond by 13,000 votes and was in turn defeated by Bond in a bitter campaign in 1980.
Teasdale died peacefully Thursday afternoon surrounded by his family, said his son, John Teasdale.
Teasdale billed himself "Walkin' Joe" for his treks covering 1,000 miles on foot across the state over two years during his nearly victorious primary election campaign for governor in 1972.
Missouri Gov. Jay Nixon on Thursday ordered flags at all state facilities to be flown at half-staff until Teasdale's funeral.
"Gov. Teasdale was a good man whose life was guided by a deep and abiding faith and a commitment to public service," Nixon said in a statement.
"By the time he was elected as governor in 1976 at the age of 40, Gov. Teasdale already had a record of accomplishment," Nixon continued. "As an Assistant U.S. Attorney in Kansas City, he headed up the organized crime section; then at the age of 30, he became the youngest prosecuting attorney in the history of Jackson County."
After leaving the governor's mansion, Teasdale returned to Kansas City in 1981 to practice law. He represented plaintiffs following the Hyatt Regency skywalks collapse that year.
"He was really something," said Jim Nutter Sr., a longtime activist and donor to Democratic causes. "I never would have dreamed he'd become governor.
"He was afraid of nobody," Nutter added. "And he was very, very upset over his defeats."
Democratic political insider and strategist Steve Glorioso recalled Teasdale as a "bigger than life personality who loved campaigning and meeting people more than governing. Honest to the core and always with the best intentions."
Former state representative and Kansas City Councilman Bill Skaggs said Teasdale "loved politics and was a hard worker."
"He told me, before you can win statewide in Missouri, you have to run at least once," Skaggs recalled.
Teasdale avoided political attention after losing his bid for re-election, giving few interviews. In 1993 he told a reporter for The Kansas City Star he had made a final decision that his political career was over.

"I wanted to become a normal person again, and I really wasn't normal before," Teasdale said. "For 20 years I was completely consumed by politics."
Describing perhaps a different era, Teasdale said the power of being governor was addictive.
"You make daily decisions about a multi-billion-dollar budget," he said. "Everybody waits on your every word with baited breath."
Teasdale described the sudden loss of that power as "a pretty devastating reality to have to accept."
Teasdale was born March 29, 1936. A graduate of Rockhurst High School and Rockhurst University, he earned his law degree from the Saint Louis University School of Law.
He married the former Theresa Ferkenhoff, and the couple had three sons, Bill, John and Kevin.
From 1962-66, Teasdale served an Assistant U.S. Attorney in the Western District of Missouri. He was Jackson County prosecutor from 1966-72, the youngest person to hold that position.
"We should remember him as a good prosecuting attorney and a good governor. And he was an honest man," said former Kansas City Mayor Charles Wheeler, a friend of Teasdale's.
"He was just a wonderful friend," said Hila "Dutch" Newman, a longtime Democratic activist in Missouri. "He was a great prosecutor, and he loved politics. He never turned anyone away, no matter how big or how small. I really respected and admired him for that."
Nixon recalled that, as governor, Teasdale was known for his actions in support of Missouri seniors.
"He created the Division of Aging, he pushed for passage of the Nursing Home Reform Act, and he supported removal of the state sales tax on prescription drugs," Nixon said.
Photo: Mpls55408 via Flickr
Want more analysis of the 2014 midterms? Sign up for our daily email newsletter!