Former Obama Staffers Urge President To Reject Keystone XL Extension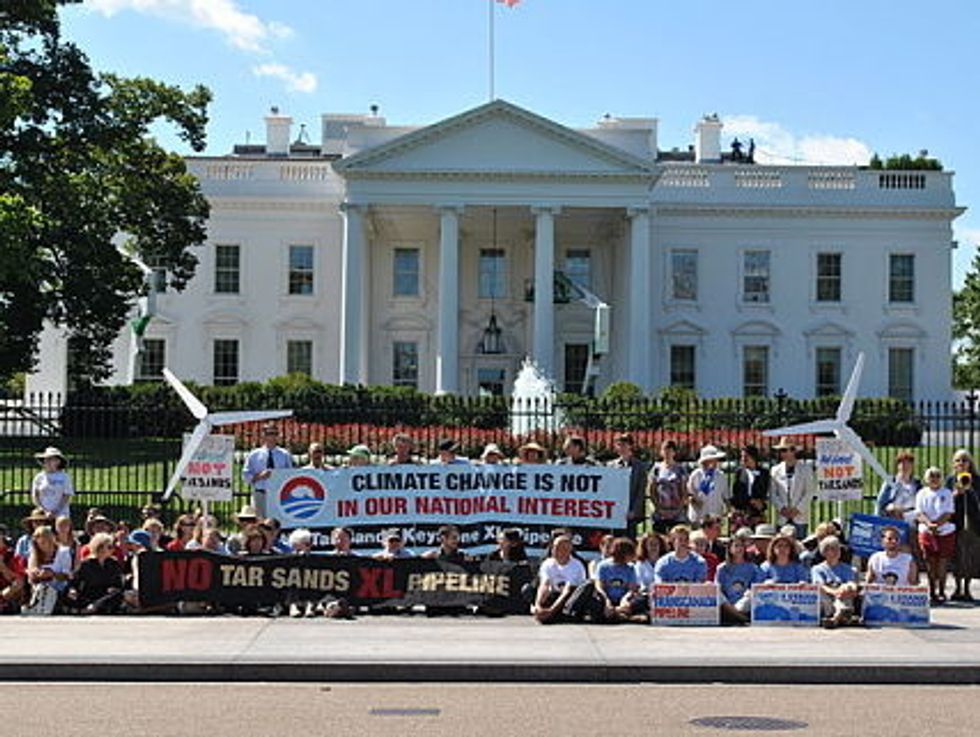 A group of 145 former staffers for President Barack Obama are speaking out in opposition to the Keystone XL pipeline extension, urging the president to "cement your legacy as a climate champion by rejecting" the controversial plan.
President Obama is expected to make a decision on the pipeline extension by this winter. The extension, which would transport 830,000 barrels of crude oil a day — mostly from tar sands in Alberta to refineries in Texas — is bitterly opposed by environmentalists who warn that it will have a terrible impact on the environment while providing little economic gain.
The staffers, who are veterans of President Obama's 2008 and 2012 campaigns, made their opposition to the pipeline known in an open letter released Thursday.
"You already know all the reasons we can't afford this pipeline — that it will lock in gigatons of carbon pollution over the next four decades and that it could spill into our nation's most valuable water sources –we're just asking you to think of us when you make up your mind," the letter reads. "Dozens of supporters across the country told us they were casting their ballot for someone they could count on to make the tough calls when it came to our security and our health care and our climate. They voted for you, Mr. President, because we told them you'd be on the right side of history when you had to make these calls. Because we knew you'd do the right thing and stop this pipeline."
"Please don't disappoint us," the former staffers conclude. "Reject Keystone XL."
On Friday, the 145 former staffers were joined in their opposition by a much more high-profile supporter of the president: Senator Tim Kaine (D-VA). Kaine — who was the first governor outside Illinois to endorse Obama for president, and was Obama's personal pick to chair the Democratic National Committee in 2009 — is one of a growing group of Senate Democrats who are prioritizing climate change as a top issue.
"By most accounts, oil from tar sands is 15 to 20 percent dirtier than conventional petroleum, and the process of extracting and refining it is more difficult and resource-intensive," Kaine wrote in an op-ed for The Washington Post. "Approving the pipeline would send a clear signal to the markets to expand the development of tar sands oil. Such an expansion would hurt our nation's work to reduce carbon emissions. We have to make energy cleaner tomorrow than it is today. That's why the president should block Keystone."
"Someday when I am long retired from the Senate and kids ask me what I did for energy and the environment, I want to tell them a story about how the United States led the way with innovative solutions that created jobs, reduced pollution and tackled our energy challenges head-on," Kaine concluded. "I hope the president gets to tell that same story long after he's out of office."
While Obama's final decision on the pipeline is still yet to be determined, the president has recently stepped up his efforts to fight climate change through a series of new regulations and executive orders.
Photo via Wikimedia Commons