Former Presidents Convene To Dedicate George W. Bush Presidential Center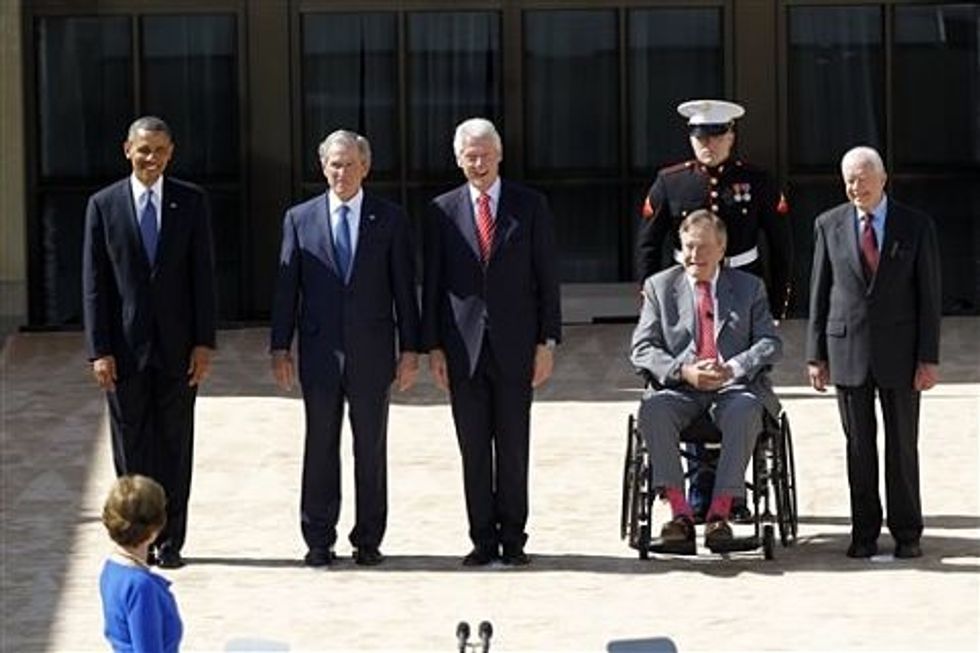 Presidents Barack Obama, Bill Clinton, George H.W. Bush, and Jimmy Carter saluted the legacy of President George W. Bush Thursday, at the dedication of the George W. Bush Presidential Center in Dallas, Texas.
All five living presidents were in attendance at the event, and largely shelved partisan politics to praise President Bush's character and work to promote global health. The President's Emergency Plan for AIDS Relief (PEPFAR), was repeatedly singled out for emphatic praise.
President Bush "increased his assistance to Africa until the time he went into office to more than $90 billion. That's an increase of 640 percent," Carter noted during his speech. "That is something that is dear to my heart and I know means a lot to millions of people in Africa. I am filled with admiration for you and deep gratitude for you."
Clinton concurred, saying that no Democratic president could have passed PEPFAR through Congress, and Obama praised "the compassion that [Bush] showed by leading the global fight against HIV/AIDS and malaria, helping to save millions of lives."
President Obama injected some domestic politics into his speech, praising the 43rd president for forming a bipartisan coalition in an ultimately unsuccessful attempt to reform America's immigration system.
"Now seven years ago, President Bush restarted an important conversation by speaking with the American people about our history as a nation of laws and a nation of immigrants," Obama said. "And even though comprehensive immigration reform has taken a little longer than any of us expected, I am hopeful that this year, with the help of Speaker Boehner and some of the senators and members of Congress who are here today, that we bring it home for our families, and our economy, and our security, and for this incredible country that we love."
"And if we do that," he added, "it will be in large part thanks to all the hard work of President George W. Bush."
With the exception of immigration reform, Obama mostly declined to offer judgement on Bush's governing record. Instead, he praised Bush's character, calling him "a good man."
"Mr. President, for your service, for your courage, for your sense of humor and most of all for your love of country, thank you very much," Obama said.
Clinton also praised Bush's character, in a humor-laced speech that often resembled a roast more than a dedication. Clinton began by musing that the library is the "latest, grandest example of the eternal struggle of former presidents to rewrite history," and went on to crack jokes about Bush's paintings, his "disarmingly direct" nature, and the fact that Bush may have recorded some of their conversations about politics during his time in office.
"Dear God, I hope there's no record of those conversations in this vast and beautiful building," Clinton said to laughter.
George H.W. Bush, who has struggled with his health in recent months, spoke for less than a minute, thanking those in attendence for supporting his eldest son.
When Bush finally took the stage himself, he used the opportunity to thank his friends and family, and offer a defense of his legacy.
"Leaders are defined by the convictions they hold," Bush said. He went on to declare that his conviction is that "the United States of America must strive to expand the reach of freedom."
"I believe that freedom is a gift from God and the hope of every human heart," the former president said. "Freedom inspired our founders and preserved our union through civil war and secured the promise of civil rights….ultimately, freedom lights the path to peace. Freedom brings responsibility."
"As president, I tried to act on these principles every day. It wasn't always easy, and it certainly wasn't always popular," he continued. "One of the benefits of freedom is that people can disagree. It's fair to say I created plenty of opportunities to exercise that right."
Bush generally avoided discussing the most controversial events of his legacy; he did not offer a single mention of the Iraq War, Hurricane Katrina, or the financial crisis that left the economy shedding 800,000 jobs a month at the conclusion of his time in office.
The George W. Bush Presidential Center is the third presidential library to be located in Texas. It covers about 226,000 square feet on the campus of Southern Methodist University, and holds more than 70 million pages of paper records, 43,000 artifacts, 200 million emails, and four million digital photographs. Among other artifacts from Bush's time in office, the library contains the bullhorn that President Bush used to address the nation from Ground Zero after the September 11th attacks, and a container of the Florida punch-card ballots that infamously factored into Bush's contested victory in the 2000 presidential election. As both President Clinton and Laura Bush noted, it holds a platinum certification from the U.S. Green Building Council's Leadership in Energy and Environmental Design program.
Video of the full ceremony can be seen here.
AP Photo/The Dallas Morning News, Tom Fox