Former Trump Counsel Cipollone Will Meet With House Select Committee
@Brandi_Buchman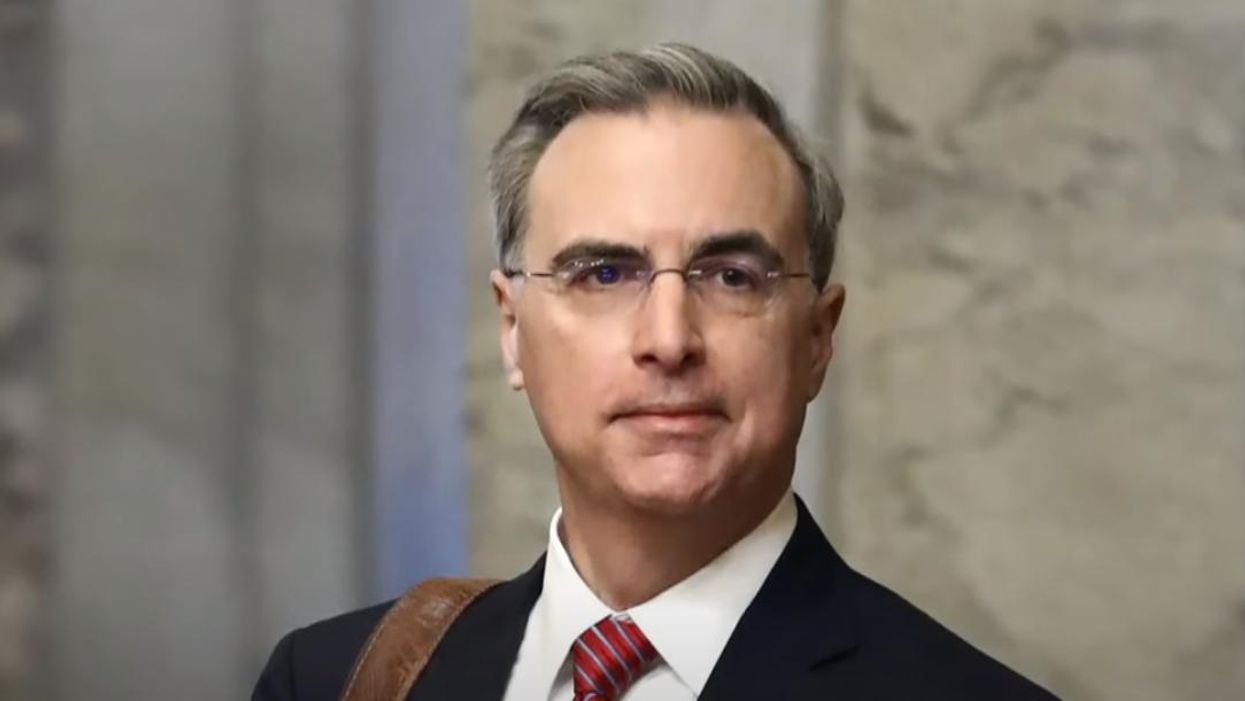 YouTube Screenshot
Fresh off a subpoena requesting his cooperation, former Trump White House counsel Pat Cipollone is slated to testify before the House Select Committee for a private, transcribed, and videotaped interview.
A committee aide did not immediately respond to a request for comment.The New York Times was the first to report the development Wednesday, citing a person briefed on the matter.
Cipollone's full compliance could be illuminating for the investigation into former President Donald Trump's attempt to overturn the results of the 2020 election. According to sworn testimony already delivered by former members of the Department of Justice under Trump, as well as Trump White House officials, Cipollone was often a firsthand witness to make-or-break moments in Trump's attempted coup.
Cipollone was privy to multiple conversations about the bunk elector scheme championed by Trump's attorney Rudy Giuliani, witnesses have said, and Cipollone was also present when Trump raised the question of seizing voting machines.

The former president's counsel attended a meeting recently detailed at length—and under oath—by the nation's former acting attorney general, Jeffrey Rosen, and Rosen's deputy, Richard Donoghue.
Rosen and Donoghue testified that it was Cipollone who stood tall against Trump in the Oval Office during a meeting where Trump nearly fired Rosen and replaced him with yes-man Jeffrey Clark, a mid-level environmental lawyer at the Department of Justice who strongly supported Trump's baseless election fraud claims.
Like Cipollone, Clark was subpoenaed by the committee. But Clark refused to answer any questions and instead pleaded the Fifth Amendment repeatedly during a private meeting with committee counsel.
When Rosen and Donoghue testified, they described how the draft letter written by Clark rattled off a long series of bogus claims about election fraud in Georgia and urged that "alternate" electors be seated.
Rosen's predecessor, Attorney General Bill Barr, had already declared publicly and in private meetings with Trump, that there was no evidence of fraud widespread enough that it would alter the outcome of the election. But Clark, Rosen and Donoghue said, pushed ahead anyway.
When Cipollone saw the draft letter, Donoghue told the committee he remembered the counsel's reaction vividly.
If the DOJ cosigned it, Cipollone allegedly said, it would be a "murder-suicide pact."
The draft letter never went out because Donoghue, Rosen, and others at the Department of Justice threatened to resign en masse if Trump insisted on replacing Rosen with Clark.
According to sworn testimony already provided by former Trump White House aide Cassidy Hutchinson, Cipollone was also part of key conversations with Mark Meadows, then Trump's chief of staff.
Hutchinson said Cipollone pleaded with Meadows to act as the mob grew larger, gallows were erected on the Capitol lawn and chants of 'Hang Mike Pence' reverberated on Capitol grounds.
Hutchinson recalled Cipollone telling Meadows how desperate the situation had become on Jan. 6 and urged Meadows to understand that the mob was quite literally calling to kill then-Vice President Mike Pence.
"You heard him, Pat," Hutchinson recalled Meadows saying. "He thinks Mike deserves it. He doesn't think they're doing anything wrong."
According to Hutchinson's recounting of the day, Cipollone was flabbergasted.
"This is f-ing crazy. We need to be doing something more," Cipollone allegedly said.
Cipollone has been a stalwart ally to Trump, representing the 45th president for both of his impeachments and in various other legal matters. When Trump was impeached for obstruction of Congress and abuse of power in 2019, Cipollone offered a vehement and sharp defense of Trump, taking up the "witch hunt" mantle at length and slamming the inquiry as meritless and part of a campaign by Democrats and those on the left to punish Trump for political differences.
When Trump was impeached the first time, Cipollone notably called for cameras to be barred from proceedings, arguing it would create a circus-like atmosphere. The cameras would stay.
Trump was ultimately quite pleased with Cipollone's performance during the first impeachment, calling him a "Great White House counsel."
This latest decision to comply with the January 6 committee's subpoena will put Trump's relationship with Cipollone to the test and the extent of Cipollone's cooperation will naturally hinge on what he actually discloses.
When Trump attorney John Eastman tried to fend off the committee's subpoena for his records, Eastman cited attorney-client privilege but was unable to overcome the crime-fraud exception to this assertion. The crime-fraud exception essentially says that confidentiality is not blanketed and if a client sought advice from an attorney that would help that client pull off or commission a crime, then work product or correspondence can be disclosed.
A Washington Post profile of Cipollone from January 2020 notes the counsel's propensity to keep himself out of the national spotlight.
His profile was so low in Washington, D.C., in fact, that when Cipollone first took to the Senate floor during Trump's impeachment, it was his first time ever appearing on C-SPAN.
Memorably, even while presiding over the inquiry, Chief Justice John Roberts introduced Cipollone and mispronounced his last name.
TODAY:

Cipollone's first time on C-SPAN.

Sekulow's 44th time on C-SPAN (first in 1990 ... 1991 below) pic.twitter.com/XbWVBCJ5ek

— Howard Mortman (@HowardMortman) January 21, 2020
Jay Sekulow, one of Trump's personal attorneys, told Yahoo! News in January 2020 that Cipollone was a "serious tactician" and described him as an "aggressive advocate" for the 45th president, though "measured."
In that same 2020 article, an unnamed Trump White House official said Trump saw Cipollone as "beyond loyal."
Cipollone will appear before the committee for his private session this Friday.
The committee's next public hearing is July 12 at 10 AM ET and there will be at least one more hearing to follow. The committee is expected to focus on the extremist elements involved in the insurrection as well as unpack exactly what was going on during the 187 minutes of silence from the White House as the Capitol was under attack.
Reprinted with permission from Daily Kos.