Former Ukraine Ambassador's Testimony Blasts Trump And Cronies
@alexvhenderson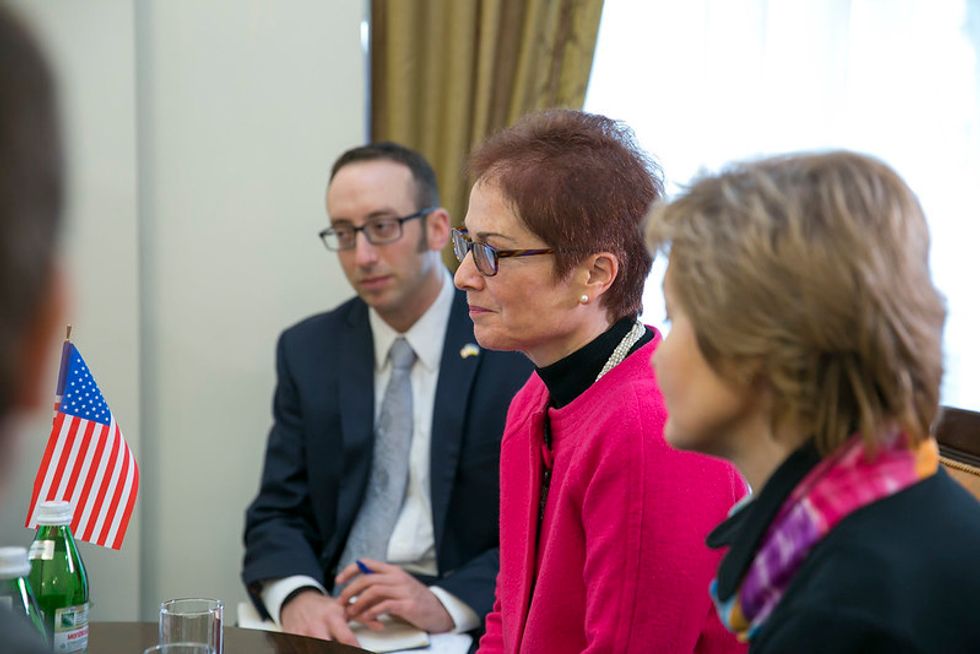 Reprinted with permission from Alternet
Despite objections from President Donald Trump's administration, Marie L. Yovanovitch, the former U.S. ambassador to Ukraine, showed up on Capitol Hill on Friday to testify at a closed-door hearing pertaining to the Ukraine scandal and the impeachment inquiry by Democrats in the House of Representatives. And Yovanovitch, according to the New York Times, offered a blistering indictment of how the administration has been conducting foreign policy.
The Times obtained a copy of the opening statement that she gave, reporting that she said she was "incredulous" that she had been fired as U.S. ambassador to Ukraine "based, as far as I can tell, on unfounded and false claims by people with clearly questionable motives."
She said that the pressure to have her removed as ambassador came directly from the president:
I met with the Deputy Secretary of State, who informed me of the curtailment of my term. He said that the President had lost confidence in me and no longer wished me to serve as his ambassador. He added that there had been a concerted campaign against me, and that the Department had been under pressure from the President to remove me since the Summer of 2018. He also said that I had done nothing wrong and that this was not like other situations where he had recalled ambassadors for cause.
Although Yovanovitch was fired from her post as ambassador to Ukraine, she has continued to work in the U.S. State Department and risked her job by testifying on Friday. Regardless, Yovanovitch spoke her mind, and she stressed that hurting loyal diplomats only encourages "bad actors" and enemies of U.S. interests who will "see how easy it is to use fiction and innuendo to manipulate our system."
Yovanovitch was quite critical of Trump's personal attorney Rudy Giuliani and his allies — who have alleged that she was disloyal to the president. In an indictment released on Thursday, prosecutors alleged that associates of Giuliani were part of a foreign lobbying campaign to get Yovanovitch removed.
The diplomat testified, "I do not know Mr. Giuliani's motives for attacking me" but said that Giuliani's allies "may well have believed that their personal financial ambitions were stymied by our anti-corruption policy in Ukraine
However, Yovanovitch's opening statement, the Times reported, offered "no new details" about Trump's attempt to pressure Ukrainian President Volodymyr Zelensky into investigating former Vice President Joe Biden and his son, Hunter Biden.
In her opening statement, Yovanovitch also said that in the spring, Deputy Secretary of State John Sullivan told her she had "done nothing wrong and that this was not like other situations where he had recalled ambassadors for cause."
Trump has nominated Sullivan to be the next ambassador to Russia.