Four Reasons Why Trump Should Fear Bannon Testimony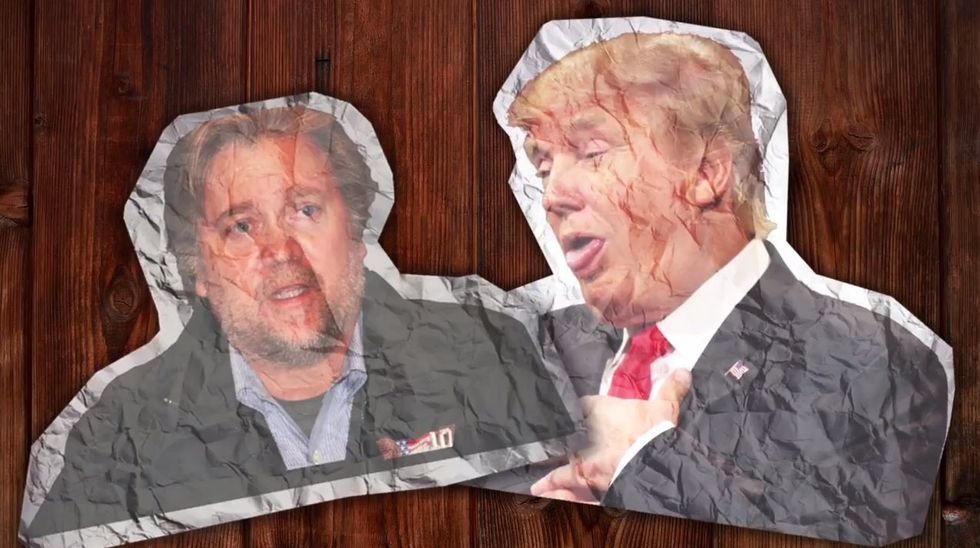 Reprinted with permission from AlterNet.
Donald Trump should be worried.
Former Trump campaign strategist and White House adviser Steve Bannon, summoned by subpoena to testify for special counsel Robert Mueller, has reportedly said he will "cooperate fully."
News of the subpoena came Tuesday, the same day Bannon testified in a closed-door hearing before the House Intelligence Committee, which is investigating Russia's involvement in the 2016 presidential campaign.
Make that very worried.
Bannon was warned not to talk to the House investigators. The White House told Bannon to invoke executive privilege, to refuse to talk about his time during the transition and in the White House, and he did so, demonstrating fealty to Trump. He won't have that option when talking to Mueller.
Make that very, very worried.
Bannon is searching for a way back to political relevance, and waging war on his rivals offers a path. Since flaming out as White House adviser last summer, Bannon has been on an impressive losing streak.
First, he backed child molester Roy Moore for the U.S. Senate in Alabama and lost big. Then came his candid comments to journalist Michael Wolff, which prompted Trump to say he had "lost his mind." Then he was evicted from Breitbart News by his patrons in the Mercer family.
Now Bannon is blaming Paul Manafort, eating crow and nursing a dream of launching a right-wing website to wage war on the political establishment—which in his mind includes Trump's son-in-law, Jared Kushner, one of the subjects Mueller will surely ask about.
Testifying candidly provides Bannon with an opportunity to settle scores, eliminate rivals and possibly return to a position of influence.
Make that very, very, very worried.
Jens David Ohlin, a vice dean at Cornell Law School and an expert on criminal law, told Business Insider that Mueller could be using the subpoena as a negotiating tactic to pressure Trump, but a "more intriguing possibility," he said, was that "Bannon wants to testify, but is afraid of appearing too eager."
Here are four things Trump has to worry about when Bannon testifies.
1. Leaking on Jared.
Bannon thinks Jared and Ivanka are New York Democrats at heart, which is probably true. He described Ivanka to Wolff as "dumb as a brick," and said Trump gave his son-in-law the Middle East peace portfolio because his family, longtime Israel supporters, "knew all the crooks" in the country.
Bannon delights in trashing Kushner, overtly and covertly. TV talk show host Joe Scarborough said that Bannon boasted about having damaging information on Kushner just days before the New York Times first reported on Kushner's December 2016 meeting with Russian banker Sergey Gorkov, a Putin crony.
Kushner seems to have something to hide. He failed to disclose his meeting with Gorkov on his application for a security clearance, saying he met with many foreign officials at the time. He has said he did not discuss sanctions with Gorkov.
If Bannon knows more about Kushner and Gorkov, he has a weapon to attack his rival for the president's ear.
2. Ratting out the participants in the Trump Tower meeting.
In Wolff's book Fire and Fury, Bannon dealt a devastating blow to Trump's claim that the Russia investigation is a hoax. He said the June 2016 meeting, where Paul Manafort, Kushner and Donald Trump Jr. heard out Russian agents who promised damaging information about Hillary Clinton, was "treasonous" and "unpatriotic."
Bannon also said he believed there was "zero" chance that Don Jr. did not take the Russians to meet his father. Trump claims he knew nothing about the meeting.
Bannon doesn't seem to have first-hand knowledge that Trump met the Russians, but if Mueller does and Bannon provides corroboration, he puts another brick in the wall of evidence that the president obstructed justice.
3. Clarifying the firing of Lt. Gen. Michael Flynn.
Bannon was personally involved in the decision to say that Flynn, the president's first national security adviser, was dismissed after he lied to Vice President Mike Pence about phone calls with the Russian ambassador during the presidential transition.
The indictment of Flynn in December endangers Pence's defense, notes the Huffington Post, because it brings "fresh attention" to what Pence knew about possible Russian collusion and when he knew it. Pence's office says: Not much and really late.
If Bannon knows otherwise, he is a threat to Pence's claim to be a bystander to the Russia machinations.
4. Explaining the WikiLeaks connection.
Don Trump Jr. told Bannon about his repeated contacts with WikiLeaks in September 2016, according to emails obtained by The Atlantic.
When Trump Jr.'s cooperation with WikiLeaks founder Julian Assange was reported last November, Pence's office said he was "never aware of anyone associated with the campaign being in contact with WikiLeaks."
If Bannon testifies that he talked to Pence about WikiLeaks during the campaign, he will further crack the Trump inner circle.
Rat?
Of course, Bannon also has reasons to protect Trump. His populist-nationalist-white supremacist cause depends on Trump and his supporters.
"If he becomes the 'rat' who helps take down Trump, he will never get back into a leadership position among the Republican base," writes pro-Trump blogger Keith F. Koffler. "Nor, of course, would he ever get back into good graces with Trump, which remains possible."
But what if Mueller asks questions that Bannon cannot answer honestly while protecting Trump? Will Bannon risk perjury—and his clean record—to protect the man who dubbed him Sloppy Steve?
The president should be very, very, very worried.