In 2019, Fox Affiliates Have Gotten 92% Of Trump's Televised Interviews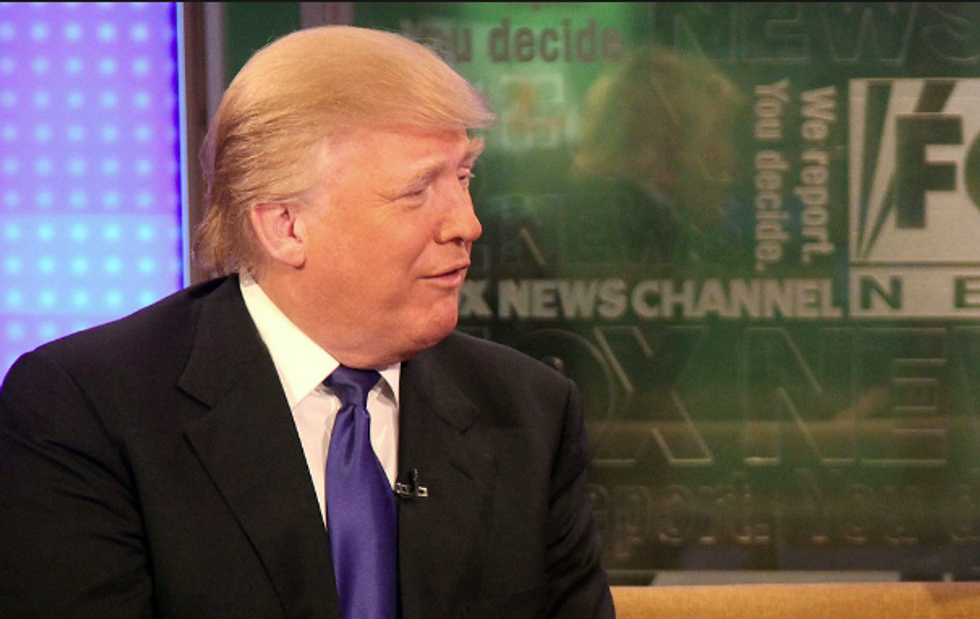 In mid-March, President Donald Trump used Twitter to pressure Fox News to bring back suspended host Jeanine Pirro and lash out at three Fox anchors. Since then, Trump has given interviews to Fox Business and Fox News seven times. So far in 2019, 92 percent of all of his nationally televised interviews have been on Fox channels, with nearly two-thirds of them occurring after he lashed out on Twitter.
On March 17, Trump took a shot at three Fox News anchors complaining about their coverage and saying they should move to CNN. The same day, Trump vociferously defended and lobbied for Pirro, one of his biggest sycophants, who had been suspended for making anti-Muslim comments about Rep. Ilhan Omar (D-MN). (Pirro returned to the channel after two weeks.) The drama was nonetheless enough to make headlines, with one article's title asking, "Is Trump changing his tune on Fox News?"
The short answer is no.
Trump's tendency to favor Fox channels for interviews has increased dramatically in 2019. So far this year, 11 out of 12 of the president's national TV interviews have been on Fox News or Fox Business, an increase from 2017-2018 when 67 percent were given to Fox-affiliated channels. Since lashing out on March 17, Trump has given seven interviews to Fox News or Fox Business.
Notably, in a one-week period from April 25 through May 2, Trump gave four interviews to Fox. At no other point in his presidency has Trump done so many Fox interviews in such a short time frame.
Five days after the March 17 Twitter spat, Trump sat for an interview with Fox Business' Maria Bartiromo. Trump promoted the interview multiple times on his Twitter feed and has since done another interview with her on April 28 that The Washington Post described as "so friendly that [Trump] wouldn't stop talking."
Trump has also done two interviews with host Sean Hannity on March 27 and April 25. The one on April 25 was a lengthy call-in interview described as a "rambling" — a 45-minute rant so friendly that, as The Atlantic's Conor Friedersdorf put it, the term softball doesn't even apply and "T-ball is closer to the mark."
The president also rewarded Trish Regan on Fox Business and Catherine Herridge and Griff Jenkins on Fox News with interviews.
Trump also promotes Fox News, a Fox personality, or a Fox show almost daily on Twitter. From March 24 — when Attorney General William Barr sent his letter to Congress about special counsel Robert Mueller's report on the Trump-Russia investigation — to April 29, 43 percent of Trump's tweets about Mueller referenced Fox in some manner.
Although Trump has lobbed the occasional criticism at Fox, especially when he perceives its coverage to be critical of him, he's also been its biggest cheerleader — whether by sitting down for interviews, calling into shows, telling people to tune in to Fox News, or simply tweeting about some of the more sycophantic hosts and shows. His message is clear: Stay loyal to the president, or he'll lash out.