Fox News And Bannon Crew Mount Instant Smears Of Vindman
@CourtneyHagle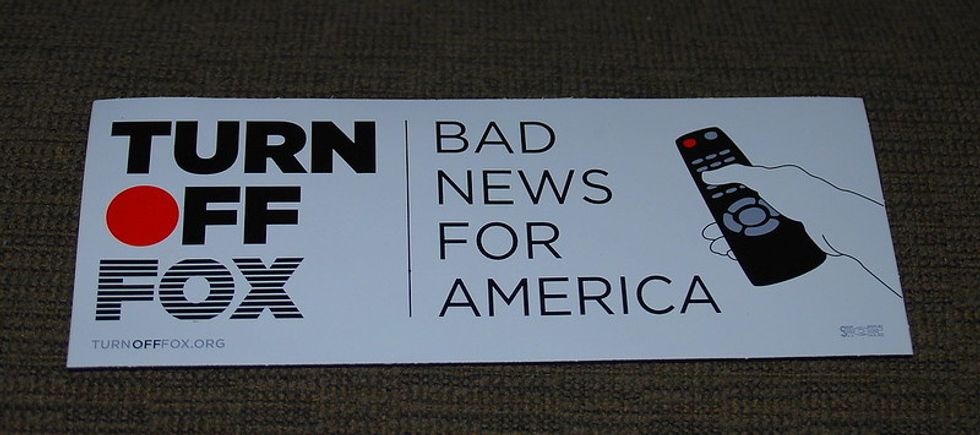 Army Lt. Col. Alexander Vindman, a top Ukraine expert on the National Security Council, reportedly testified that he objected to President Donald Trump's shadow policy toward Ukraine on two occasions. Now, right-wing media is smearing Vindman because he was born in Ukraine and emigrated to the U.S. as a child, accusing the decorated war veteran of harboring more loyalty toward the country of his birth than the United States.
Vindman was the first witness to testify who has firsthand knowledge of the July 25 phone call between Trump and Ukrainian President Volodymyr Zelensky. The call became the subject of a whistleblower complaint and led to the ongoing House impeachment inquiry over Trump's attempt to pressure Ukraine to investigate his political rival, former Vice President Joe Biden. According to The New York Times, Vindman was expected to testify that he "watched with alarm as 'outside influencers' began pushing a 'false narrative' about Ukraine that was counter to the consensus view of American national security officials, and harmful to United States interests."
"I did not think it was proper to demand that a foreign government investigate a U.S. citizen, and I was worried about the implications for the U.S. government's support of Ukraine," Colonel Vindman said in his statement. "I realized that if Ukraine pursued an investigation into the Bidens and Burisma it would likely be interpreted as a partisan play which would undoubtedly result in Ukraine losing the bipartisan support it has thus far maintained."
Right-wing media are latching on to The New York Times' reporting that because Vindman "emigrated from Ukraine along with his family when he was a child and is fluent in Ukrainian and Russian, Ukrainian officials sought advice from him about how to deal with Mr. Giuliani, though they typically communicated in English." Right-wing media is using this fact to accuse Vindman of being more loyal toward Ukraine than the United States, even openly questioning his patriotism.
CNN contributor and former Rep. Sean Duffy (R-WI) claimed Vindman is "incredibly concerned about Ukrainian defense," but "I don't know that he's concerned about American policy." Duffy added, "We all have an affinity to our homeland where we came from." Duffy received strong pushback from co-anchor John Berman.
On The Ingraham Angle, Fox News contributor John Yoo, who authored a series of infamous Justice Department arguments in support of torture, suggested that "some people might" accuse Vindman of "espionage" for advising Ukraine. Ingraham framed the fact that "Col. Vindman emigrated from Ukraine along with his family when he was a child and is fluent in Ukrainian and Russian" as a nefarious detail.
The Gateway Pundit's Jim Hoft wrote an article about Ingraham's segment with the headline: "Predictable: Liberal Media OUTRAGED After Esteemed Attorney John Yoo Accuses Schiff's Latest Trump-Hating 'Witness' of Espionage." Defending Yoo's argument, Hoft wrote that it's "a good point and worth discussing" whether "political operative Vindman might be guilty of ESPIONAGE."
Sharing a tweet quoting The New York Times about Vindman's Ukrainian heritage, One America News' Jack Posobiec wrote, "Totally normal nothing to see here." Posobiec also responded to Duffy's CNN segment implying Vindman is more loyal to Ukraine than the U.S. with "PosoCheck: True."
On Fox & Friends, co-host Brian Kilmeade claimed that Vindman "has an affinity to the Ukrainian people." Kilmeade later said that Vindman "tends to feel simpatico with the Ukraine."
The morning after Laura Ingraham suggested Alexander Vindman is a hostile double agent, Brian Kilmeade simply notes that Vindman "is from the Soviet Union, he emigrated here, and has an affinity to the Ukrainian people." pic.twitter.com/0TOKeWQP6j

— Bobby Lewis (@revrrlewis) October 29, 2019
Responding to Posobiec's tweet highlighting the New York Times report on Vindman's Ukrainian background, conservative commentator Ned Ryun wrote, "You just cannot make this stuff up. . ."
Conservative writer Will Chamberlain tweeted: "Maybe Vindman should have resigned from the NSC and taken up lobbying for Ukraine."
Maybe Vindman should have resigned from the NSC and taken up lobbying for Ukraine https://t.co/kskpOe0wEk

— Will Chamberlain (@willchamberlain) October 29, 2019
Steve Bannon, Raheem Kassam, and Jason Miller discussed Vindman's testimony on Bannon's podcast. Kassam made clear that he was questioning Vindman's patriotism, and Miller said that Vindman's testimony was tantamount to a military coup. The panel also praised Yoo as a serious person, with Bannon particularly praising Yoo's torture memos.
The Federalist's Sean Davis suggested that Vindman may be trying to "overthrow" Trump.
I have significant concerns about whether an active duty officer deliberately leaked top secret information as part of a deliberate effort to subvert the authority of his military command and potentially overthrow the elected commander-in-chief. https://t.co/BZDiq4Qpiq

— Sean Davis (@seanmdav) October 29, 2019