Fox News Host: Indictments Prove Russia Probe Is 'Opposite Of A Hoax'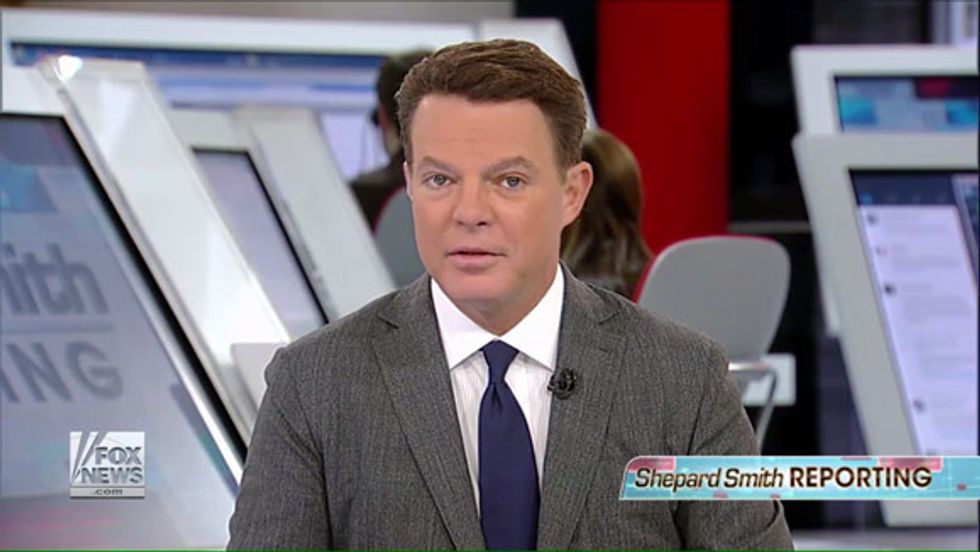 Reprinted with permission from Shareblue.com
Fox News host Shepard Smith shut down Trump's frequent criticism of the Russia probe on Friday, saying that the new indictments handed down by special counsel Robert Mueller prove the investigation is not the "hoax" Trump has made it out to be.
 "The Russians set up websites and Facebook pages and Twitter accounts — pretending to be Americans — and duped us into following them and friending them and retweeting them," Smith said Friday on Fox News' "Shepard Smith Reporting."
"The Russians infiltrated our system, manipulated us on behalf of Vladimir Putin — and they did it online and in person on our soil. If there was ever any question, even a single question, there is no more," Smith said. "Russia attacked the United States of America."
Smith's comments came just hours after special counsel Mueller handed down indictments to 13 Russian nationals and three Russian groups, including the Kremlin-backed Internet Research Agency, for their role in an extensive effort to interfere in the 2016 presidential election.
According to the indictment, Russian operatives created false American personas and stole the identities of real Americans as part of a broad effort aimed at "supporting the presidential campaign of then-candidate Donald Trump ('Trump Campaign') and disparaging Hillary Clinton."
The indictment also alleges that Russian operatives organized pro-Trump and anti-Hillary Clinton rallies — with the help of apparently "unwitting" American accomplices, including people associated with the Trump campaign.
Besides laying out fresh new evidence of the extent of Russia's influence operation, the new charges wholly debunk Trump's frequent claim that the Russia investigation is nothing but a hoax — a point that Smith made clear on Friday.
"The Russians … posed as Americans and communicated with unwitting people associated with the Trump campaign to try to coordinate political activities. That's a blockbuster charge," Smith said.
"Russians, thought to be Americans, working with Trump supporters or allies to do politics together," he reiterated. "The Russia investigation is the opposite of a hoax."
Smith's comments were an obvious rebuttal to Trump, who has clung to the false claim that the Russia investigation is a hoax for well over a year.
Even as four of his campaign associates were charged with crimes — including former campaign chairman Paul Manafort and former national security adviser Michael Flynn —Trump continued to insist that Mueller's probe was nothing but a "witch-hunt."
In November, Trump even said he believed Russian President Vladimir Putin's denials that the Kremlin interfered in the U.S. presidential election — despite a "high confidence" assessment from the U.S. intelligence community saying that Russia did, indeed, interfere in the election.
Trump continues to claim that he did nothing wrong and has nothing to hide, but he sure isn't acting like it — and even Fox News is calling him out for it.