Fox News Revenue Plummets As Advertisers Drop Hannity
@GoAngelo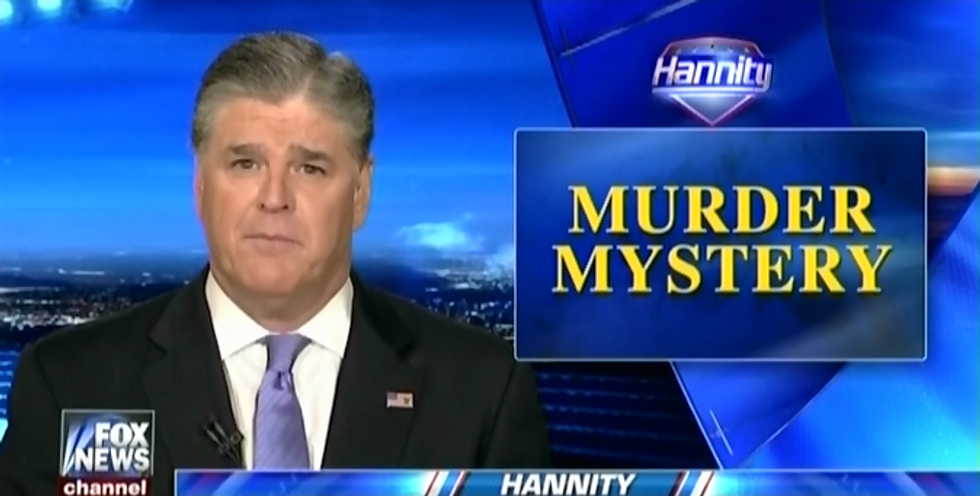 Reprinted with permission from Media Matters.
Fox News' role as a secondary communications shop for Donald Trump and host Sean Hannity's advertiser troubles are apparently starting to affect the network's bottom line.
In September 2017, Fox News' ad revenue dropped a whopping 17 percent as compared to September 2016, while CNN's dipped 1 percent and MSNBC's increased 2 percent.

To be fair, modest fluctuations in advertising revenue between presidential election years and off years are absolutely normal and expected; typically, year-to-year revenue will decline in off years compared to presidential election years.
You can see those typical fluctuations reflected in MSNBC's minor gain and CNN's minor decline. Fox News' decline, though, is sharp and wildly out of whack with its cable rivals.
The relative disproportion of Fox's 17 percent loss means that it can't be attributed merely to normal market fluctuations. If the market as a whole was the primary cause, then you'd see larger changes at CNN and MSNBC too. Accordingly, this massive loss indicates that there are other factors unique to Fox that are driving the drop.
The single biggest factor likely driving this decline is the fallout from advertisers leaving Sean Hannity's program.
Yes: Sean Hannity is losing advertisers! And, as we have seen before, when advertisers start leaving, revenue begins to decline.
Advertisers first became skittish about Hannity's program in May of 2017 after he began promoting conspiracy theories about the July 2016 murder of a Democratic National Committee staffer. The conspiracy theory drew widespread backlash, including from the victim's family, journalists, and even others at Fox News. Yet Hannity carried on peddling the conspiracy theory, and he actually started lashing out at Fox News and its advertisers.
Hannity signaled that he was volatile and that his volatility could prove bad for business. So advertisers started paying attention. At this time, I also started to hear rumblings about advertisers dropping Hannity's program.
As the weeks went on, Hannity's conspiracy theories, smears, and attacks intensified. In early August, Media Matters responded to Hannity's escalating extremism by launching an effort to educate advertisers about his conspiracy theory peddling, his collaboration with the White House to advance Trump's interests, his efforts to undermine the rule of law, and the odious and reckless nature of his claims.
In early September, the Associated Press looked at the first few weeks of the Stop Hannity campaign. Its resulting report included a public statement from Cadillac about why the company had stopped advertising on Hannity's program; it also pointed out that Media Matters had heard from over a dozen companies that had similarly ceased advertising on Hannity's show.
Based on my extensive experience with these kinds of campaigns, my sense is that Hannity's advertiser losses are more significant than the dozen or so large companies that have provided explicit statements. Rather, Hannity's volatility has become so widely recognized that media buyers, out of concern for their clients, are simply excluding Hannity's program from their selections from the outset in order to avoid getting sucked up into one of his conspiracy theories or contemptible attacks.
Hannity's recent collaboration with and defenses of serial sexual predator Bill O'Reilly will only make advertisers more wary about associating with him. And the fact that Fox News eagerly embraced this collaboration and actively promoted it will validate advertisers' concerns about the Fox News brand as a whole. Rightfully so!
The timing of Fox News' massive ad revenue loss lines up almost exactly with Hannity's loss of advertisers. It's safe to say that it's more than mere coincidence. They're connected.
Sean Hannity is costing Fox News. Fox News accepts this either out of the goodness of its executives' hearts, or, more likely, because the network prioritizes advancing a political agenda and Hannity helps advance that agenda. Those political priorities create an additional contributing factor to Fox News' revenue drop: the bigotry, vitriol, lies, and rank partisan machinations that have come to define Fox News' brand.
Aside from the Fox News lies that are put on full display for all every time Trump parrots a Fox & Friends segment, a look at the network's coverage of the white supremacist rally in Charlottesville, VA, back in August tells you all you need to know about Fox News' maleficence. On that day, a protestor was run over and killed by a white supremacist. Instead of covering the tragic death for what it was, Fox News spent several hours maligning the people protesting white supremacists and repeatedly suggesting that the white supremacist driver was acting out of self-defense — needless obfuscation from Fox News that seemingly contributed to Trump's initial "both sides" comment.
That's not an outlier. There's a list a mile long of examples just like that, because it's the Fox News brand.
Mostly driven by concerns around digital advertising, companies are becoming increasingly mindful about brand safety and intentionality in that advertising. And that mindfulness is starting to influence other advertising decisions as well, like television sponsorships.
Companies do not want their advertising to be associated with rank partisanship, bigotry, or deceit. They recognize that it's bad for business. But Fox News continues to offer all three in spades, and as a result, I suspect it is beginning to have a downward effect on the network's commercial viability as a whole.
Bottom line is this: Fox News' ad revenue plummeted. It's likely largely attributable to Hannity's growing advertiser losses. And it also appears to reflect a deeper vulnerability in Fox News' business model of bigotry, deceit, and partisanship.
Angelo Carusone is the president of Media Matters for America.