At Fox News, Sexism Is Business
@FromaHarrop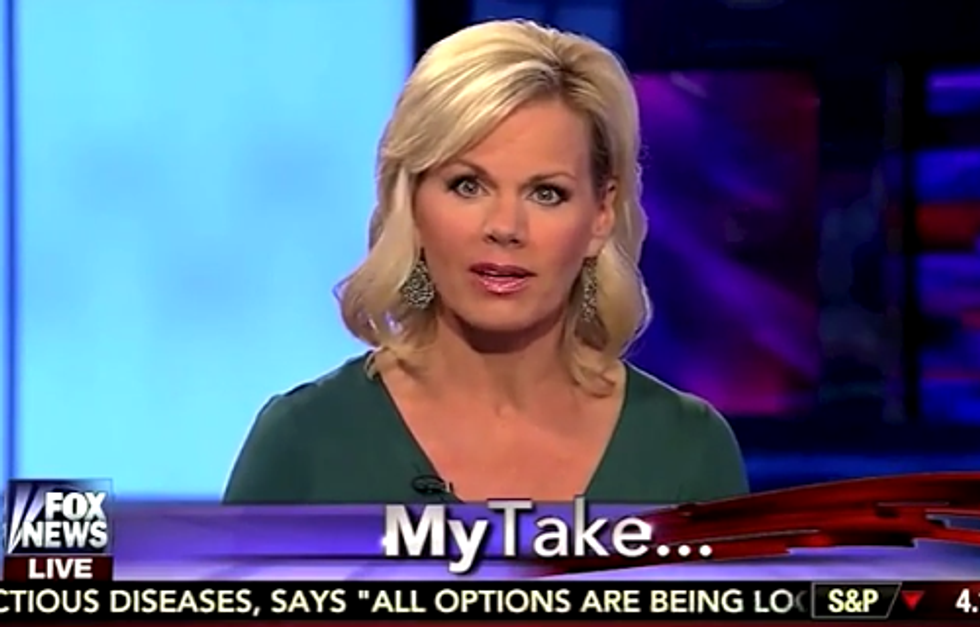 What to make of Gretchen Carlson's suit against Fox News Chairman Roger Ailes alleging sexual harassment? If Ailes did demand sex as a condition of her employment and Carlson can prove it, then she'd seem to have a good case.
But other complaints about "inappropriate" behavior at Fox News don't sit quite right: So she was mocked on the air over her high hemlines and paid slithering compliments about "looking good today." On the air, a male co-host pulled down her arm to shut her up. I mean, what ballpark did she think she was playing in?
With a few exceptions, the Fox News sets purposely pair men in business attire with women in sleeveless, short dresses — some featuring adorable peekaboo cutouts revealing cleavage. You don't need a fashion anthropologist to tell you that this dress code screams inferior status.
I hit upon "Fox & Friends" on Saturday morning when the discussion centered on the Dallas tragedy. There was Abby Huntsman, all arms and legs in a flamingo-pink dress, flanked by two male anchors encased in conservative business suits with ties. Huntsman was offering the smartest commentary, but how many viewers took notice?
It's not just Fox News Channel. All over TV you see women doing news dressed for the cover of Cosmo. The need to play the babe is why so many newswomen get yanked off the air the moment they age. Carlson herself is now 50.
(It's especially painful to watch one of the survivors, Andrea Mitchell at 69, displaying arms and legs alongside fully dressed men with lesser intellects. It does not matter that she's in terrific shape.)
Carlson sat on the "Fox & Friends" set for years as an accomplice. She soldiered through the lame sexist joshing. She once stomped off the set in seeming complaint but came back saying she was kidding. Her recent book praised and thanked Ailes with profusion.
Now, we can say this is entertainment. She was hired to perform as the ditzy foil to the men. The formula includes a revolt against politically correct feminism.
Whatever. In the age of hipster androgyny, the female hootchy-kootchy on Fox News Channel seems increasingly dated. It may account in part for CNN's narrowing the ratings gap with the once-dominant Fox News, particularly among younger viewers.
The fashion industry has been in on promoting retrograde aesthetics for working women. Decades ago, there was a brief "dress for success" movement, urging women to wear suits in professional settings. But the notion of women getting by with a work wardrobe of five business uniforms — as men do — could not be tolerated. Women in suits with those floppy bow ties were quickly made fun of. The message was: You can flaunt your femininity at the office and be powerful at the same time. That women in well-tailored suits are actually quite alluring (check out the Hitchcock movie heroines) got lost in the demands of selling fast fashion.
Some may argue that enduring fraternity-level taunts was the only way some of these women could get on camera, become famous and make good money. That may be so. And I won't begrudge their trading dignity for fame and fortune, if that's their wish and they don't pretend otherwise.
The main problem with Carlson's suit is the timing. It was filed only after the network decided to not renew her contract. While gainfully employed, she helped advance a business model that championed overt sexism. And that's why the sisterhood probably isn't losing a lot of sleep over Carlson's case, even as it quietly hopes she prevails.
Follow Froma Harrop on Twitter @FromaHarrop. She can be reached at fharrop@gmail.com.
Photo: Screenshot via YouTube