Fox Primes Viewers For 'Election Fraud' Chaos In Pennsylvania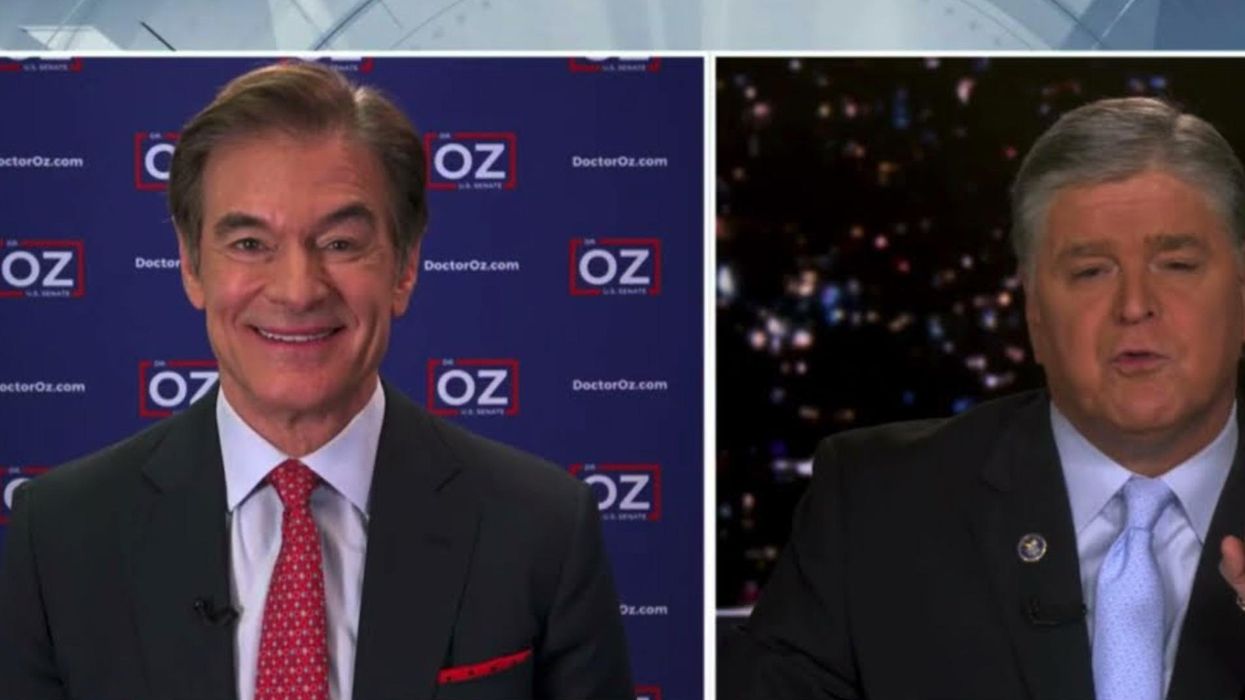 Youtube Screenshot
Fox News prime-time host Sean Hannity is priming his audience to see election fraud in any defeat for Dr. Mehmet Oz, his favored candidate who currently leads the GOP primary for U.S. Senate in Pennsylvania with two percent of votes outstanding. If the fast-closing hedge funder Dave McCormick takes the lead and the Oz camp claims the election has been stolen, it could set up a potentially explosive proxy war with Hannity's colleague Laura Ingraham, whose Fox program favors McCormick and has suggested he is likely to prevail when all the votes are counted.
The GOP primary was a chaotic slugfest that split Fox's slate of pro-GOP hosts in an unusually public way. Hannity was Oz's most prominent supporter, reportedly securing the support of former President Donald Trump and using his program to endorse the TV personality, give him a regular platform, and target the challenge from right-wing commentator and Fox & Friends regular Kathy Barnette. Ingraham, meanwhile, used her Fox program (which airs in the hour following Hannity's) to promote McCormick, criticize Oz, and defend Barnette.
Tuesday's election is currently too close to call, with Oz holding a roughly 1,200-vote lead over McCormick, 31. percent to 31.1 percent, according to the Associated Press. McCormick has gained ground as officials continue counting ballots, and the election appears headed to a recount.
Trump, Hannity, and the bulk of Hannity's Fox and right-wing media colleagues dishonestly sought to delegitimize the 2020 election results when mail-in ballots helped President Joe Biden win key states. Their cynical attempt to subvert the vote and terminate the American republic led inexorably to January 6, 2021, when a riotous mob of Trump supporters sacked the U.S. Capitol as they sought to thwart the peaceful transition of power.
Hannity and Trump are now deploying the same playbook in Pennsylvania.
"Dr. Oz should declare victory," Trump suggested on his social media site Wednesday morning. "It makes it much harder for them to cheat with the ballots that they 'just happened to find.'"
A few hours later, Hannity similarly baselessly raised the prospect of election fraud on his nationally syndicated radio show.
Hannity similarly portrayed the election as a done deal on his Fox show that night.
"I've been crunching numbers all day. I've been talking to people all day. I've been checking county websites all day. And I have my belief that, worst case scenario, this comes out in Oz's favor," Hannity told his guest, the pollster Matt Towery.
Towery agreed with Hannity's analysis, saying, "There aren't enough votes here to make this a reversal in who's leading. It could take it down more, maybe even to 600, but I don't think it can change the lead."
And Oz himself appeared and took Trump's advice, telling Hannity's audience, "This election is ours."
Hannity viewers who kept watching after the program ended received a very different message from Ingraham's show.
The analyst Ingraham hosted to discuss the race, Washington Examiner's Salena Zito, said that based on the outstanding ballots, "If you ask me tonight whose campaign I would want to be in, it would probably be McCormick's."
And then McCormick himself came on and, at Ingraham's urging, disputed Oz's claim that he had won.
Dave McCormick on Laura Ingraham's show responding to Mehmet Oz on Sean Hannity's show the previous hour saying that "This election is ours." pic.twitter.com/QPUCIaLyiy
— Matthew Gertz (@MattGertz) May 19, 2022
As the midterm elections approach, Trump and Hannity have learned to expect no negative consequences for convincing their fans to believe outlandish lies about rigged elections. Trump remains the head of the Republican Party, while Hannity retains his dual role at Fox and as a GOP operative. Their impulse to treat any electoral defeat as fraudulent now risks chaos for the GOP in Pennsylvania and on Fox's airwaves – and sets the stage for a similar, dangerous play for the White House in 2024.
Reprinted with permission from Media Matters.