Fox's Hasselbeck Wants Voting Test; Trump Doesn't Know His Senate From His House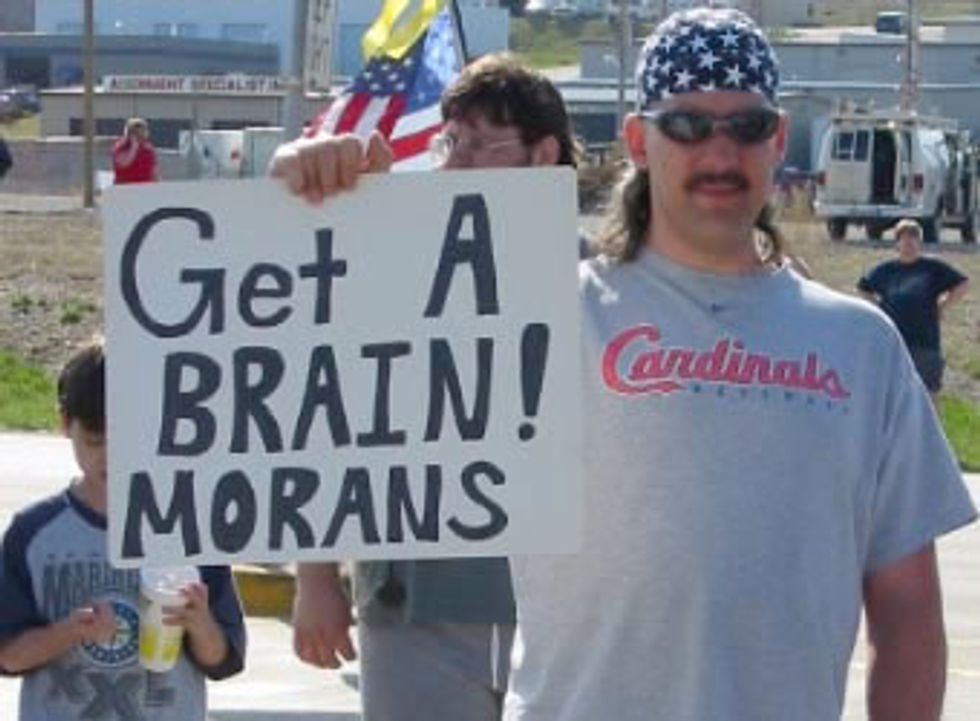 Boy, it's a good thing Fox "News" doesn't follow its own rules re: "Hollywood types," like telling them to shut up and sing, act, or whatever evil, liberal-heathen thing they do for a living. Because how then could we enjoy the always-entertaining spectacle of News Barbie, aka Elisabeth Hasselbeck (whose stellar Palin-esque CV consists of Survivor, Style Network's The Look for Less, and The View), bringing us her well-informed political views and knowledge of our nation's history?
Making her daily appearance on Fox & Friends (of course decked out in a pretty pink frock, because that's how ladies dress), Hasselbeck was engaged in a conversation with Utah Civics Education Initiative co-chair Lorena Riffo-Jensen about the advantages of requiring civics tests for students. But that wasn't nearly crazypants enough for Hasselbeck, who ventured forth with the suggestion that such a test should be required in order to vote.
"Should you have to answer, I mean, the majority of these questions?" she babbled. "If not by graduation of high school, but by the time you vote?… It's a more meaningful measure when you vote perhaps too."
Why, yes… by all means let's return to the days of segregation and Jim Crow, where one had to pass an arbitrarily designed "literacy test" in order to vote. That certainly made for more "meaningful" election results… as, of course, did having the conservative Supreme Court appoint the president in 2000. However, these days, the idea of a civics test before voting would likely benefit Democrats far more than Republicans, who make it a point of pride to be as ignorant as possible, especially when it comes to the big, bad gubmint.
Perhaps the first person to take the test should be Republican favorite and perpetual presidential candidate Donald Trump, whose knowledge of even the most basic tenets of how our government works can be summed up in one tweet:
Why would the people of Kentucky want a rookie Senator– they have Sen. Mitch @McConnellPress who may be next Speaker & bring $'s to KY?

— Donald J. Trump (@realDonaldTrump) September 22, 2014
Yep. Not to be outdone by Sarah Palin—who thinks the Department of Justice is called "the Department of Law" and operates from the White House—The Donald is actually under the impression that a senator is next in line to be Speaker of the House of Representatives. The other chamber of Congress. Your average middle-schooler could tell you otherwise, but hey…
So Lady Elisabeth might want to be careful what she wishes for—the party could lose millions of votes if her idea is implemented, as a large chunk of the Republican base is not exactly known for its literacy—or its civics expertise.
 Video: The Raw Story; Photo: About.com
 Want to read more about politics? Sign up for our daily email newsletter!