Frac Sand Industry Feels The Effects Of Low Oil Prices, Less Drilling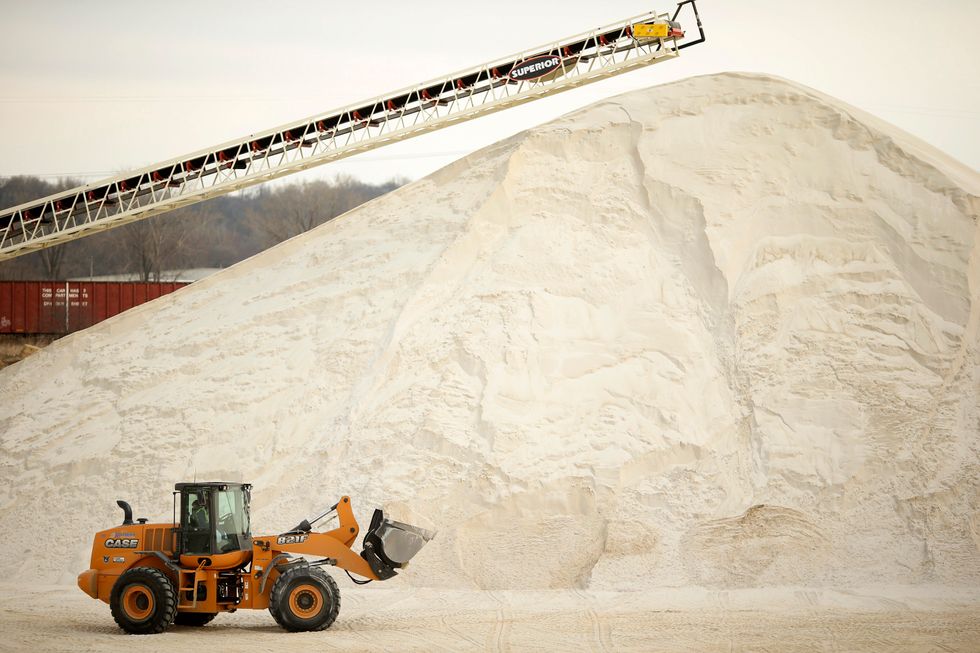 By David Shaffer, Star Tribune (Minneapolis) (TNS)
MINNEAPOLIS — Low oil prices and reduced drilling in shale regions like North Dakota are hurting the once fast-growing frac sand industry, slashing demand and forcing price cuts that have led some players to reduce jobs.
U.S. sand mines, including 63 in Wisconsin and six in Minnesota, are projected to ship significantly less sand to oil drillers in 2015, compared with last year, when companies like Fairmount Santrol, U.S. Silica, and Superior Silica Sands set production records, industry officials say.
"This whole ripple effect has taken hold and it is going to continue," Richard Shearer, CEO of Superior Silica Sands, a Texas-based company that operates sand mines in Wisconsin, said in an interview with the Star Tribune. "There are peak cycles and trough cycles, and we have hit a trough."
The nation's $4.2 billion industrial sand industry is increasingly tethered to the oil and gas sector, which now buys about 72 percent of the output. Sand production more than doubled in five years, and Wisconsin is the leading producer. Minnesota is fourth, behind Illinois and Texas, according to the U.S. Geological Survey.
Sand is used in hydraulic fracturing, or fracking, a process that injects sand, water, and chemicals into shale to free oil and gas. As crude oil prices have dropped — by nearly 50 percent since June — drillers have idled rigs, reducing demand for sand and putting pressure on its price, industry officials say.
The number of U.S. rigs drilling for oil and gas fell last week for the 17th straight week to 1,028, which is about half the number operating in November 2011, according to oil field service company Baker Hughes. North Dakota's rig count slipped to 90 from a high of 203 in June 2012.
To make things worse for the sand industry, many newly drilled wells are not being completed right away. Instead, some drillers have delayed fracking, which can cost more than three million dollars per well, hoping that oil prices recover. North Dakota has 850 uncompleted wells.
Shearer said some experts project that sand shipments could be down 30 percent to 40 percent this year. U.S. Silica Holdings, the nation's largest frac sand producer whose operations include a mine in Sparta, Wisconsin, recently told Jefferies Equities Research that it expects a 15 percent drop in its sand demand in 2015.
"It is a softer market, and there is pricing pressure," said Scott Sustacek, CEO of North Mankato-based Jordan Sands, which started operations in December, just as the sand business began to weaken.
Sustacek said the company's mine, named after the Jordan sandstone formation, is still ramping up production, although prices have dropped "in the 25 percent range" from the peak in 2014.
He said that the company has 25 employees and that it sells much of its sand in Texas, largely because it's an easier market to reach via Union Pacific, the railroad serving the mine.
Neither the Superior nor the Jordan mines have cut workers, their CEOs said, but others in the industry have reduced payrolls, including 55 layoffs announced last month at a Chippewa Falls, Wisconsin, sand trucking firm.
At Fairmount Santrol, which has sand mines in western Wisconsin and in Shakopee, CEO Jenniffer Deckard told analysts in late March that the company idled its Readfield, Wisconsin, facility and that it cut the company's 1,229-employee workforce by five percent. That's about 60 jobs, but the Ohio-based company wouldn't give more details, and it released a statement that left unclear whether layoffs are over.
"Fairmount Santrol is undertaking organizational restructuring intended to better align its cost structure with weakening market conditions," said spokeswoman Kristin Lewis in an email.
Most sand is sold under long-term contracts. "Some of the contracts come up for renegotiation in May, and that will tell us what's happening," said Dave Armstrong, executive director of Industrial Development Authority in Barron County, Wisconsin, the epicenter of Wisconsin's frac sand business.
Amid the downturn, two trends in the oil industry may benefit the sand business.
Those 850 uncompleted wells in North Dakota, for example, eventually will be completed, many of them later this year. If the price of crude oil stays at the current low level, North Dakota law will trigger a tax break on wells completed after June first. That would make it attractive to complete wells, boosting demand for frac sand.
Oil companies also are starting to pump significantly more frac sand into each well because production data show that it increases the oil output.
"The more the better — there is no doubt about it," said Ken DeCubellis, CEO of Minnetonka-based Black Ridge Oil & Gas, which invests in North Dakota oil wells that are drilled by other companies.
DeCubellis said he has seen data from side-by-side wells — one drilled a few years ago using conventional amounts of sand and another more recently using at least twice as much sand. The intensively fracked well produced nearly twice as much oil, he said.
"The problem today, they are just not drilling enough wells," said DeCubellis, whose own company cut its capital expenditures 40 percent this year, compared with 2014. "Over the short term, there is clearly going to be a reduction in the amount of frac sand used. Once the market rebounds and oil prices start to recover, then you are going to start to see that volume increase again."
Photo: Jeff Wheeler via Minneapolis Star Tribune/TNS