France Leads The Anti-Trump 'Resistance'
@FromaHarrop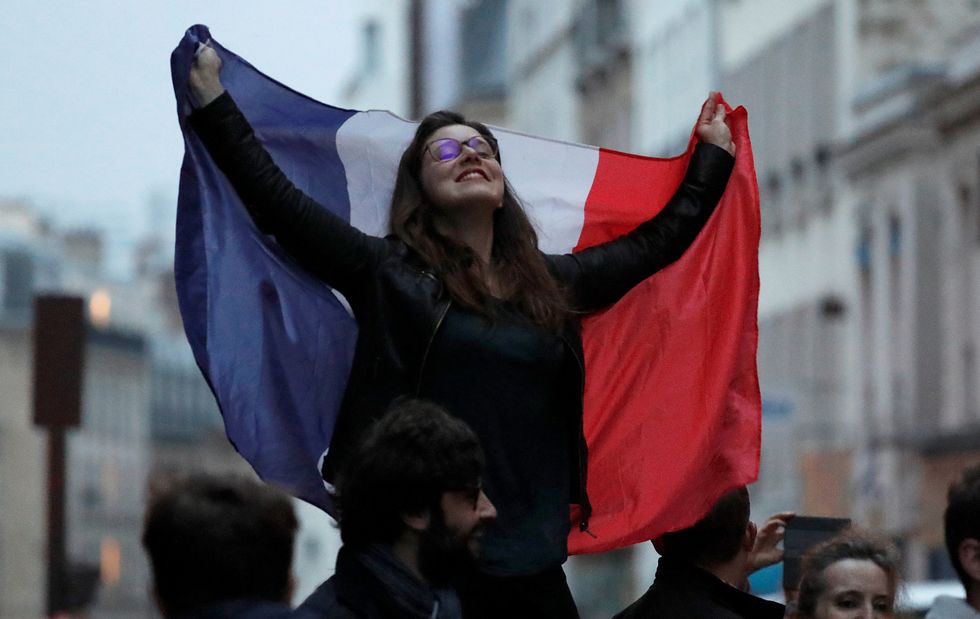 Reprinted with permission from Creators.
When historians recount the downward spiral of Trumpian populism, they may very well start in France. As in the U.S., voters were crying for radical change. The French had a Trumpish option in nativist right-winger Marine Le Pen and, over at the far left, an old-school Trotskyist.
But French voters gave victory instead to a man of the radical middle, Emmanuel Macron. Not everyone loves Macon's pro-business, pro-globalist program, but he is a mold breaker and definitely not crazy. And boy, do they love the young French president's jabs at Donald Trump. Macron easily wields the weapon of mockery and delights in turning it on Trump.
Some will recall their first encounter in Brussels, when Macron gripped Trump's hand in a prolonged and aggressive manner. After Trump pulled the U.S. out of the Paris accord on global warming, Macron cheerfully invited American climate researchers to come to France and work on publicly funded projects.
During the French campaign, Russia backed Macron's chief opponent, Le Pen. The leader of the far-right National Front promised to take France out of the EU. (Breaking up Western unity is high on Vladimir Putin's wish list.) Trump showered Le Pen with praise.
When the Kremlin reportedly hacked the Macron campaign in an obvious attempt to hurt the pro-Europe candidate, French voters rose up in defiance. In a later news conference with Putin, Macron dispensed with any Trump-style servility toward the Russian leader. Rather, he accused Russia of spreading "lying propaganda" — and he did it to Putin's face.
Perhaps French voters are tougher or better-informed than many of their American counterparts. Or they've had ample time to witness the lunacy emanating from the White House and decided to pass.
And to hammer home the point that France's electorate is ready for something that's different but sane, it is evidently giving Macron's party, En Marche! (In Motion!), a commanding victory in the parliamentary elections. (The runoff vote Sunday will determine the size.)
Macron is a true original. At age 39, he is the youngest French president in history. His campaigners went door to door looking for votes, something common in the U.S. but not in France. He founded En Marche! barely a year ago, and it's already trouncing the established parties. He's married to a woman almost 25 years his senior.
More importantly, Macron may very well have saved the European Union from breaking up. Britain's move to leave the 28-nation union shook it to the core. So has the growth of nationalist movements complaining of lost sovereignty under the EU yoke.
Few have illusions of the task ahead. The EU is undoubtedly burdened by a lumbering bureaucracy. France is littered with shuttered factories and has been jolted by mass immigration. And if any country has a justified fear of Islam-inspired terrorism, it is France.
Macron vows to change labor laws that make firing someone a prohibitive expense — and backs other reforms designed to help business. But he has no intention to dismantle France's superb health care system, rated best in the world, and he's a staunch backer of the Paris agreement.
The far-left candidate refused to endorse him, even against Le Pen. But the voters did, and enthusiastically.
There's a message here for Trump opponents, Republicans as well as Democrats and independents. The public may be hungry to coalesce around an unapologetic centrist with a fresh approach. In our two-party system, third parties have a problematic history of playing the spoiler. But a major party could cut its fringes loose and lunge for the middle.
If there's ever been a time for a radical center to take hold in this country, it's now. France has shown the possibilities.
Follow Froma Harrop on Twitter @FromaHarrop. She can be reached at fharrop@gmail.com. To find out more about Froma Harrop and read features by other Creators writers and cartoonists, visit the Creators webpage at www.creators.com.