Why Franken Should Not Resign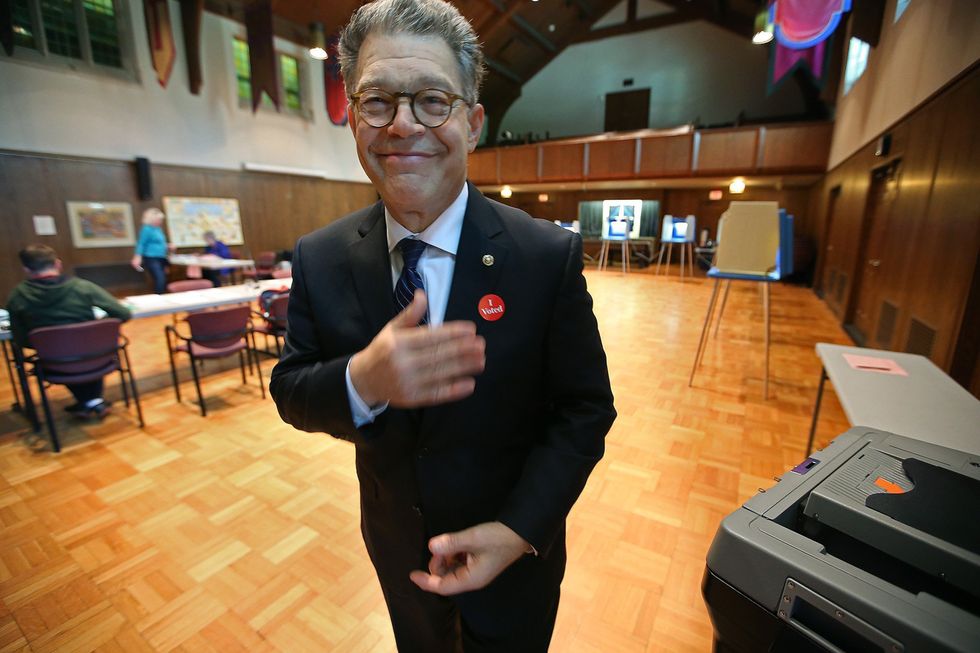 Reprinted with permission from Creators .
The chorus of loud demands for Senator Al Franken's resignation began from the moment that Leeann Tweeden accused him of sexual harassment. Those calls intensified after three more women — two of them anonymous — said the Minnesota Democrat had touched them inappropriately. They haven't subsided yet.
Although not all the facts are clear, Franken apologized immediately. Since then, he has admitted that his conduct on some occasions had fallen short of the respect for women he has always professed.
"I let a lot of people down," the former comedian told the Minneapolis Star-Tribune in a contrite interview, vowing to win back the trust of his constituents.
To say that Franken's friends and associates are shocked is a profound understatement. Here I must disclose that I've considered Al and his wife, Franni, to be friends of our family for more than a decade, ever since the days when I appeared regularly on his Air America radio show. And I'm as stunned as anyone else, including his female colleagues at Saturday Night Live , who have signed a letter supporting him. He was funny and profane, but I never saw him behave with anything but impeccable respect for everyone, male and female alike.
Even if we had never become friends, I wouldn't expect Franken to quit. Anybody who saw him endure his first tough Senate race, or watched him become one of the most effective Democrats in Washington, knows he is no quitter. He has returned to work while the Senate Ethics Committee pursues its investigation of his case.
Of course, he can reconsider resignation, if and when Donald Trump resigns — or at least stops disparaging and lying about the women he assaulted. Or perhaps when Roy Moore, still on his way to the Senate, speaks one honest word about the women who accuse him of luring, molesting and assaulting them when they were still girls.
While we await the truth from Trump and Moore, the Ethics Committee probe of Franken will proceed, as it should, to assess the evidence with his full cooperation. They should also examine the intriguing clues to a right-wing campaign aimed at unseating Franken, which features Trump dirty trickster Roger Stone, Russian bots and various unsavory figures on the so-called alt-right.
They hate Franken for exposing Attorney General Jeff Sessions' lies about Russia. But the well-earned anger of the Trumpsters is certainly no reason for a Democratic senator to leave office.
Nor is there any reason why a Democrat should be less entitled to due process than a Republican like David Vitter or Bob Packwood, both former senators who were subject to ethics probes over sexual misconduct. Their cases are instructive now.
In 2007 Vitter, a far-right religious fraud from Louisiana, admitted that he had solicited prostitutes. The Ethics Committee eventually dismissed Vitter's case, not because he didn't commit a crime but because his conduct occurred before he ran for the Senate, never resulted in criminal charges, and didn't involve misuse of Senate resources or staff.
Packwood, a moderate Republican from Oregon, was plausibly accused in 1992 of forcing himself on dozens of women, including several who had lobbied him or worked on his staff. Three years later an exhaustive probe by the Ethics Committee — then chaired by Mitch McConnell, who is now the Senate majority leader — resulted in a 10,000-plus page record that included clear evidence of felonies. He resigned before the Senate could vote to expel him (and became a lobbyist).
If that process was deemed correct and proper for a pair of miscreants like Packwood and Vitter, it should be sufficient for Franken, whose offenses are very minor by comparison. In the meantime, he need not depart the Senate unless he no longer feels he can serve his country and his constituents. He was duly elected to a second term, by a wide margin, so the bar to his removal should be high — at least as high as for those whose proven offenses were far worse.
To find out more about Joe Conason and read features by other Creators Syndicate writers and cartoonists, visit the Creators Syndicate website at www.creators.com.