Frederick Douglass: Bookends Of A Great American Life
@JamieStiehm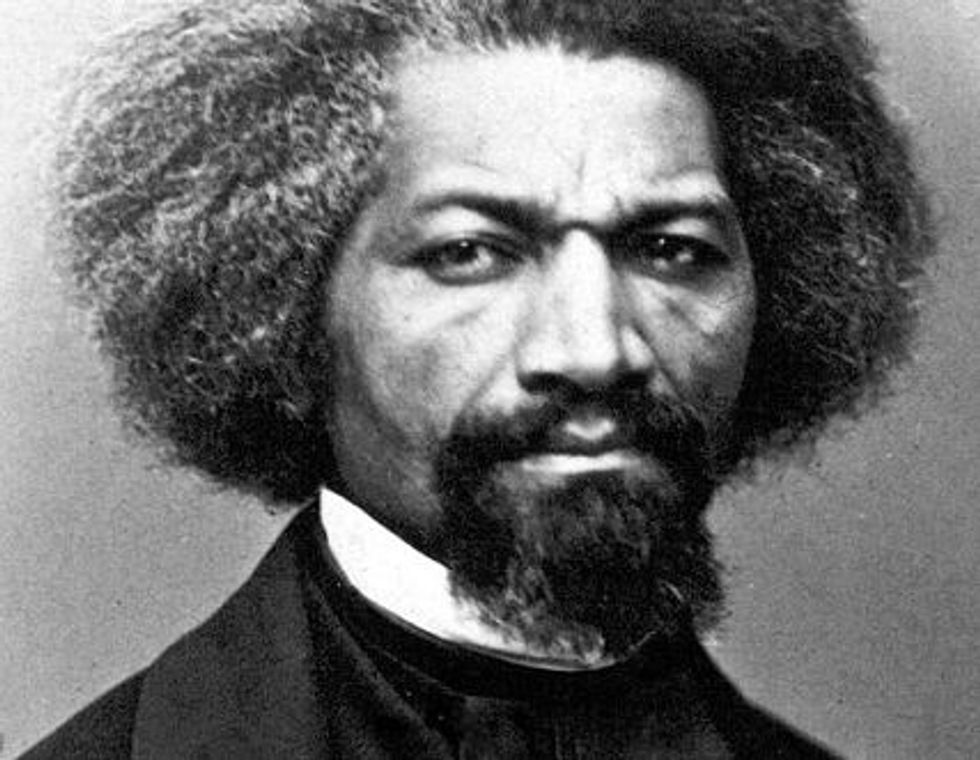 Abolitionist Frederick Douglass and I go way back — to the day I discovered his Life and Times in a San Francisco used bookstore round the corner from my house. I've read every page of his journey across the 19th century, from slavery to freedom to fame.
His autobiography takes you there, under the lash and on the train to Philadelphia, his escape from slavery. Crossing the Mason-Dixon line was treacherous, but he made it, wearing a sailor's uniform.
Last Sunday, I visited Cedar Hill, Douglass's spacious home in Washington, intact from the library volumes to the blue cistern for ice water. You can see the Capitol clear in the distance. Douglass lived here during the last chapter of his life, during which he was appointed ambassador to Haiti among other government posts.
It seemed fitting the freedom fighter lived well to a ripe age in this southerly point. Douglass was known as "the Lion of Anacostia" for his white mane. His wife's Singer sewing machine sat upstairs. This house is where his story ends; he died in the front hall.
His story began 200 years ago. Douglass was born a slave on Maryland's Eastern Shore, where slavery was as brutal as the Deep South's cotton fields. I've seen where he grew up, in Talbot County by the Chesapeake Bay. The thousand-acre plantation was owned by the Lloyd family, with vast swaths worked by enslaved people.
When I traveled there, the carriage entrance, the land and the Great House were still owned by the Lloyd family — the 11th or 12th generation. The antebellum profusion of partridges, pheasants, ducks, and other game was not hard to imagine. I had the time-travel experience of sitting in the parlor with Mrs. Lloyd.
The elegant lady, 87, told me her grandfather welcomed "Frederick" to have drinks on the veranda when he came sailing down the river, a distinguished free man with a party of friends. Oh, how proud they were.
Wild.
Baltimore played a key part in Douglass's life in bondage. As a child, he stayed with a wealthy family with a boy his age, Tommy. In a rare twist, Tommy's mother taught both to read. That violated law and custom.
Strong under the sky, Douglass worked as a caulker on the city waterfront and turned his wages over to his master. Baltimore is where he established social contacts and resources to plan his escape — hard to do out in the country. Baltimore is where he boarded the train north to freedom in 1838. He found a safe haven in Massachusetts.
The abolitionist movement was just stirring. Douglass, striking in appearance and speech, became the first public speaker to tell the story of American slavery from personal experience. He humanized slavery, from the separation from his mother and grandmother to being dragged by horses to jail for attempting to escape. After his spellbinding oratory on Nantucket Island, Douglass became a sensation on the anti-slavery circuit.
While the Civil War raged, Douglass urged President Abraham Lincoln to let black soldiers join the Union Army. Lincoln took his advice. An extraordinary moment came after Lincoln delivered his second inaugural address. At the gathering, Lincoln said, "Here comes my friend Douglass. I am glad to see you. How did you like it?"
Lincoln added: "There is no man in the country whose opinion I value more than yours."
According to his autobiography, Douglass replied, "Mr. Lincoln, that was a sacred effort."
Keep in mind Lincoln said this before a white throng. Weeks later, the war was over and the president was dead. Douglass likened him to a mountain pine, with "grand simplicity and homely beauty."
Douglass gave living portraits of the great people in his times, including Lucretia Mott, the radiant Quaker abolitionist and women's rights champion.
A word about Douglass and women. He had two wives, one black and one white. Over the living room fireplace was a scene from Shakespeare's tragedy, "Othello," which he brought home from Italy — an interracial love story.
On Douglass's last day in 1895, he came home from a women's suffrage meeting with his old friend Susan B. Anthony. Now I have truly read his great book of life, from end to end.
To find out more about Jamie Stiehm and read features by other Creators Syndicate writers and cartoonists, visit creators.com.