Our Free Press Endured Worse Than Trump — And Triumphed
@JamieStiehm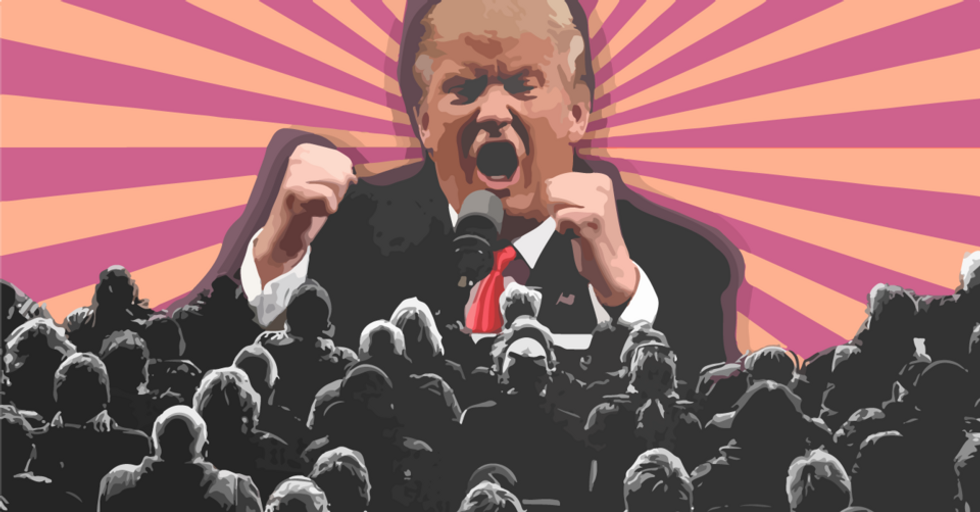 Reprinted with permission from Creators.
Elijah Lovejoy was an abolitionist newspaper editor during dark times in America. Andrew Jackson, president in the 1830s, didn't quell rising mob violence against the new anti-slavery movement. In fact, Jackson was a Southern slaveholder.
Journalists who feel under siege today have a hero in Lovejoy, whose printing presses were thrown into the Mississippi River by a mob. In the Washington Newseum, his name is engraved as the first to die for the First Amendment. The Journalists Memorial shows his place in history.
Now we live in a time when the 45th president insults and threatens the press as his daily bread. The press has taken his verbal abuse on the chin. On Donald Trump's first full day in office, he called the press his "enemy" at the CIA.
In a Nixonian move, Trump just tweeted that NBC's license might be revoked for a report on enlarging the nuclear arsenal. Yet Nixon hated the press privately. Trump is poisoning the public well of ink and airwaves.
Out on the frontier, there was no protection for Lovejoy, who opened a small newspaper in St. Louis, in the slave state of Missouri. A Mainer, Lovejoy was made of strict Calvinist cloth. He walked much of the way west. His New England nature was not hail-fellow-well-met. Nor was he an abolitionist at first. He became convinced of the evil of slavery on the job, living in a Southern culture.
Lovejoy did not hold his tongue or pen when a free man of color employed on a steamboat, Francis McIntosh, disembarked in St. Louis and ran into trouble. He was arrested in a police chase. A spiral of violence ended with a mob burning McIntosh alive, chained to a locust tree. He begged for someone to shoot him. The gruesome scene happened in 1836.
"For a free African American, to be arrested in a slave state was a frightening prospect," the late Illinois Senator Paul Simon observed in "Freedom's Champion, Elijah Lovejoy."
Simon, once a newspaper publisher, traced Lovejoy's brave path to the grave.
In print, Lovejoy denounced the McIntosh burning as "savage barbarity." He urged people who took part to seek forgiveness. Readers did not take kindly to his judgment. One Judge Lawless accused Lovejoy of stirring up race relations.
Lovejoy decided to part ways with hostile St. Louis and cross the Mississippi River to Illinois, a free state. However, in the Southern tip of Illinois, Alton was a culturally Southern town.
Was there room for an outspoken abolitionist? An outsider in a strange land except for his family, Lovejoy resolved to retreat no further. Even as his printing press was destroyed and thrown into the wide waters — once, twice, three times — and then a fatal fourth.
The writing was on the wall. A mob of respectable citizens in Alton were determined to literally silence his press, while readers from other cities and states subscribed to his paper, the Observer. Lovejoy addressed his enemies in a town hall, saying he would not back down.
"You may burn me … as they did McIntosh at St. Louis, or you may tar and feather me, or throw me into the Mississippi," said Lovejoy.
Lovejoy shed a few tears as he finished his defense of free speech. Meanwhile, the Lovejoy brothers slept with guns at the ready.
The abolitionist was still in slave country, a voice in the wilderness. And he didn't stand a chance in Alton — a city still marked by what went down at Lovejoy's warehouse by the river. His fate was inescapable.
A drunken mob set it on fire. They started shooting, knowing Lovejoy and a small band were guarding his last printing press. That was the end of Lovejoy. He died that November night, buried on his 35th birthday in 1837.
His brother Owen swore over Elijah's dead body to carry on the anti-slavery cause. He went to Congress, where he was Abraham Lincoln's good friend.
Lovejoy's death shook the nation. As Simon writes, the mob could not have helped anti-slavery more.
White House correspondents ducking insults Trump hurls at the press, here are two words for you: Elijah Lovejoy.
To find out more about Jamie Stiehm, and read features by other Creators Syndicate writers and cartoonists, visit the Creators Syndicate website at www.creators.com.
Header image by Sarah Wasko / Media Matters